Cavaliers Protected LeBron James Against Pistons—Tyronn Lue Admits It Quietly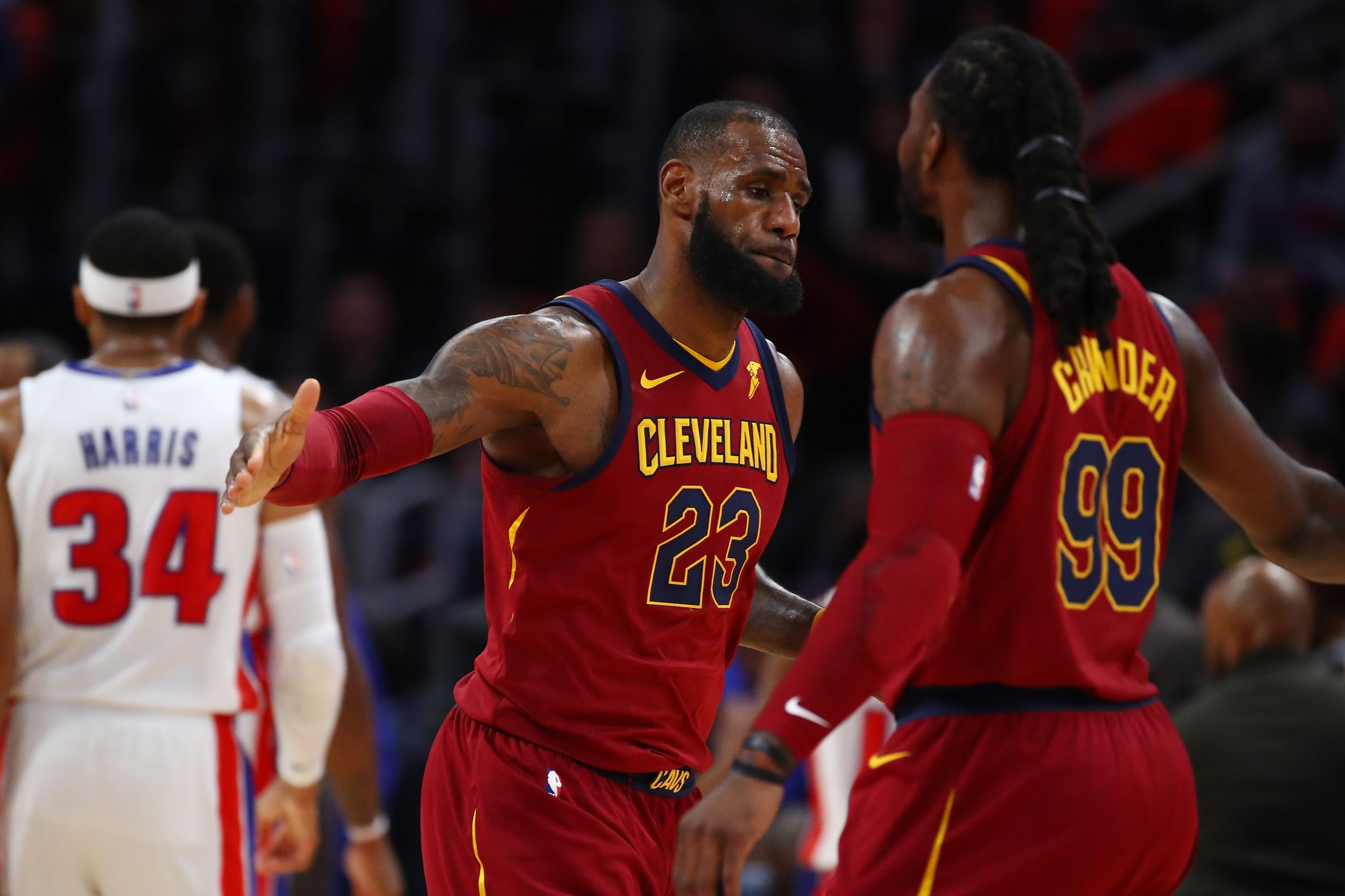 For once, LeBron James was only partially responsible for a Cleveland Cavaliers blowout. And that's probably a good thing going forward for everyone concerned.
James has been playing monstrous quantities of minutes so far in the 2017-18 NBA season, as the Cavaliers have battled to overcome a lack of consistency at point guard and some of the more serious defensive issues in the league. The 32 year old played a season-high 46 minutes for 39 points against the Clippers on November 18, and he hadn't dipped below 36 minutes in any of the Cavaliers' games up until Monday night.
Against the Pistons, though, James was limited to 27 minutes—still joint second on the team, behind stand-in starting point guard Jose Calderon. James chipped in with 18 points and eight assists but, unusually for this season, the Cavaliers got balanced scoring from all over the court. Kevin Love led the team with 19 points while Jae Crowder had 18. Calderon had 14 while Jeff Green and Channing Frye scored 11 and 10 respectively. By halftime, the Cavaliers led 73-46 against perhaps the biggest surprise of the fall so far. It was never even a contest. Having started the season 3-5, the Cavaliers have won five in a row to move to 10-7, a game behind the Pistons in the Eastern Conference standings.
That they look primed for another deep playoff run following that sticky beginning is largely down to James' efforts. Coming into Monday night's game, James led the NBA in minutes-per-game, with 37.9. Only the Milwaukee Bucks' extraordinary, do-everything 22 year old, Giannis Antetokounmpo, is anywhere close to James's average. Even after those 27 minutes against the Pistons—Tyronn Lue pulled him with 1.43 to play, with the Cavaliers leading by 37—James still leads the league.
Not that James, or Lue, wanted to dwell on that topic very much following the conclusion of the game. "You [reporters] make so much a big thing about my minutes," James said according to ESPN. "It's not a huge issue. But at the end of the day, when we can get a win like this, everybody benefits from it. Not just me. Everybody."
"I hear about that all the time," Lue said. (ESPN reported he sounded "somewhat perturbed" when asked about James' minutes). "I played with Michael Jordan when he was 39, he played 37 minutes a night. Karl Malone was 37, played 38 minutes a night, Kareem Abdul-Jabbar, Magic Johnson, Kobe [Bryant]. Everybody's built different. If you're one of the greats, sometimes you've got to play, sometimes you get rest like tonight."
It's understandable that the Cavaliers want to shrug the question away. But the implications for the rest of their season could be huge if they can find enough scoring not to wear James out before the playoffs. James may appear superhuman at times, but he will wear down like any other elite athlete. At least on Monday, Lue found a solution to preserve the body of the man without whom the Cavaliers cannot win a Championship.