LeBron James Channels Inner Tony Stark in Hilarious Instagram Caption
LeBron James' 110 million Instagram followers were delighted after the Los Angeles Lakers superstar used a hilarious quote from Spider-Man: Homecoming as the caption for his most recent post.
Receiving more than 1.2 million likes in just four hours, James posted a photo of himself and Lakers teammate Austin Reaves, along with a photo of Robert Downey Jr. and Tom Holland playing Tony Stark and Peter Parker in the 2017 Marvel movie.
In the photo with Reaves, the Lakers rookie appears confused as James addresses him during Los Angeles' recent 106-96 victory over the Brooklyn Nets. James, widely respected as one of the most intelligent basketball players of all time, was likely explaining a defensive scheme to the Lakers rookie.
While Downey Jr. and Holland were not responsible for guarding the pick-and-roll in Spiderman: Homecoming, their Iron Man and Spider-Man characters shared a moment similar to the one depicted in James' post.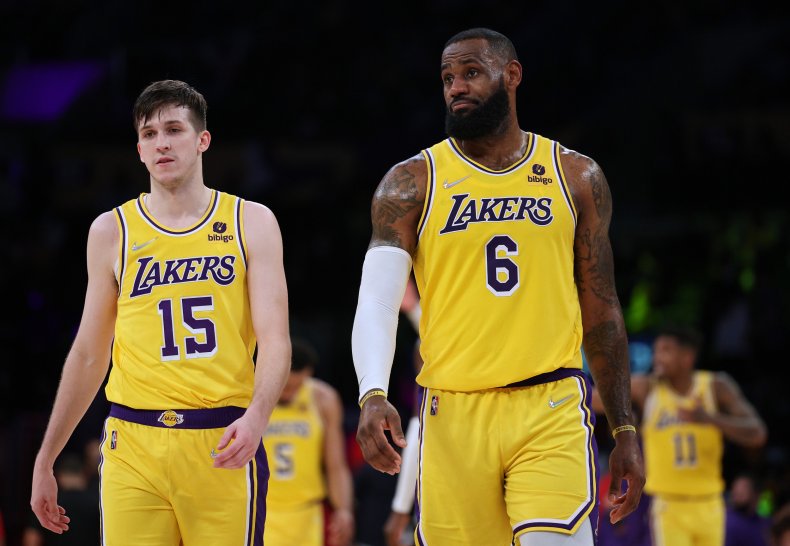 As the veteran superhero welcomed the newly-appointed webslinger to the Avengers ranks, Stark explained to Parker that he operates by a different set of rules and offered a quote memorized by Marvel fans.
"Don't do anything I would do. And definitely don't do anything I wouldn't do," Stark told Parker. "There's a little gray area in there and that's where you operate."
Using the same quote as the caption for his viral Instagram post, James acknowledged parallels between he, Reaves and their fictional counterparts.
However, where Stark and Parker easily morph into superheroes with other-worldly powers and abilities, the 2021-22 Los Angeles Lakers have not been able to find the same chemistry that propelled them to an NBA Finals victory in 2020.
While the 37-year-old James continues to play at an elite level, averaging 29.1 points, 7.7 rebounds and 9.3 assists per game, Los Angeles' supporting cast has struggled.
Fellow Lakers star Anthony Davis made his first appearance against Brooklyn after missing two months with a knee injury, while former league MVP Russell Westbrook continues to adapt to his third team in as many years.
Recently passing their season's halfway point, Los Angeles sits at 24-24, good for ninth place in the NBA's Western Conference.
Despite the Lakers' struggles and speculation surrounding the NBA's upcoming trade deadline, James' Instagram post provided a moment of levity for fans and followers alike.
Amid a sea of crying-laughing emojis from Reaves, three-time Olympic gold medalist Lindsey Vonn and first-year Laker Carmelo Anthony, many fans dubbed James "LeTonyStark," while former teammate and current NBA analyst Channing Frye pointed out that the Instagram caption is more complimentary than it appears.
"Deep Marvel reference," Frye commented. "Unknowing that in the Marvel Comic Universe, Spider-Man is stronger and smarter than Iron Man."
"Big compliment @austinreaves12," he added.