Stitched Up LeBron James Told Off For 'Messing Around' But Drags Cavs to Victory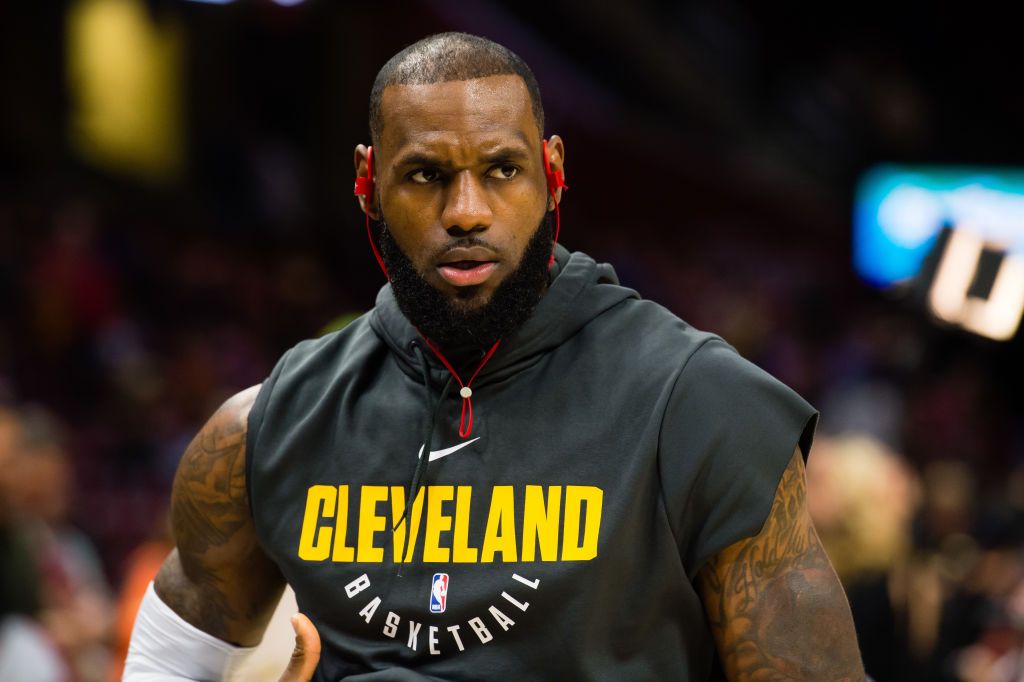 LeBron James received a kick in the rear from his coach and a head butt from an opponent. Then, he delivered a gut punch.
James scored 23 points in the fourth quarter, including an 18-point run on his own, and the Cleveland Cavaliers beat the Brooklyn Nets 119-109 on Wednesday night.
James, who left the game early in the third quarter to get stitches for a facial laceration, finished with 33 points, six rebounds and five assists. He was injured when Tyler Zeller's noggin caught James in the mouth, sending him for stitches.
How many? "Enough to close the wound," James said.
The Cavs led 100-99 with 4:25 remaining when James stepped to the line for free throws that sparked his 18 consecutive points.
When James was finished—on a 3-pointer with 55.6 seconds to go—the Cavs led 118-107 and it was all over.
"You've got to let it come to you," James said. "It's times when you wish you can do it and sometimes when the ball just doesn't go in. But I put a lot of work into my craft and I believe that every shot I take is going to go in. But without my teammates setting screens and defending, getting the rebounds, cutting, and things of that nature, then none of that is even possible for me, so, they get the most credit."
Related: LeBron James sends ominous message to the rest of the NBA
Cleveland (11-7) has won six straight and is 8-2 since losing to the Nets on October 25. Kevin Love added 18 points and 10 rebounds for the Cavs, who also received 18 points off the bench from Dwyane Wade.
Brooklyn took a 46-45 lead into halftime despite committing 10 turnovers that turned into 10 Cleveland points.
James actually missed a dunk in the first quarter, in rare and embarrassing fashion. He intercepted a pass from Caris LeVert and was en route to a breakaway slam, but after whipping the ball around the air, clanged it off the rim with 3:49 left in the period.
The Cavs were ahead 18-10 at the time and led just 20-17 at the end of the quarter.
"He was messing around," Cleveland coach Tyronn Lue said. "I told him at halftime, 'You messing around.' He got a little upset and that's good. Get hit (in the mouth) again."
Rondae Hollis-Jefferson led the Nets (6-11) with 20 points. Joe Harris was one point off his career-high with 18 off the bench, and Allen Crabbe added 15 points.
"I was proud of our competitive grit," Brooklyn coach Kenny Atkinson said. "LeBron really took over. There's no other way to put it."
Harris, who shot 7 of 10 from the field with four 3s, was taken in the second round of the 2014 draft by Cleveland, and he was on the team for its first Finals match with the Golden State Warriors in 2015.
The Cavs traded Harris to Orlando in January 2016, to clear a roster spot. He was waived and signed with the Nets the following summer.
"The enjoyment would've been if we won," Harris said.
"I think that it's always nice coming back to a place where you spent some time. We have a lot of guys in the organization who have spent time here, a lot of good people in the Cavs' organization. It's good to come back and see some familiar faces and be able to say hello to people who you otherwise would not see."
The Nets led by seven in the third quarter when James left the game. He returned with 4:33 to go in the third, and had scored just eight points at the time.
His 23-point fourth quarter was two points shy of his personal best 25, from when he scored 61 on March 3, 2014. The Cavs scored 42 in the fourth, one point shy of their season best.
"He scored 23 in the fourth and we needed every bit of it," Lue said. "When he came back, I thought he did a really good job of getting into the paint, playing downhill."