LeBron James Demands Justice for the Murder of Erica Weems
LeBron James is demanding justice for the murder of his friend Brandon Weems' sister, Erica Weems. Brandon is one of James' closest friends from Akron, Ohio, Michican Live reported. Their friendship dates back to high school.
"AKRON OHIO!! My brother's sister was murdered this past weekend in her home! My brother family need answers to why and by whom," the basketball star tweeted on Wednesday afternoon. "My city I need y'all to go to work and find out who did this awful, shameful, disgusting thing to such a caring, loving angel! #Justice4EricaWeems"
The New York Daily News reported that the 37-year-old was found in her bedroom on Monday afternoon with a gunshot wound to her head. The case has been ruled a homicide by Akron's Summit County Medical Examiner.
There is no denying the momentum support from James brings to every cause for which he advocates. In the past, the Los Angeles Laker star spoke out against police brutality and racial profiling.
In July, James said he was proud of the work that had been done in the Black Lives Matter movement, but knows there are more challenges ahead. "There's been progress. But in the past when we've seen progress we've let our foot off the gas a little bit," he said, adding that we need to "continue to spread love throughout America."
On July 31, James had joined his Lakers teammates in kneeling during the National Anthem before their game against the LA Clippers. Both teams also wore a tee-shirt that had a Black Lives Matter message.
He told The New York Times in October about why he uses his platform as an athlete to speak out about racial inequality. "We believe that Black people, our community, we've been pushed away from our civic duty," the four-time NBA Finals MVP explained. "We've been fed misinformation for many years."
"And I'm in a position where I can educate people and, through More Than a Vote, educate people on how important this movement is, and how important their civic duty is. Not only to empower themselves, but to give back to their community as well," he added. "It's something that we're very passionate about—that I'm very passionate about. I'm happy and honored that I can have these athletes and these influencers and the people that want to be engaged with me as well."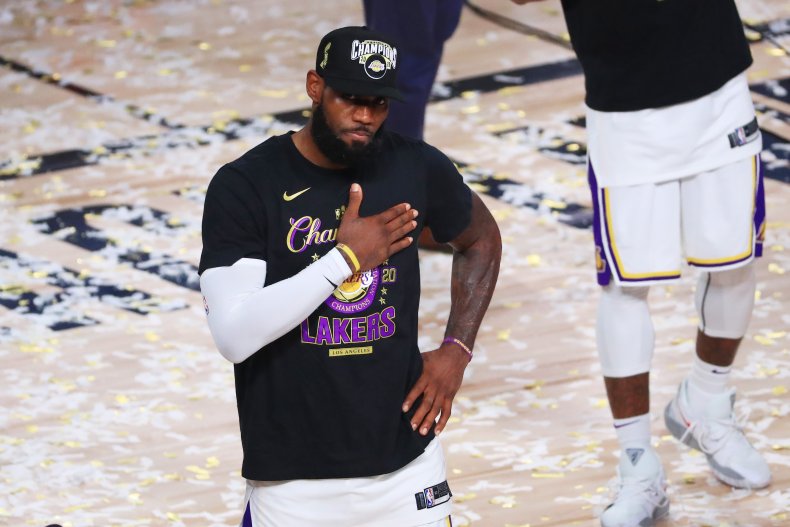 He also asked Instagram to vote for Joe Biden and Kamala Harris on Election Day. "One more day. Please vote. We need everything to change and it all starts tomorrow," he captioned a picture of the Democratic Presidential and Vice-Presidential nominees.
Updated 11/4/2020 2:55 p.m. EST: This article has been updated to include further context about causes LeBron James has been vocal about.