Is LeBron James a Dirty Player? Isaiah Stewart Fight Ignites Intense Debate
A debate has erupted on social media over LeBron James' conduct as a player after the NBA star was ejected from Sunday's Los Angeles Lakers-Detroit Pistons game over an incident with Isaiah Stewart.
In footage that has gone viral and racked up millions of views, the Lakers star is seen striking Pistons center Stewart in the face during a rebound resulting in a strike that drew blood from his opponent.
James insisted that the hit was accidental but an enraged Steward attempted to lunge at his fellow player resulting in them both being ejected from the game.
The incident is dividing basketball fans on Twitter with many either defending James for making a mistake or accusing him of being a dirty player.
"Never seen anything remotely that dirty from LeBron James. It was the equivalent of hitting Stewart with his fist. Lotta blood. Just a shocking reaction by LeBron, who then spread his hands, moved toward Stewart like he didn't mean it. Stewart wasn't having it. Can't blame him," tweeted sports columnist Skip Bayless.
While NBC's Max Lederman called for James' suspension, tweeting: "Suspend him. LeBron skates for his dirty plays waaay too much."
Podcaster Josh Lloyd shared a similar sentiment, simply tweeting: "That was dirty from LeBron."
However, producer DJ iLL WiLL pointed out that in James' lengthy NBA career, this is only the second time he has been ejected.
"Lebron James been playing in the NBA like 2 decades and never did anything like that before... he obviously isn't a dirty player s*** happens," he tweeted.
While Harrison Faigen of the Locked on Lakers podcast tweeted: "LeBron only having TWO ejections in 19 seasons is a wild stat."
Others have noted that it looked like James was trying to move away from Stewart when he struck him.
"You can tell that LeBron didn't mean to hit him he was trying to get loose from Stewart locking his arm up. Watch the replay and you'll see it. LeBron even tried to apologize. Playing dirty is not part of LeBron's game, never has been," a fan said in response to Bayless.
Following the game, Pistons coach Dwane Casey said he doesn't think James is a dirty player.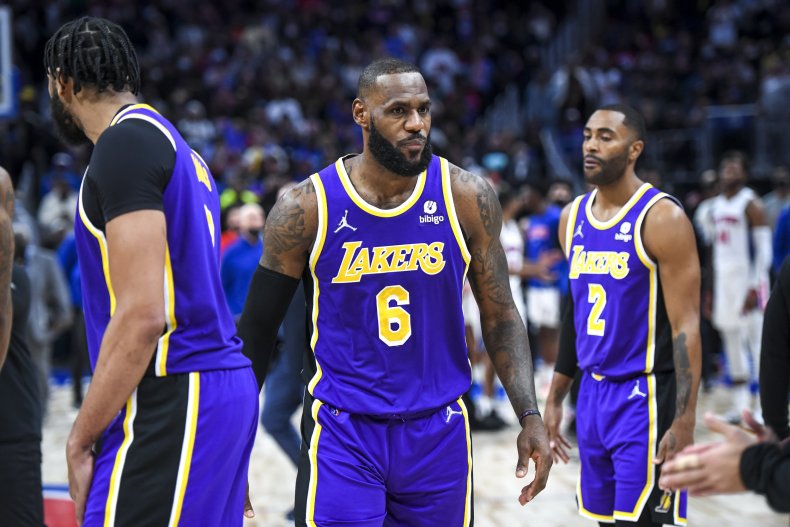 "It was a tough play with Isaiah," he said "His eye got cracked all the way open and he was upset for a reason. I don't think James is a dirty player, but again, it got them going."
James' Lakers team-mate Anthony Davis also defended the player and insisted to fans that he is not a dirty player.
"Everyone in the league knows LeBron's not a dirty guy," Davis said. "In fact, when he knew he hit him, as soon as he did it, he looked back at him like, 'Oh, my bad. I didn't try to do it.'"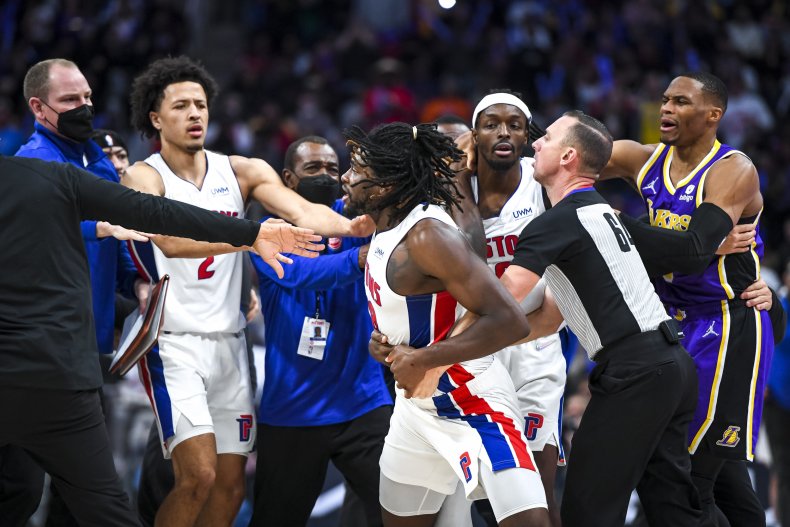 James insisted that the strike was accidental but was ejected for a Flagrant 2 foul.
"Everybody did a great job trying to deescalate the situation," Davis continued.
Crew chief Scott Foster said James was ejected from Sunday's 121-116 victory over the Pistons for "unnecessary and excessive contact above the shoulder" during the altercation.
"Upon the free throw the initial contact (was) deemed a loose ball foul by Isaiah Stewart and then a dead ball act by LeBron James, deemed a Flagrant Foul Penalty 2 for unnecessary and excessive contact above the shoulder," Foster said during a postgame interview, per NBA.com.