Trae Young's Shimmy on Jrue Holiday Video Goes Viral: 'Dancing on Graves'
Trips to the Eastern Conference Finals are a rare occurrence for the Atlanta Hawks and Trae Young is determined to make this year's appearance count.
The Hawks point guard was still in high school when the franchise last reached this stage of the NBA Playoffs in 2015, but he dominated proceedings like a veteran on Wednesday night as Atlanta defeated the Milwaukee Bucks 116-113 on the road to take a one-game lead in the series.
The 22-year-old finished with 48 points, 11 assists and seven rebounds as Atlanta, making only its second conference finals appearance in half a century, nullified Milwaukee's home court advantage.
Young's 48 points were his career high in a playoff game—and the joint fourth-highest tally in a conference finals game, tied with LeBron James and Dirk Nowitzki.
Nowitzki and James also take second and third place in this list, with 50 and 49 points respectively, behind Michael Jordan's 54-point effort against the New York Knicks in 1993.
Young's performance on Wednesday night wasn't just one for the statisticians, though. What really caught the eye was his demeanour—and some trademark antics.
The pick of the crop was a shot late in the third quarter that followed a jaw-dropping shimmy. Young came off a screen and received the ball with plenty of time to set himself behind the arc, but instead of pulling the trigger he waited for a Bucks defender who never materialized, before shimmying his shoulders as Jrue Holiday approached and draining a three-pointer.
Clips of the play immediately went viral on social media, with James, Portland Trail Blazers star Damian Lillard and three-time NBA champion Draymond Green among the players marveling at Young's audacious shot.
"Chill the hell out man," tweeted James, a man who knows a thing or two about producing incredible plays on the biggest stages.
Green added: "These Hawks are unbothered…That's a great thing to have in the playoffs. It's actually a thing."
Kent Bazemore, who spent five years with the Hawks, was impressed by his former team and Young's carefree approach.
"They used to do that in practice and I told them no way they'd pull that off," he wrote. "They do it in the Eastern Conference Finals."
Green's word "unbothered" is a great description of the Hawks this season.
Atlanta became only the third team since the current playoff format was introduced in 1984 to make the conference finals despite having a losing record at the All-Star break—the Hawks were 16-20 in February—and defeated the No. 1 seed Philadelphia 76ers in seven games in the Eastern Conference Semifinals.
Young dealt with less than welcoming receptions in Philadelphia and at Madison Square Garden in New York, during the first round series against the Knicks. In both series, the 22-year-old shrugged off the boos and let his game do the talking.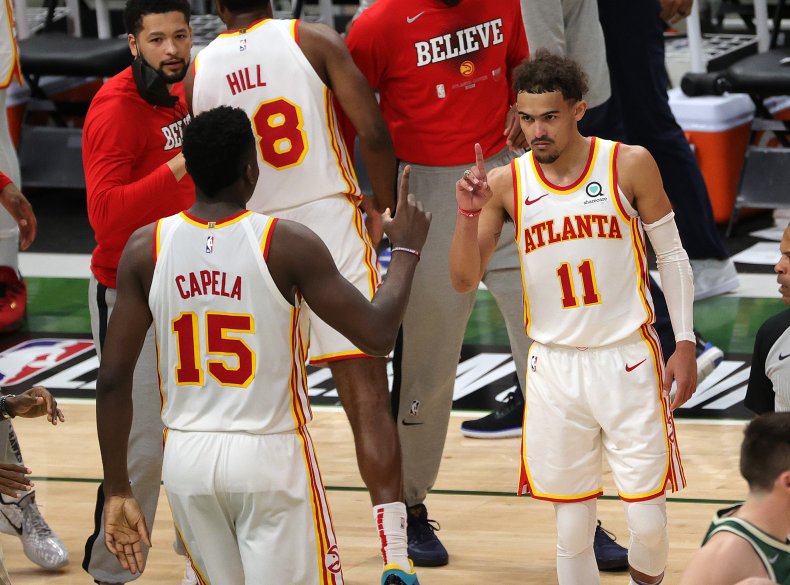 In Game 1 against the Bucks, the fifth overall pick of the 2018 NBA Draft tied James' record for the most points by a player aged 22 or younger in a conference finals game. He also became the second-youngest player in NBA history to have at least 45 points and 10 assists in a playoff game, behind Dallas Mavericks star Luka Doncic—incidentally, the Hawks drafted the Slovenian and traded him to Dallas for Young on draft night in 2018.
According to Elias Sports Bureau, Young is also the first NBA player to score at least 30 points in a playoff game on the road six times in his first postseason appearance.
"Ever since I was in middle school—when I was going on the road in middle school—I always loved playing on the road," Young told ESPN after the game.
"I loved playing against the opposing crowd, an opposing team. It feels like you're really just with your team, and it's just them in the building. I think that really brings our group together."
Game 2 tips off at 8:30 p.m. ET on Friday, June 25, in Milwaukee.