The face of the NBA is wading through a tumultuous week-plus.
LeBron James was suspended for a game last week following an altercation with Detroit's Isaiah Stewart. The suspension is the only one of his 19-year career.
He also was fined $15,000 for making an obscene gesture during a win against Indiana, then warned for using profane language when discussing his prior suspension.
"I mean, it's some bullshit," James told ESPN of his one-game hiatus. "But whatever."
On Tuesday, James was placed in the NBA's health and safety protocols and ruled out of Los Angeles' game against the Sacramento Kings. The move likely means James, who said he is vaccinated, has tested positive for COVID-19 or had an inconclusive result, The Associated Press reported.
James' vaccination status became a league-wide storyline before the season began. He revealed at the Lakers' preseason media day he decided to be vaccinated. Though, he labeled himself an initial skeptic and went on to say he would not stump for others to be vaccinated despite taking up other causes previously.
"We're talking about people's bodies. We're not talking about something political or racism or police brutality, things of that nature," James said. "I don't feel like for me personally that I should get involved in what other people should do for their bodies or their livelihoods."
James likely is facing a minimum of 10 days away from the court if he tested positive. That timespan can shrink if he returns two negative PCR tests in 24 hours, the AP reported.
AP also reported a recently circulated NBA memo that said the league has found 34 breakthrough cases among fully vaccinated players, coaches, or staff members. The league said around 97 percent of its roughly 450 players are vaccinated. Brooklyn's Kyrie Irving, who remains unvaccinated and subsequently unable to play because of New York City protocols, is among the notable holdouts. Irving has yet to play this season.
For more reporting from the Associated Press, see below.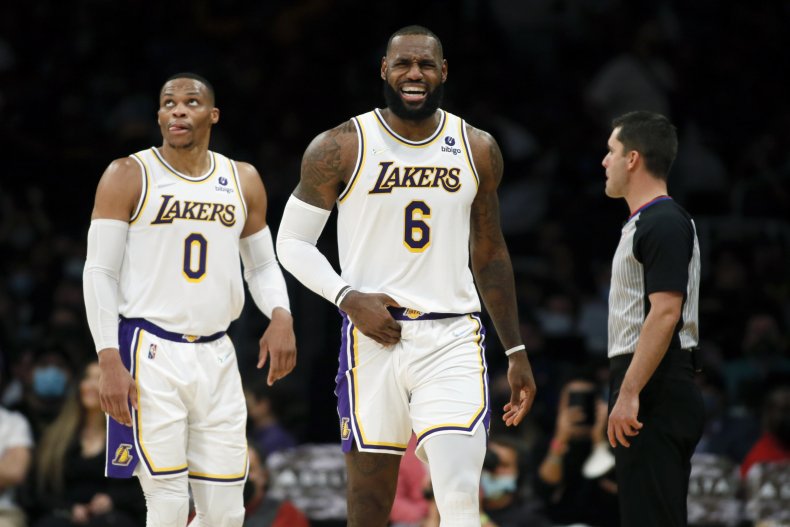 The news that he is missing time came on the same day that the NBA underscored its previous recommendation, echoed by the National Basketball Players Association, that coaches and players who are vaccinated receive a booster shot as soon as possible.
NBA stars other than James have already missed multiple games this season after testing positive, including Philadelphia's Joel Embiid — who just missed three weeks while dealing with the virus.
Tuesday's game marks James' 12th absence in the Lakers' first 23 games this season. He missed 10 games because of injuries and another because of the first NBA suspension of his 19-year career.
He's averaging 25.8 points, 5.2 rebounds and 6.8 assists this season. If he is out for 10 days, he would miss at least four games.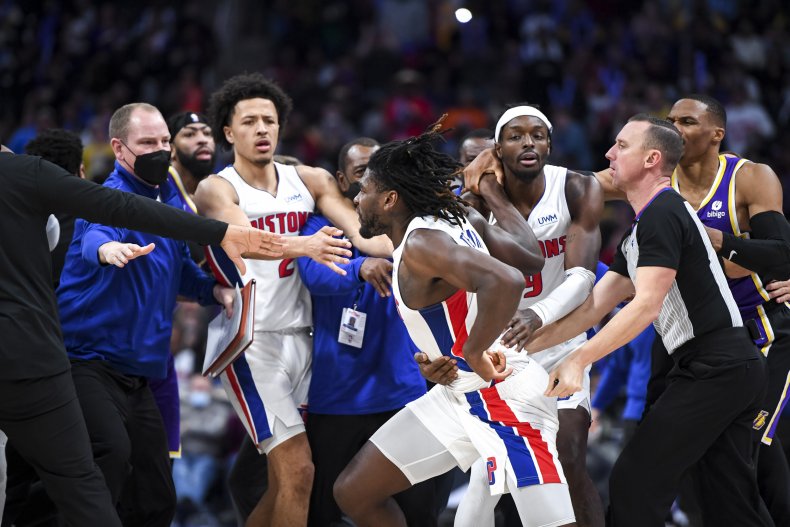 Uncommon Knowledge
Newsweek is committed to challenging conventional wisdom and finding connections in the search for common ground.
Newsweek is committed to challenging conventional wisdom and finding connections in the search for common ground.