LeBron James Calls Out Youth Football Coach Who Hit Player: 'Ain't No Way!'
A video of a youth football coach hitting a young player made waves on social media on Thursday with dozens of people calling for the firing of the coach. Among the many adults upset by the video was none other than LeBron James, who made it clear that he'd never stand for a grown man abusing his children, or any kids for that matter, on the field.
"Ain't no way!!! Couldn't be my kid," James wrote on a screenshot of the video shared on his Instagram Stories. "Hell, if I there and it's not even my kid we gone have more than words for sure."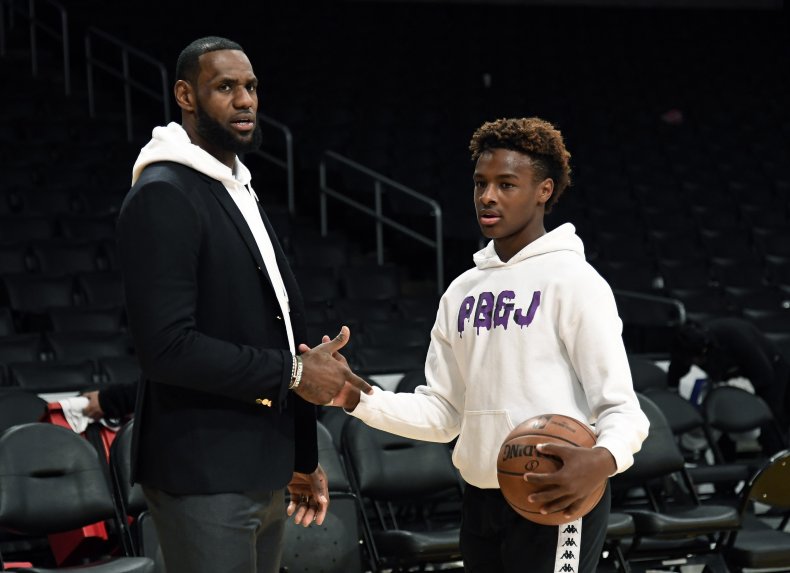 The incident in question involves Savannah youth league football coach Gerrell Williams hitting a child's helmet during the 2020 American Youth Football National Championships AA Div 1-7U tournament, which features athletes age 7 and younger. As seen in the video, which was filmed in Florida on Monday, Williams' initial hit was hard enough to knock the child off his balance, and within moments the coach hit the young boy a second time, knocking him to the ground.
A spectator who saw the video footage online reportedly notified the Osceola County Sheriff's Office about the incident, as noted by Georgia's ABC affiliate, WJCL. Officers reportedly said they contacted the child's mother back home in Savanah, and that she opted not to press charges against Williams. Chatham County Sheriff John Wilcher did, however, confirm to WJCL that Williams, a detention center counselor, has since been removed from his position.
"CCSO reviewed the video and we are very disturbed by the actions of Mr. Gerrel Williams," Wilcher said in a statement released Thursday. "The Chatham County Sheriff's Office does not condone this behavior. As of Dec. 10, 2020, he is no longer an employee of the CCSO."
Williams issued an apology on Facebook Live on Thursday, admitting that he was wrong for hitting the boy.
"There is no excuse for my actions. He forgives me and his parents have forgiven me, so nobody else should be bashing me," Williams said.
Williams' apology hasn't stopped the public's outrage. Along with James, former NFL star Shannon Sharpe also commented on the coach's behavior in an Instagram post.
"IF* that's my child. I've got to have him, I'm going to carry his punk a**," Sharpe wrote. "Even IF* that's his kid, I'll whip him. I won't let anyone prey on the weak or vulnerable in front of me. Not going to happen."
Willie Anderson, who plays for the NFL's Cincinnati Bengals, also encouraged more action to be taken against Williams.
"Online community football fans, and parents. We make a lot tweets go viral about football. This is about kids safety and punk a** little league coach. Please make this go viral. My heart hurts for these kids getting [that] kind of abuse in public Imagine what's not seen," he tweeted Thursday.