The Los Angeles Lakers lost to the Phoenix Suns, 113-100, on Thursday night, giving the Suns a first-round playoff series win. It means the Lakers and LeBron James are bounced from the playoffs just one season after winning the NBA title.
It gives James something else on his resume that's brand new in his illustrious career: a first-round playoff series loss.
For those who like to compare James to Michael Jordan and their playoff careers, it's often noted that James had never lost a first-round series, which is something Jordan did three times early in his career.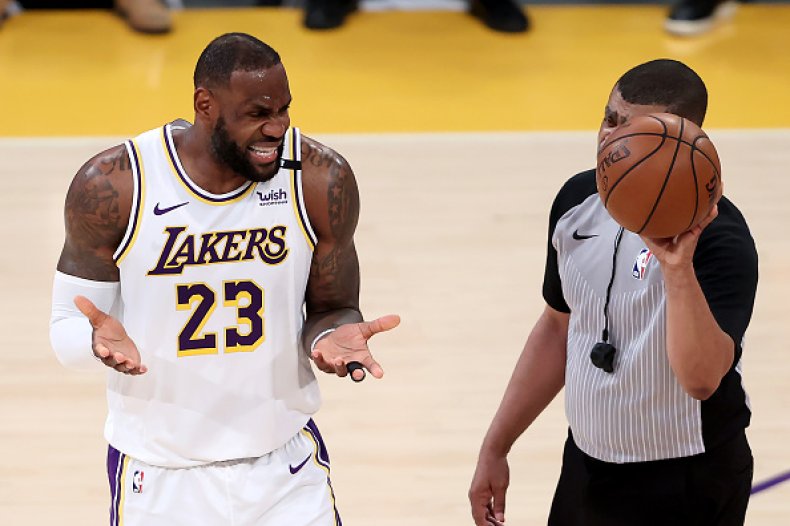 Before this season, and before Thursday night's Game 6 at the Staples Center in Los Angeles, James had been 14-0 all-time in first-round playoff series in his career. He'd made it to the conference semifinals in 14-of-14 playoff appearances prior to the 2021 season. He's been to the NBA Finals 10 times, winning four of them.
It wasn't for a lack of trying in Game 6, though. The Suns took a mammoth 36-14 lead to end the first quarter, and they led 62-41 at the half. The Lakers chipped away at the lead, but it came up too short in the end.
James scored a team-high 29 points and pulled the Lakers to within 13 points late in the fourth quarter, but the Suns melted away any hopes of the Lakers pulling off the comeback.
Devin Booker of the Suns scored a game-high 47 points. The Suns guard was 8-of-10 from beyond the 3-point line.
The Suns, who just won their first playoff series since 2010, advance to face the Denver Nuggets in the Western Conference semifinals.
In the crushing first quarter, the Lakers lost star player Anthony Davis midway through it. He returned from a groin injury, hoping to spark a Lakers run to even the series and force a deciding Game 7. He aggravated the injury, and the Lakers surely showed they missed their big man.
Davis missed the entire second half of the Game 4 loss, and then missed the entire Game 5 loss—which was so bad that James left the court early and didn't see the end of the game.
Davis' injuries were not only noticeable during this playoff series, but for the 2020-21 season as a whole. He was sidelined for half of the team's 72 regular-season games. The Lakers needed to win a one-game, play-in game against the Golden State Warriors just to make this year's playoffs under the league's new format.
Uncommon Knowledge
Newsweek is committed to challenging conventional wisdom and finding connections in the search for common ground.
Newsweek is committed to challenging conventional wisdom and finding connections in the search for common ground.
About the writer
Scott McDonald is a Newsweek deputy night editor based in Cape Coral, Florida. His focus is assigning and writing stories across all topics, from news to politics, business, weather, sports and international news. Scott joined Newsweek in 2018 after a lengthy career of print journalism in Texas, including The Dallas Morning News, where he was a sportswriter, and he's a voter for the Heisman Trophy. He has been a newspaper editor-in-chief and also a newspaper publisher. He is a graduate of The University of Texas at Austin. You can get in touch with Scott by emailing s.mcdonald@newsweek.com. Languages: English