What Did LeBron James Mean by 'Arthur' Instagram Meme? The Conspiracy Theories Are Flying
The Cleveland Cavaliers are struggling, and losing, and LeBron James is angry and frustrated.
That may be the simplest interpretation of James's latest Instagram post, published in the early hours of Tuesday morning. "Mood…", James wrote, beside a picture of the closed fist of Arthur, a cartoon aardvark. The Cavaliers lost to the Atlanta Hawks on Sunday at Quicken Loans Arena, two days after James's 57 points had dragged them to victory over the Wizards in Washington, D.C. The Cavaliers are 13th in the Eastern Conference after ten games, above only the Chicago Bulls and the Hawks in the standings.
It's clear that James, who has flashed M.V.P. form amid the Cavaliers' struggles, is far from happy with what has been a sluggish start to the season at best. "At least James showed some urgency after the game [against the Hawks], ESPN reported on Sunday. "He didn't even take the time to put on clothes after his shower, entering coach Tyronn Lue's office for a postgame meeting wearing nothing but a towel around his waist and slide sandals."
The Cavaliers' struggles have been starkest on the defensive side of the ball, particularly among the starters. Derrick Rose, Kyrie Irving's replacement at point guard while Isaiah Thomas recovers from hip injuries, was a minus-27 in 20 minutes' action against the Hawks. Jae Crowder, who arrived in Cleveland in the summer trade that sent Irving to Boston in return for Thomas, was minus-24 in 24 minutes. Dwyane Wade, James's old buddy who scored 25 points off the bench, pointed fingers squarely at the Cavaliers' underperforming starting lineup. "It's no secret we're starting games off awful," Wade said. "Terrible. And [Atlanta] got it going early, and the effort or the focus just wasn't there to start off, and you try to battle back, you waste a lot of energy trying to come back from 16-18 down, and it's tough nightly to do this. And we all know this. It's no secret in this locker room, but our first unit, we got to start off better."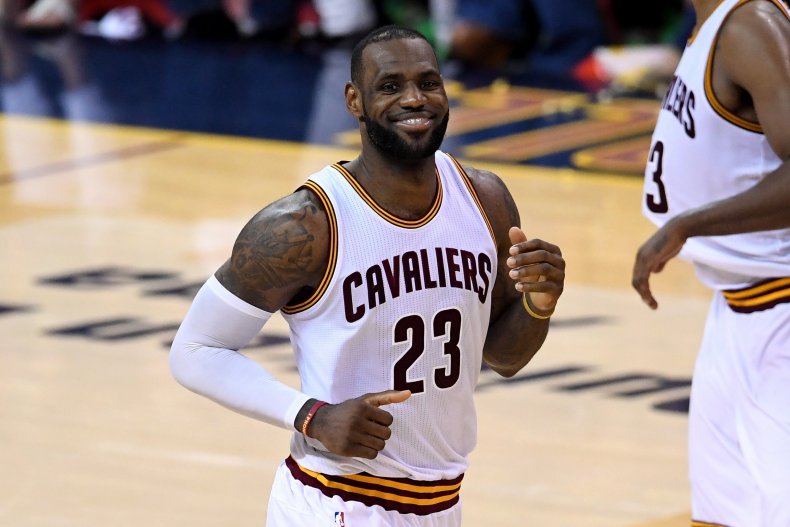 Irving, meanwhile, has been better defensively with the Celtics than many expected and has started to produce the kind of offensive form that can help Boston cover for the season-ending injury to Gordon Hayward. Irving scored 35 points on Monday night as the Hawks pushed the Celtics hard in Atlanta, before Irving's clutch three-pointer from the right wing gave Brad Stevens's team a one-point lead late in the game that it would not relinquish. James's Arthur meme was posted soon after Irving's game finished. "The timing of LeBron's post led many fans to comment that the meme was in response to Kyrie Irving's impressive performance in the Boston Celtics' latest win," ESPN suggested on Tuesday morning.
To make things weirder, and funnier, Thomas and Wade both joined in the thread in the comments. "Need me to handle somebody cuz?" Thomas asked. Wade posted a series of laughter emojis.
This isn't entirely unusual behavior for James, perhaps the NBA's most savvy exploiter of social media. "Ladies and gentlemen: we've reached Inscrutable, Perhaps Deliberately Vague and Endless-Speculation-Inducing LeBron Social Media Season!" Yahoo Sports wrote on Tuesday morning. The devil is in the ambiguity, of course. We know James is bubbling under. Only those in the Cavaliers' locker-room will know exactly how, and why.