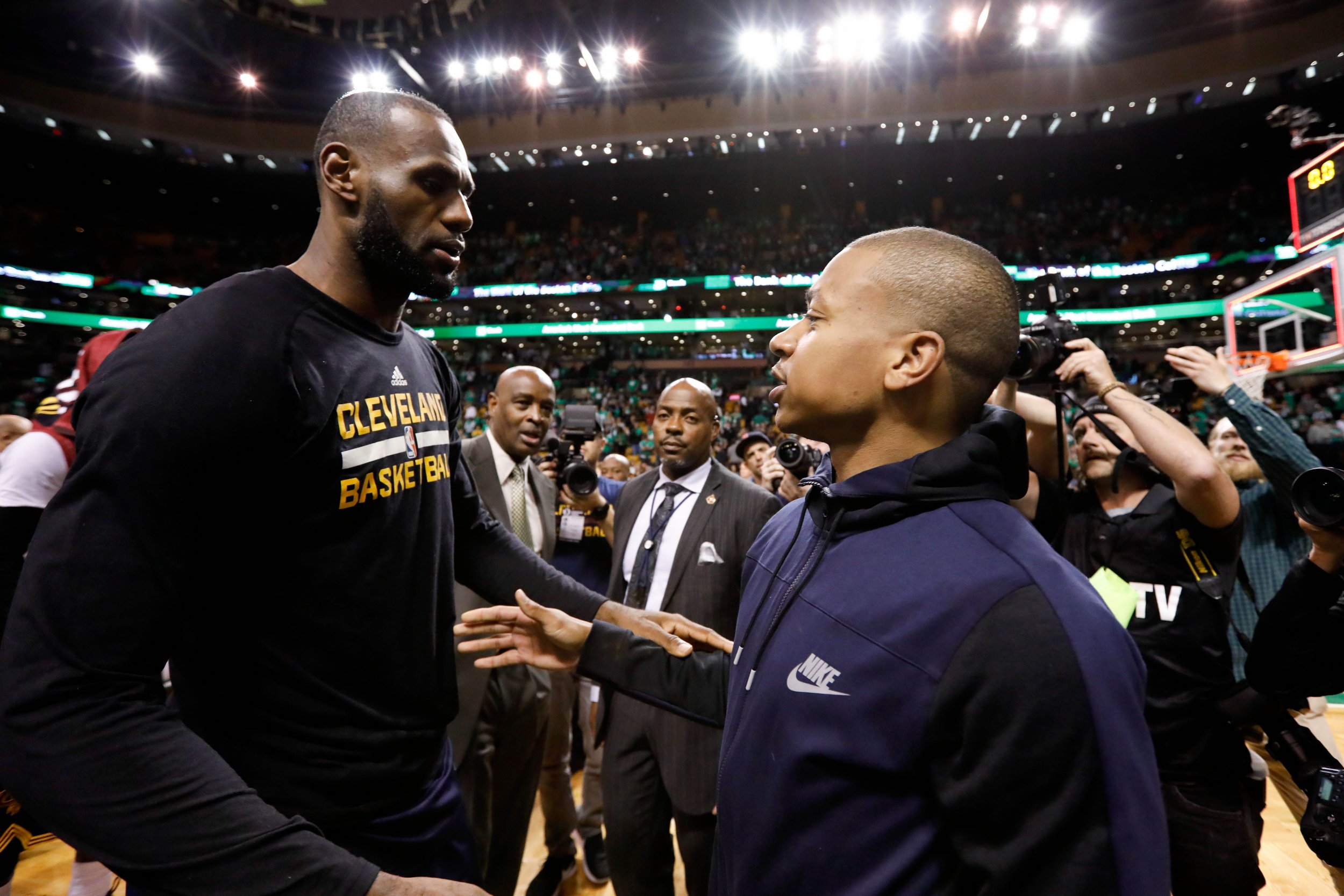 LeBron James fired off a tweetstorm Thursday, ostensibly about fans burning jerseys, but it all got at something bigger—a double standard in the NBA.
Players are supposed to be loyal, but teams have no such responsibility, and, in fact, are often lauded for being ruthless in their personnel decisions.
The Cavs star was responding to videos of what seemed to be (more on that in a moment) Boston Celtics fans burning the jersey of Isaiah Thomas, the pint-size superstar who was shipped to Cleveland as part of a blockbuster trade for James's former teammate, Kyrie Irving.
Here's what he posted in a series of five tweets (read from the bottom up):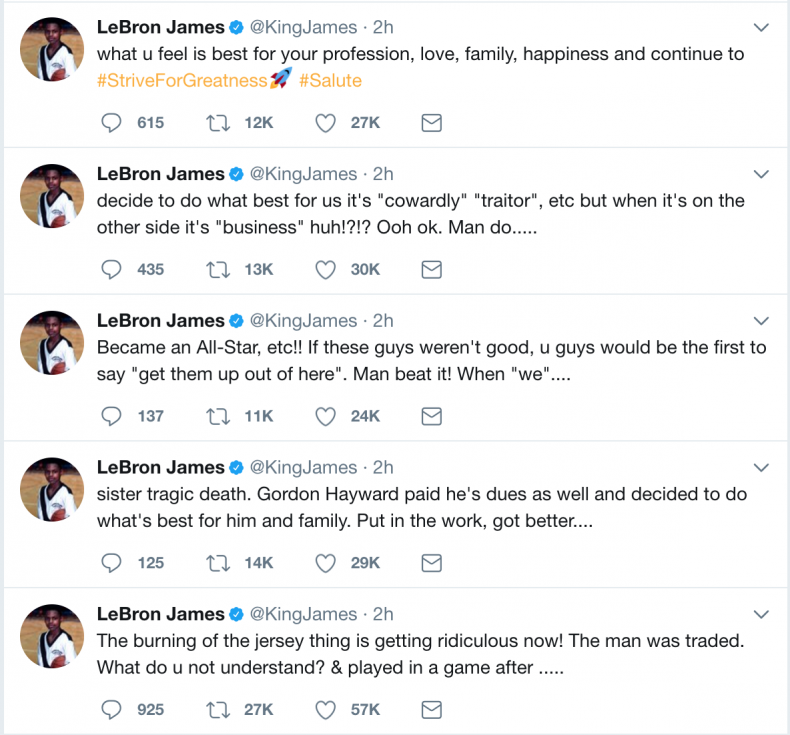 The whole jersey-burning thing—a played-out trope that should have been played out before it even began—kicked off years ago, back when James departed Cleveland for Miami in 2010 following the infamous broadcast on ESPN dubbed "The Decision." Fans were legitimately angry and burned Cavs jerseys with James's name on it. It was probably a bit much, but at least at the time it was somewhat novel. Now, any time a player leaves a team, some jamoke with a lighter rushes to set a shirt on fire.
As many have pointed out, burning the jersey of a player has become a cheap ploy for folks desperate to go viral. And as James noted, Thomas was traded for Chrisake, meaning he had absolutely no choice in the matter.
But the fact that anyone could somehow transfer some sort of rage to Thomas gets at an NBA truth—one that the players themselves are increasingly aware of—that we demand loyalty of players, somehow, yet expect none from the franchises. As LeBron put it, players get called "coward" for leaving a team yet when the franchise callously jettisons a player past their prime, it's just "business."
The NBA is a business, and the 2017 offseason has, in many ways been defined by players using their power to their advantage. The league is defined by superstars who can increasingly take control of the shape of their careers, something LeBron shone a light on with his choice in 2010. A brief recap of the splashiest moves this offseason: Paul George used his leverage as a top talent to force his way out of Indiana, Chris Paul maneuvered his way to Houston, Jimmy Butler was shipped to Minnesota, Gordon Hayward signed with the Celtics and, finally, Irving demanded out of Cleveland and ended up in Boston. Most, if not all, of those moves were initiated by the star players indicating they wanted something new.
The players—the roughly top 20 players in the league, at least—have more power than ever and they're using it. Good! They're already not getting paid what they're worth because of an arbitrary maximum salary limit, they should at the very least be permitted to play in the circumstances they prefer. The NBA is a massive $8 billion business that's growing largely because of its best players.
Those players are not without obligations: Their job is to be very good at basketball, but not to be very good at basketball for one team forever-and-ever, amen. Loyalty is great—but it's a two-way street. Consider that Thomas was traded at all (and briefly forget the idiocy of burning his jersey for that fact). The 5-foot-9-inch point guard was a sports god in Boston, as beloved as any athlete since the Red Sox's David Ortiz. The Ringer's Editor-in-Chief Bill Simmons (and the most famous Boston sports guy) put it like this on his podcast immediately following the trade:
"Isaiah Thomas, who becomes a folk hero in Boston—every kid under age 15 has his jersey, he has this unbelievable season, he's an MVP candidate last season, he gets hurt, he plays hurt in the playoffs, has a tragic death of his sister, plays through it anyway, we go through an emotional roller-coaster ride, they finally shut him down in round three, bled Celtic green.... Now he's gone. We have to start there, right? That's the biggest thing in all this."
If a team can unceremoniously dump someone who meant so much to the franchise then it's preposterous to expect players to feel any real sense of loyalty.
It's nonsense that we—the royal we referring to fans, Twitter trolls, blowhards on TV—get all bent out of shape when players leave but hardly ever direct our anger so fiercely at franchises for, say, not creating a team with a modicum of hope of winning a championship. In a reasonable world, we wouldn't get mad at players who did an amazing job then decided to do that job somewhere else. No, in a reasonable world, if there must be ritual burnings, Knicks fans would be sewing together makeshift James Dolan jerseys and blazing those suckers in perpetuity.
Uncommon Knowledge
Newsweek is committed to challenging conventional wisdom and finding connections in the search for common ground.
Newsweek is committed to challenging conventional wisdom and finding connections in the search for common ground.
About the writer
Reporter, covering a bit of everything.