Watch: LeBron James Jr.'s Moves Impress Chris Paul at Houston Tournament
The sight of LeBron James dominating at both ends of the court hardly generates surprise. Since James made his debut in the NBA 15 years ago, fans have become accustomed to seeing him score, produce spectacular assists, secure rebounds and dish out menacing blocks with impeccable regularity.
However, when such commanding performances are delivered by James's son, LeBron James Jr., the surprise factor can't be ignored.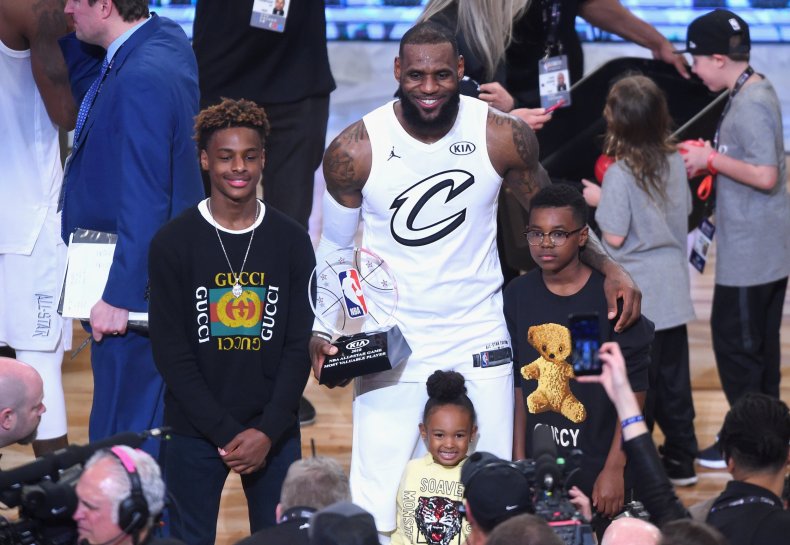 The 13-year-old dazzled spectators at the prestigious John Lucas All-Star weekend in Houston over the weekend, scoring at will, freeing up space for his teammates to finish at the hoop and protecting the paint with the kind of determination that would make his father proud.
Chris Paul, who is James Jr.'s godfather, was in attendance to watch the tournament and looked taken aback by the teenager's talent, particularly as the teenager went airborne to deliver a ferocious block.
Currently in seventh grade, James Jr. led Old Trail Middle School to an Indian Super League title after they beat Gilmour Academy in the final, and he is already attracting interest from college basketball heavyweights such as Kentucky and Duke.
Last year, James senior told the media that his son was a better passer and shooter than he was at the same age.
"They [James Jr.'s team] do a great job of teaching him the right way," said the three-time NBA champion.
"I didn't handle the ball as well as he does, he handles the ball exceptionally well and he shoots a lot better than I did at that age."
The Cleveland Cavaliers star was extremely pleased with his son's ability to pick a pass and share the ball, particularly as kids in their early teens tend to hold onto possession a lot more than their more mature counterparts.
"It's probably the best part of his game," James said when asked what it was like for him to watch his son pass the ball around.
"I grew up playing basketball and I saw a lot of kids kind of hogging the ball and not passing it. I was never one of those kids and I always liked seeing my teammates being excited about getting the ball and making a shot and to see him doing the same thing, it's a pretty unique trait for a kid."