How Will LeBron James and Cavs Respond to the J.R. Smith Play in Game 2 of NBA Finals?
Thursday night's opener of the 2018 NBA Finals featured one of the more perplexing plays in finals history when, with the game tied and a few seconds remaining, Cleveland Cavaliers guard J.R. Smith grabbed an offensive rebound and then appeared to forget the score. The brain lapse resulted in a lot of hilarious memes and also a very angry LeBron James. The Cavs lost to the Golden State Warriors 124-114 in overtime.
The two addressed the media prior to Sunday night's game Game 2 of the NBA Finals against the Warriors.
"I can't say I was sure of anything at that point," Smith said of the incident. When a reporter asked Smith about a video that appeared to show Smith saying "I thought we were ahead" he told reporters Saturday, according to USA Today, "I might have said that. Not sure, but I might have."
James showed no ill feelings toward his teammate Saturday, saying Smith will be ready for Game 2 against Steph Curry, Kevin Durant and the Warriors.
"I think J.R. is one of the most resilient guys I've ever been around," James said. "I think it just comes from not only him personally but his household... He probably took that loss as hard as anybody on the team."
"But one thing about J.R., he has an uncanny ability to bounce back," James continued. "I think people have seen that throughout our postseason runs. For me, I don't think I need to say anything to J.R... J.R. knows what I expect out of him."
For those experts out there, best not to bet against James and the Cavs in games after a loss. According to ESPN, James has been a monster statistically this year after losing a postseason game. The Cavs are 5-1 in those games and James is averaging 39.7 points, 8.7 assists and 9.8 rebounds per game while shooting nearly 60 percent from the floor.
Official betting odds for Sunday's game, despite the numbers above, have the Warriors with a huge edge over the Cavs (-12).
The game between the Cavs and Warriors is on Sunday at 8 p.m. EST on ABC. For those wanting to stream Game 2 of the NBA Finals, you use the WatchESPN app on your smart TV devices, as well as the ABC app.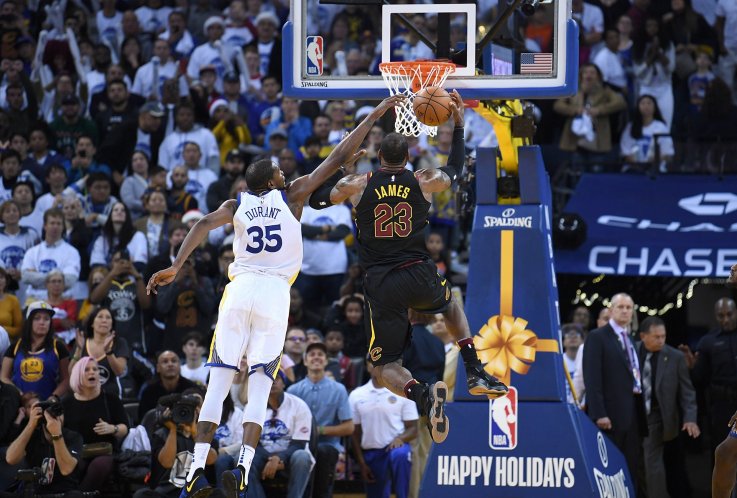 How Will LeBron James and Cavs Respond to the J.R. Smith Play in Game 2 of NBA Finals? | Sports