LeBron James is Just 2 Games Away From a Crazy, Dismaying NBA Finals Record
LeBron James will undoubtedly go down as one of the greatest basketball players in history. He's made it to the NBA Finals now, as a player, more than most teams could hope for in a lifetime. Now that he has led the Los Angeles Lakers to the NBA Finals, it means that James has made the Finals 10 years as a player. Only three other players in history have made that many appearances.
And while the debate rages on who was better, Michael Jordan or LeBron James, there is one crazy record that James could attain during the 2020 NBA Finals, and it's something that likely won't be emblazoned onto his Hall of Fame plaque when he eventually gets enshrined.
James is just two losses in the NBA Finals away from becoming tied for a player with the most game losses in NBA Finals history. He breaks the record with three losses. Here is the list of players (with games lost), heading into the 2020 Finals:
33 — Jerry West
32 — Elgin Baylor
31 — LeBron James
Furthermore, a series loss in the 2020 NBA Finals would give James seven defeats in 10 appearances. The record for most series losses by one player is eight, which is two more than James, who is 3-6 in nine NBA Finals appearances.
Here are the most NBA Finals series losses by any one player in league history:
8 — Jerry West
7 — Elgin Baylor
6 — LeBron James
5 — Larry Foust
4 — 9 players tied (including Magic Johnson, Kareem Abdul-Jabbar, Wilt Chamberlain)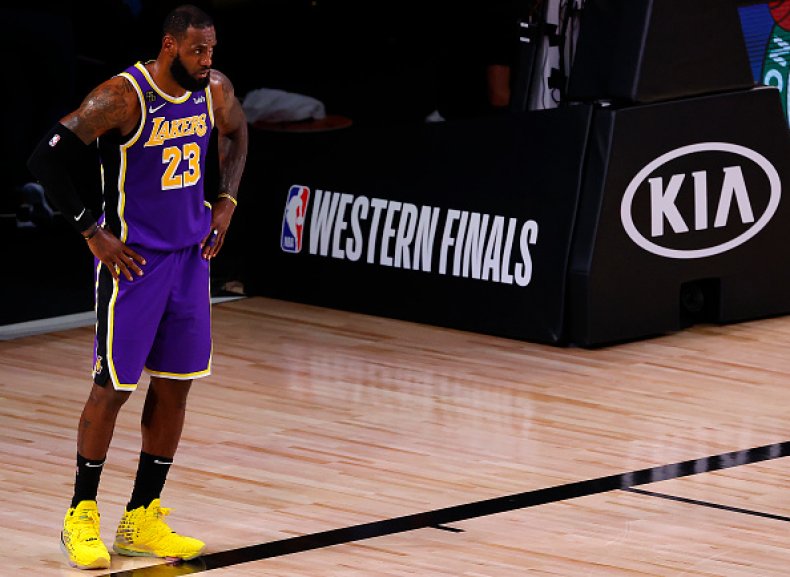 James begins his 10th NBA Finals on Wednesday as his Los Angeles Lakers take on one of his former teams, the Miami Heat. Here is the list of Finals appearances by Lebron James, who went straight from high school to the NBA in the 2003 NBA Draft:
2007 — Cleveland Cavaliers lost to San Antonio Spurs, 0-4
2011 — Miami Heat lost to Dallas Mavericks, 2-4
2012 — Miami Heat defeated Oklahoma City Thunder, 4-1
2013 — Miami Heat defeated San Antonio Spurs, 4-3
2014 — Miami Heat lost to San Antonio Spurs, 1-4
2015 — Cleveland Cavaliers lost to Golden State Warriors, 2-4
2016 — Cleveland Cavaliers defeated Golden State Warriors, 4-3
2017 — Cleveland Cavaliers lost to Golden State Warriors, 1-4
2018 — Cleveland Cavaliers lost to Golden State Warriors, 0-4
James' overall record (in games) is 18-31. He has never lost in a full seven games. He has been swept twice, won just one game in a series twice, and then twice won two games.
However, LeBron James has 10 Finals appearances starting tonight, tying him with Kareem Abdul-Jabbar for third all-time. Bill Russell has the most appearances with 12, followed by Sam Jones, who has 11.
The 2020 NBA Finals between the Los Angeles Lakers and Miami Heat tipoff game 1 at 9 p.m. ET on Wednesday night. The games will be broadcast on ABC.