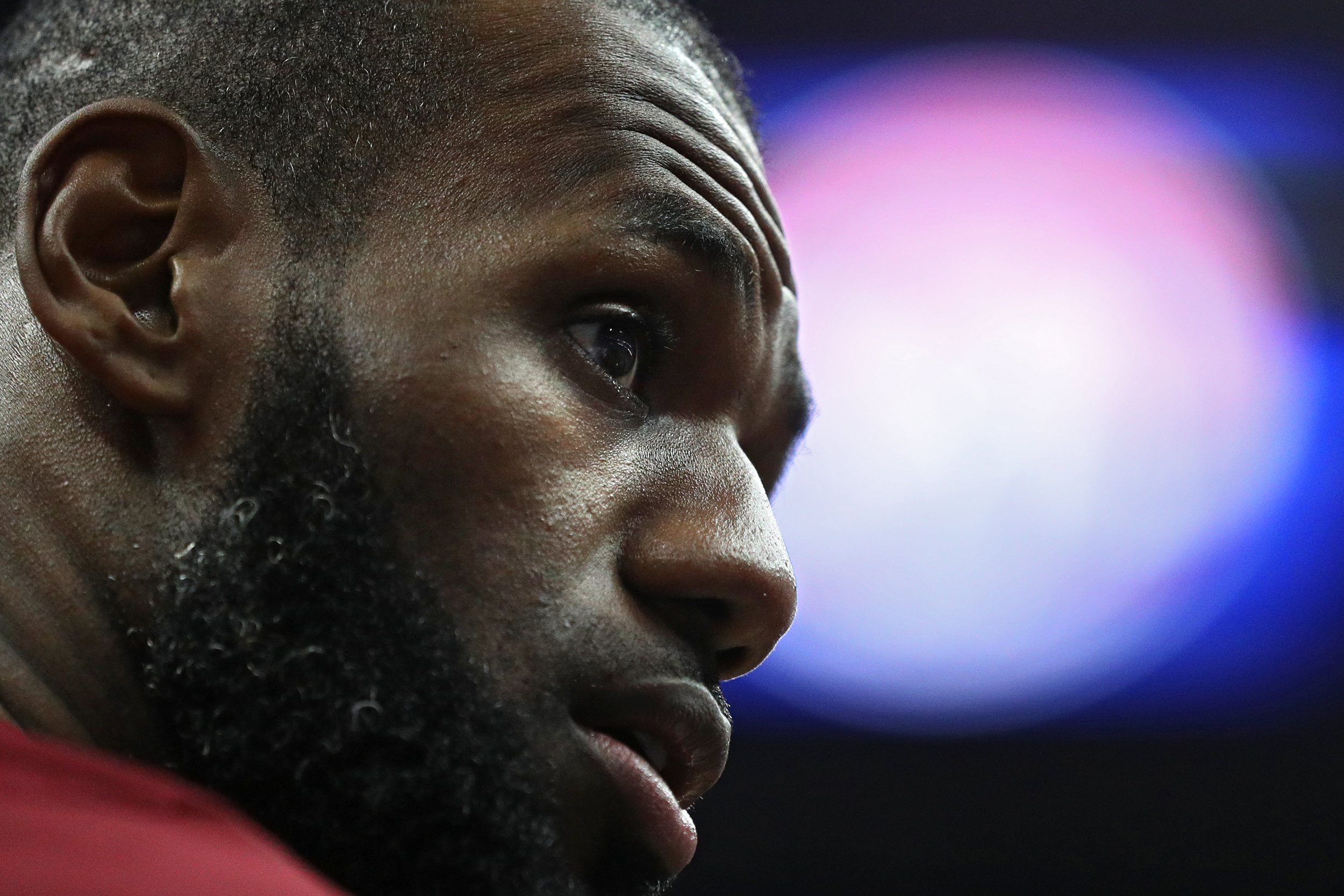 It's long been rumored that LeBron James would leave Cleveland for Los Angeles when his contract runs out after this upcoming season. A story published by GQ magazine Tuesday, on opening day of the NBA season, will do little to quell the fears of Cavaliers fans that their star will leave town (again).
The article's author, Mark Anthony Green, asked James about an infamous letter penned by Cavaliers owner Dan Gilbert after the star left for Miami in 2010 (he'd return to Ohio in 2014). For the uninitiated, the letter slammed James personally, with Gilbert waxing on about the star's betrayal, cowardice and narcissism.
"Did you feel like Dan Gilbert's letter was racial?" Green asked (Gilbert, like most owners of professional sports franchises, is white.) James responded:
"Um, I did. I did. It was another conversation I had to have with my kids. It was unfortunate, because I believed in my heart that I had gave that city and that owner, at that point in time, everything that I had. Unfortunately, I felt like, at that point in time, as an organization, we could not bring in enough talent to help us get to what my vision was. A lot of people say they want to win, but they really don't know how hard it takes, or a lot of people don't have the vision. So, you know, I don't really like to go back on that letter, but it pops in my head a few times here, a few times there. I mean, it's just human nature. I think that had a lot to do with race at that time, too, and that was another opportunity for me to kind of just sit back and say, 'Okay, well, how can we get better? How can we get better? How can I get better?' And if it happens again, then you're able to have an even more positive outlook on it. It wasn't the notion of I wanted to do it my way. It was the notion of I'm gonna play this game, and I'm gonna prepare myself so damn hard that when I decide to do something off the court, I want to be able to do it because I've paid my dues."
When James returned to Cleveland he told Sports Illustrated "what's most important for me is bringing one trophy back to Northeast Ohio." He accomplished that in 2016.
"What does LeBron James owe the city of Cleveland?" Green asked him.
"LeBron James owes nobody anything," he said. "Nobody. When my mother told me I don't owe her anything, from that point in time, I don't owe anybody anything. But what I will give to the city of Cleveland is passion, commitment and inspiration. As long as I put that jersey on, that's what I represent. That's why I'm there—to inspire that city. But I don't owe anybody anything."
The stream of Lebron-to-L.A. reports has been near-constant. The Ringer first floated the rumors in June. Adrian Wojnarowski, then of Yahoo, now of ESPN, soon followed up with reports saying many expected the move. Bleacher Report reported many league executives are convinced it's a done deal. Veteran NBA writer Peter Vecsey went as far as to say, "I'm comfortable now in stating unequivocally, LeBron will leave the Cavaliers a second time and join the Lakers, and return the team to L.A. lore status."
So as the Cavaliers tip-off Tuesday night to begin the NBA season, it's possible it could be the beginning of the end for the LeBron Era in Cleveland.
Uncommon Knowledge
Newsweek is committed to challenging conventional wisdom and finding connections in the search for common ground.
Newsweek is committed to challenging conventional wisdom and finding connections in the search for common ground.
About the writer
Reporter, covering a bit of everything.