LeBron James Passes Michael Jordan on the NBA's All-time Scoring List, Reignites GOAT Debate
This season might be the first one since 2004-05 in which LeBron James will not feature in the NBA playoffs, but the four-time MVP can at least find solace in personal accolades.
On Wednesday night, LeBron surpassed Michael Jordan on the list of the league's all-time top scorers. James finished with 31 points, seven assists and seven rebounds as the Los Angeles Lakers lost 115-99 to the Denver Nuggets, and moved onto 32,311 career points.
"For a kid from Akron, Ohio, that needed inspiration and needed some type of positive influence, MJ was that guy for me," LeBron was quoted as saying by ESPN after the game.
"I watched him from afar. I wanted to be like MJ, wanted to shoot fadeaways like MJ, wanted to stick my tongue out like MJ, wanted to wear my sneakers like MJ. I wanted kids to look up to me at some point like MJ. And it's just crazy, to be honest. It's beyond crazy."
LeBron needed 117 regular season games more than Jordan to reach the scoring milestone and also trails the former Chicago Bulls legend in terms of scoring average. Jordan averaged 30.1 points per game throughout his career to LeBron's 27.1, but the latter averages 7.4 rebounds and 7.2 assists to Jordan's 6.2 and 5.3, respectively.
Crucially, and that is probably the statistic that matters the most to James, Jordan leads the NBA titles count by six to three.
The 34-year-old admitted surpassing the greatest player in NBA history on the scoring charts was a surreal moment.
"Sometimes I have no idea how I'm even in this position to be able to sit here, play the game that I love. Play at a high level and be linked with some of the greatest to ever play this game, and obviously MJ being out of this world, so it's pretty unique."
As shown by the infographic provided by Statista, only Kareem Abdul-Jabbar, Karl Malone and Kobe Bryant rank ahead of the three-time NBA champion in terms of career points. Abdul-Jabbar scored 38,387 throughout his career, Malone retired with 36,928, and Bryant with 33,643 points.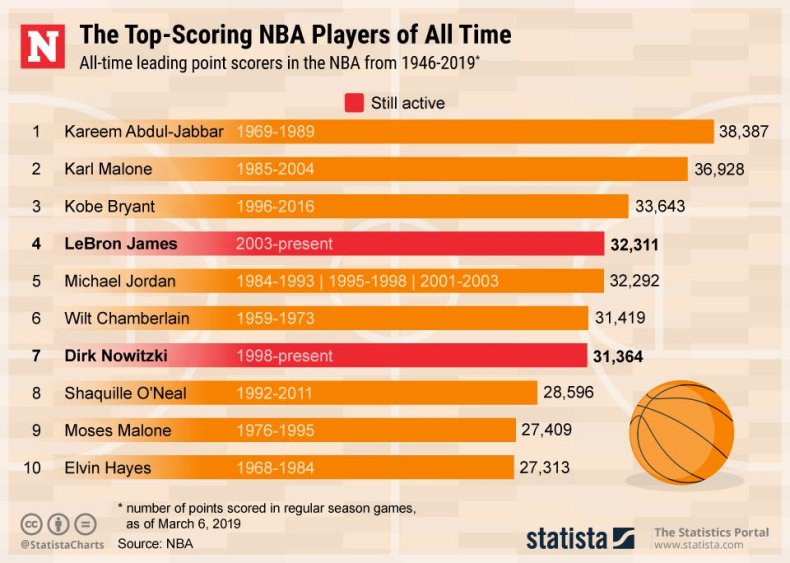 Assuming LeBron maintains his scoring average, he will overtake Bryant in just over 49 games. However, it would take him around 170 regular season games to catch Malone, meaning he could do so towards the end of his third season with the Lakers, provided he remains injury free.
Throughout his career, LeBron has played an average of 74.3 games per regular season. Were he to feature in all the Lakers' remaining games, he will end the season on 63 games—the fewest since the lockout-shortened 2011-12 campaign, when he played 62 games.
To reach Abdul-Jabbar's record, however, at the current scoring average LeBron would require an additional 224 regular season games.
This article has been updated to include an infographic.