LeBron James Not Among Top 10 Favorites For This Year's NBA MVP
If someone thinks LeBron James will light up the second half of the NBA season and win the regular-season MVP award, then a $100 bet on the superstar right now would net $13,000 if he eventually won the award.
The odds could change over the next few months, though.
James is currently not among the top 10 favorites to nab the league's Most Valuable Player for the 2021-22 season. He's tied for 11th with Jimmy Butler.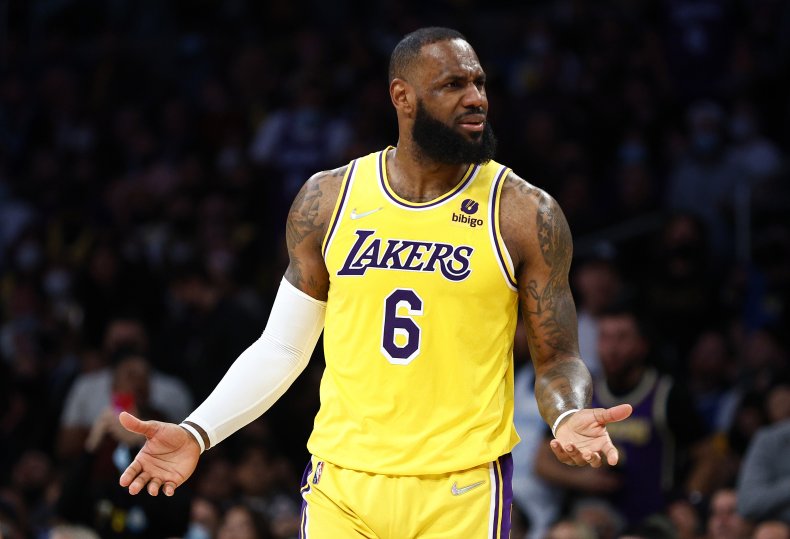 Here are the favorites halfway through February, according to FanDuel.com:
+145 — Joel Embiid, Philadelphia 76ers
+370 — Nikola Jokic, Denver Nuggets
+410 — Giannis Antetokounmpo, Milwaukee Bucks
+750 — Stephen Curry, Golden State Warriors
+1400 — Ja Morant, Memphis Grizzlies
+2700 — Devin Booker, Phoenix Suns
+2700 — Chris Paul, Phoenix Suns
+3500 — DeMar DeRozan, Chicago Bulls
+4800 — Luka Doncic, Dallas Mavericks
+5500 — Kevin Durant, Brooklyn Nets
+13000 — ​​Jimmy Butler, Miami Heat
+13000 — LeBron James, L.A. Lakers
Here's how the odds work. A $100 bet would net the amount of the odds next to the player's name. If a $100 bet was placed on Embiid to win the MVP, it would pay out $145 in addition to the $100 in return. A $100 bet would win an extra $750 for a bet placed on Stephen Curry.
Other notables beyond James on the list include James Harden and Donovan Mitchel at +24000 and Atlanta Hawks point guard Trae Young at +49000.
Embiid, a 7-foot player from Cameroon, is averaging 29.5 points and 11.2 rebounds per game this season. He shoots 49.2 percent from the field, including 36.2 percent from 3-point range. The 76ers are currently in fourth place in the Eastern Conference behind Embiid.
James, on the other hand, is averaging 29 points, 7.9 rebounds and 6.5 assists this season, which has seen the star sidelined several games. The Lakers are currently in ninth place among the Western Conference standings, hanging by a thread in the playoff conversation.
James last week surpassed Kareem Abdul-Jabbar for the most points scored in NBA history.