LeBron James Passes Kareem Abdul-Jabbar as NBA's All-Time Scoring King
NBA superstar LeBron James on Tuesday night carved another notch into his place among the greatest basketball players of all time. James became the NBA's all-time leader in points scored, passing Kareem Abdul-Jabbar.
James, a 38-year-old small forward with the Los Angeles Lakers, hit a 14-foot jump shot with 10.9 seconds remaining in the third quarter of his team's eventual 133-130 loss to the Oklahoma City Thunder at Crypto.com Arena in Los Angeles.
After James nailed the two-point shot, the crowd erupted with an "MVP, MVP" chant as James raised both arms into the air.
James had just scored career point 38,388, surpassing Abdul-Jabbar's old mark set when he was also with the Lakers.
It looked like a prize fighter had just won a big match as photographers enclosed around him and his family was briskly brought onto the court to celebrate.
Abdul-Jabbar and NBA Commissioner Adam Silver each came onto the floor to commemorate the moment, too, as a video played of James' career, which included an NBA championship at the end of the 2019-2020 COVID year that was delayed.
"A record that has stood for nearly 40 years," Silver said. "Many people thought it would never be broken. LeBron, you are the NBA's all-time scoring leader. Congratulations."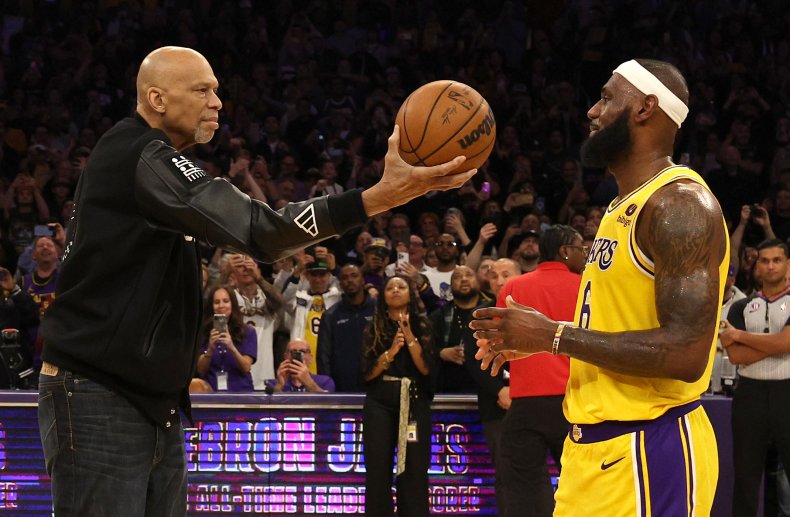 Abdul-Jabbar handed James a basketball during the ceremony. They embraced, then James grabbed the microphone to address the moment.
"I just wanna say thank you to the Laker faithful. You guys are one of a kind. To be able to be in the presence of such a legend as great as Kareem, it means so much to me. It's very humbling," James said. "Please give a standing ovation to the captain, please ... To my beautiful wife, my daughter, my two boys, my friends ... man, everybody that's ever been a part of this run with me the last 20 years—20-plus years—I just wanna say I thank you so much 'cause I wouldn't be me without y'all.
"And to the NBA, to Adam Silver, to the late, great David Stern, I thank you guys so much for allowing me to be a part of something I've always dreamed about. And I would never, ever in a million years dreamt this even better than what it is tonight."
Abdul-Jabbar is No. 2 now on the all-time scoring list, followed by Karl Malone (36,928), Kobe Bryant (33,643), Michael Jordan (32,292), Dirk Nowitzki (31,560), Wilt Chamberlain (31,419), Shaquille O'Neal (28,596), Carmelo Anthony (28,289) and Moses Malone (27,409).
James has played in the NBA for 20 seasons, winning four NBA titles, four NBA Finals MVP awards, with 19 All-Star appearances and 13 all-NBA First Team nods. He's led his team to the NBA Finals 10 times, with the Cleveland Cavaliers, Miami Heat and the Lakers.
Newsweek has reached out to the Lakers for comment.