Los Angeles Lakers all-star LeBron James voiced support for Goodyear employees during a press conference following Thursday night's playoff game, after the company was attacked by President Donald Trump, who recently urged his supporters not to buy Goodyear tires. Trump's proposed boycott on Goodyear struck a nerve with the NBA icon, as the company is based out of James' hometown of Akron, Ohio.
According to USA Today, James spoke to reporters about "what Goodyear means to our city." The three-time NBA champion also gave props to the people working for the company, and to the people of Akron at large. "Shout-out, salute to all the workers, men and women at Goodyear, over the course of their history and to the city of Akron," he said.
On Wednesday, Trump and other Republicans criticized Goodyear after a photo of a slide supposedly used in a company diversity training session began circulating on the internet. The slide alleged that the company had banned MAGA hats, Blue Lives Matter attire and political slogans for any candidate or party, while allowing employees to wear clothing that expresses solidarity with Black Lives Matter and LGBT pride.
A statement from Goodyear said that the slide was not created by the company and was not part of a diversity training session, although the company does ask employees not to show support for political candidates or parties at work. "To enable a work environment free of those, we ask that associates refrain from workplace expressions in support of political campaigning for any candidate or political party, as well as similar forms of advocacy that fall outside the scope of racial justice and equity issues," the company said. "Goodyear has always wholeheartedly supported both equality and law enforcement and will continue to do so. These are not mutually exclusive."
Goodyear employees rallied in Akron on Thursday following Trump's call for a boycott. Workers criticized Trump for going after the company before verifying what the company's policy was or that the slide in question was from Goodyear directly.
Without addressing Trump by name, James said that despite the president's attacks on the Ohio company, it was stronger than the calls to boycott. "We don't bend, and we don't fold, and we don't break for nobody. So we're not worried about that," James said.
The Lakers forward also spoke about how Goodyear represents so much more than just his hometown. "Not only has Goodyear been great for my city, for the history of my city, but for the country and what they represented," he said. "It's an unbelievable brand, unbelievable history."
James also noted that Akron's underdog status helped bring the city together. "We've always felt like we've been counted out, being a small city, and that's what rallies us even more and makes us even stronger," he added.
Earlier in the press conference, James spoke about the impact that civil rights leaders like Dr. Martin Luther King, Jr. and Malcolm X have had on him. He also showed that he's reading The Autobiography of Malcolm X. The Laker revealed that he'd only started the book, but he called X a "very smart man" and spoke about how relevant the Civil Rights leader's words are still today. "It's a very powerful-minded gentleman, and it's unbelievable to kind of read something coming directly from him," he said. "I wish I had the opportunity to meet him."
Klutch Sports Group, which is led by James' agent, did not respond to Newsweek's emailed request for comment in time for publication.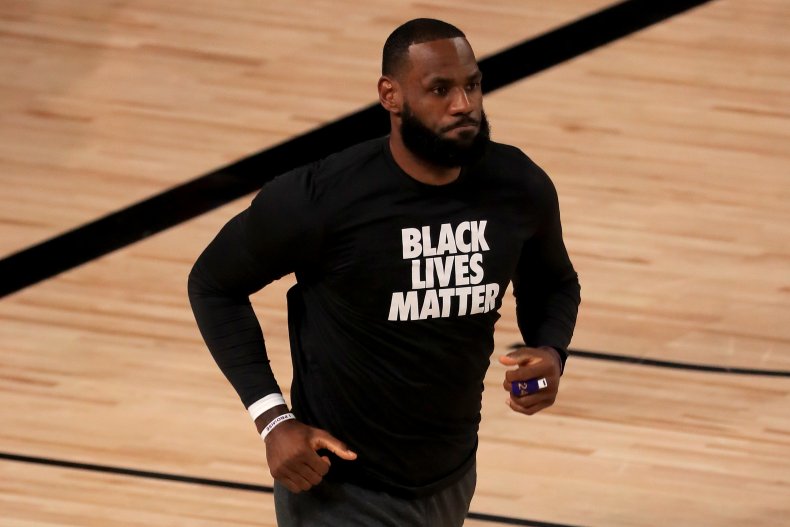 Uncommon Knowledge
Newsweek is committed to challenging conventional wisdom and finding connections in the search for common ground.
Newsweek is committed to challenging conventional wisdom and finding connections in the search for common ground.