LeBron James will be the executive producer of a documentary series titled Shut Up and Dribble.
The show was announced on Monday by Showtime and its title is a not-so-veiled dig at comments made by Fox News host Laura Ingraham in February.
In response to a video in which James and Kevin Durant accused U.S. President Donald Trump of "not caring about the people," the Fox News pundit told the pair to "Shut up and dribble," urging them to steer clear of politics.
"This is what happens when you attempt to leave high school a year early to join the NBA," she said.
"Oh, and LeBron and Kevin? You're great players but no one voted for you. Millions elected Trump to be their coach. So keep the political commentary to yourself or, as someone once said: Shut up and dribble."
Ingraham's barb has now been turned into the title for the show instead, which will debut in October and will look at how NBA players have become increasingly vocal on political matters.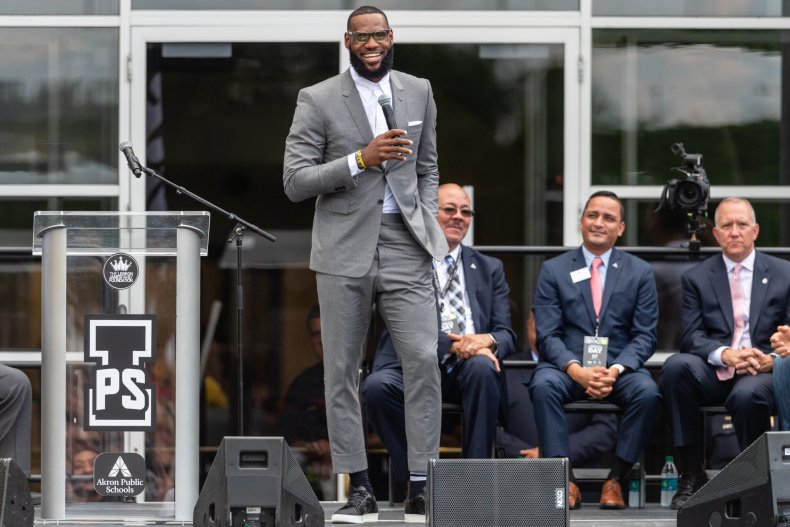 The three-part series will begin with the merger between the NBA and the American Basketball Association in 1976 and will explore how players have gone from being simply athletes to building their business brands off the court.
Similarly, the show will also focus on how some players used their growing influence outside the sporting arena to have their say on sociopolitical issues.
"It's really an exploration of how basketball is truly America's game and the NBA has been a vessel for black athletes to claim pieces of the American dream," Gotham Chopra, who will direct the show, told ESPN.
Last week, the four-time MVP was subject to a direct attack from U.S. President Donald Trump, after LeBron appeared in a CNN interview in which he accused Trump of using sports to divide the country.
"We are in a position right now in America […] where this race thing has taken over," James said during an interview with CNN anchor Don Lemon.
"Because I believe our president is kind of trying to divide us. What I've noticed over the past few months [is] he's kinda used sports to kinda divide us, and that's something that I can't relate to."
The interview was not the first time LeBron has made his feelings known about President Trump.
Ahead of the NBA Finals last month, the 34-year-old claimed that regardless of who won the NBA title, neither the Cleveland Cavaliers nor the Golden State Warriors would have accepted an invitation to visit the White House.
A week earlier, Trump had rescinded the invitation for Super Bowl LII winners Philadelphia Eagles after learning that many of the players did not plan to attend.
LeBron said the decision was "typical of [Trump]" and that the president stood for a lot things Americans do not believe in.
Last year the former Cleveland Cavaliers star described Trump as a "bum" after the latter canceled the routine presidential visit when Golden State won a second NBA title in three years.
Uncommon Knowledge
Newsweek is committed to challenging conventional wisdom and finding connections in the search for common ground.
Newsweek is committed to challenging conventional wisdom and finding connections in the search for common ground.
About the writer
Dan Cancian is currently a reporter for Newsweek based in London, England. Prior to joining Newsweek in January 2018, he was a news and business reporter at International Business Times UK. Dan has also written for The Guardian and The Observer.