Betsy DeVos Should Be Replaced by LeBron James as Education Secretary, Petition Says
Following President Donald Trump's insult to NBA star LeBron James, a petition is gaining support for the Los Angeles Laker to replace Betsy DeVos as secretary of education.
The petition on Care2 compares James, who recently opened a public school for at-risk youth in Akron, Ohio, and DeVos, described as "a scandal-ridden Republican donor who shows an inexcusable dislike for public education, wants to gut protections for women and minorities, and has advocated for teachers to be armed in schools."
"It would be an easy choice, wouldn't it?" the petition states. "Unfortunately, Trump and his cronies chose Betsy DeVos for us and we are stuck with an uncaring Education Chief who has fought against teachers and has even expressed disdain for the very department she heads. ... at least until now."
The petition calls for DeVos to be fired and James to instead be named secretary of education.
It comes after the president bashed James for telling CNN host Don Lemon during an interview last week about his new school that Trump has "kinda used sports to kinda divide us, and that's something that I can't relate to." James referenced NBA star Stephen Curry's decision to skip a visit to the White House, as well as kneeling protests in the NFL.
"Lebron James was just interviewed by the dumbest man on television, Don Lemon," Trump tweeted. "He made Lebron look smart, which isn't easy to do."
Trump's comment drew backlash from fellow basketball players, and even first lady Melania Trump sided with James.
"It looks like LeBron James is working to do good things on behalf of our next generation and just as she always has, the First Lady encourages everyone to have an open dialogue about issues facing children today," Melania Trump's spokeswoman Stephanie Grisham said in a statement.
James's I PROMISE School, opened by his family foundation and Akron Public Schools in his hometown late last month, is offering free tuition, uniforms, food, bicycles and helmets and guaranteed tuition to the University of Akron for graduates.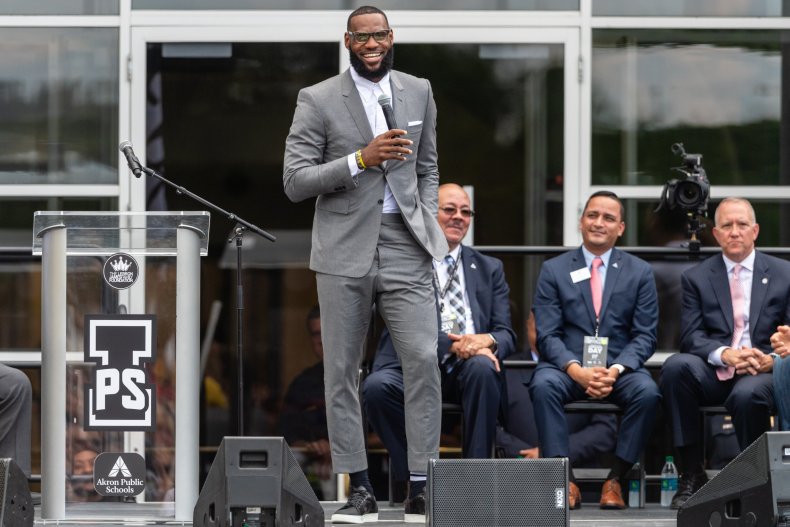 "LeBron James is an inspiration to kids all over the country," the petition states. "Betsy DeVos was hired without ever setting foot in a public school — and she's taken every opportunity to work against the interests of the children, teachers and families she has pledged to serve. We certainly deserve better!"
The petition had more than 5,000 signatures by late afternoon Wednesday.