Los Angeles Lakers star LeBron James confirmed during the team's media day on Tuesday that he is vaccinated, but stopped short on calling for all players in the NBA to join him in getting COVID-19 vaccines.
"Everyone has their own choice to do what they feel is right for them and their family and things of that nature," James said. "I know I was very skeptical about it all, but after doing my research and things of that nature I felt like it was best suited for not only me but for my family and my friends."
Some members of the media have called on the basketball superstar to endorse the vaccine in the hopes that it could help avoid outbreaks across the league. Convincing vaccine-hesitant players to get the shots would also allow those players to compete in games where cities mandate inoculations.
However, James said he did not feel it was his place to endorse vaccines, despite the fact that he's been outspoken on social issues in the past, including his vocal support of Black Lives Matter.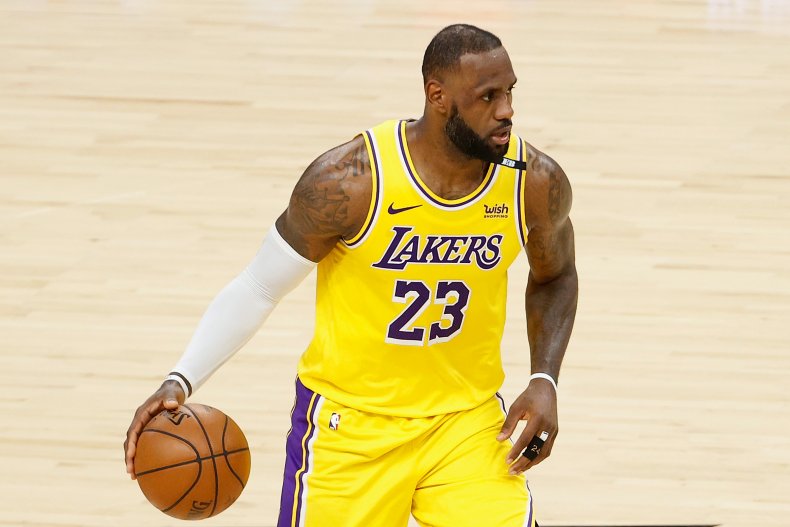 "I don't talk about other people and what they should do. I speak for me and for my family," James said.
"We're talking about individual's bodies," he added. "We're not talking about something that's political, or racism, or police brutality and things of that nature. We're talking about people's bodies and well-being. So I don't feel like for me personally that I should get involved in what other people should do for their bodies."
When asked about vaccines in the past, James has been notoriously evasive, leading some people to speculate he would try to avoid getting vaccinated. Last week, though, Lakers general manager Rob Pelinka declared that his team would be "deemed fully-vaccinated" by opening night of the season. On Tuesday, James confirmed he had done his part to help Pelinka keep his promise.
Meanwhile, Brooklyn Nets star Kyrie Irving made news on Monday after he failed to attend his team's media day due to New York City's indoor COVID vaccine mandate. When asked during a Zoom call about his vaccination status, he declined to answer.
Instead of giving a forthright answer, Irving repeatedly requested privacy about the situation and said he would release more information on the matter at some unspecified point in the future.
Michele Roberts, the executive director of the National Basketball Players Association, told Yahoo Sports in July that more than 90 percent of NBA players are vaccinated against COVID-19.
Uncommon Knowledge
Newsweek is committed to challenging conventional wisdom and finding connections in the search for common ground.
Newsweek is committed to challenging conventional wisdom and finding connections in the search for common ground.
About the writer
Jon Jackson is an Associate Editor at Newsweek based in New York. His focus is on reporting on the Ukraine and Russia war. Jon previously worked at The Week, the River Journal, Den of Geek and Maxim. He graduated Summa Cum Laude with honors in journalism and mass communication from New York University. Languages: English.