LeBron James Says He Will Not Tolerate 'Obscene Gestures' After Fans Ejected
Lebron James has said he will not tolerate obscenities from spectators after the L.A. Lakers star had two fans ejected from a game this week.
The NBA athlete is making headlines over an incident that occurred during Wednesday night's clash with the Indiana Pacers when he had what appeared to be two hecklers sitting courtside removed from the game.
A man and a woman were escorted from the game by security after James pointed them out to the referee in scenes that have gone viral as the woman sarcastically mocked crying during her exit.
Rumors are circulating about what the hecklers shouted that warranted such a reaction from James but the athlete has not confirmed what was said.
The incident has even led to the shooting forward being nicknamed "LeSnitch" on social media as some NBA fans express anger over the situation.
Despite not confirming the remarks made by the hecklers, James has confirmed that they were making obscene comments and gestures towards him as he played.
"When obscene gestures and language come into it, [it] can't be tolerated," James said in his post-game interview.
"There's a difference from cheering for your team and not wanting the other team to win and things I would never say to a fan and they shouldn't say to me."
Newsweek has contacted James' representatives for comment.
When asked what made him uncomfortable about the interaction, James asserted that he celebrates good-natured rivalry but that these fans crossed a line.
"Nothing is uncomfortable for me but you know it's the difference between cheering on your your home faithful and, you know booing opponents and things of that nature or not wanting your opponents to be successful and then there's moments where it goes outside the line," he said.
The star player is having a hectic week. Following this incident, the 36-year-old was suspended for a match for the first time in his 19-year career over an altercation with a fellow player during a game with the Detroit Pistons on Sunday.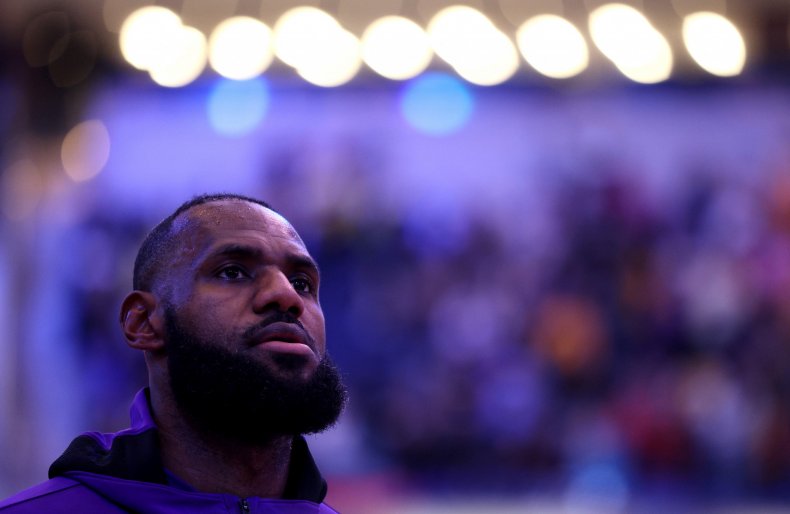 James was reprimanded for striking Isaiah Stewart in the face causing an injury that drew blood.
Despite insisting it was accidental, James was forced to sit off of the Lakers' game against the New York Knicks in Madison Square Garden on Tuesday.
"I mean, it's some bulls***," James told ESPN following the suspension. "But whatever."
He added: "I was devastated. It's my favorite place in the world to play, so I was looking forward to it. But it is what it is."