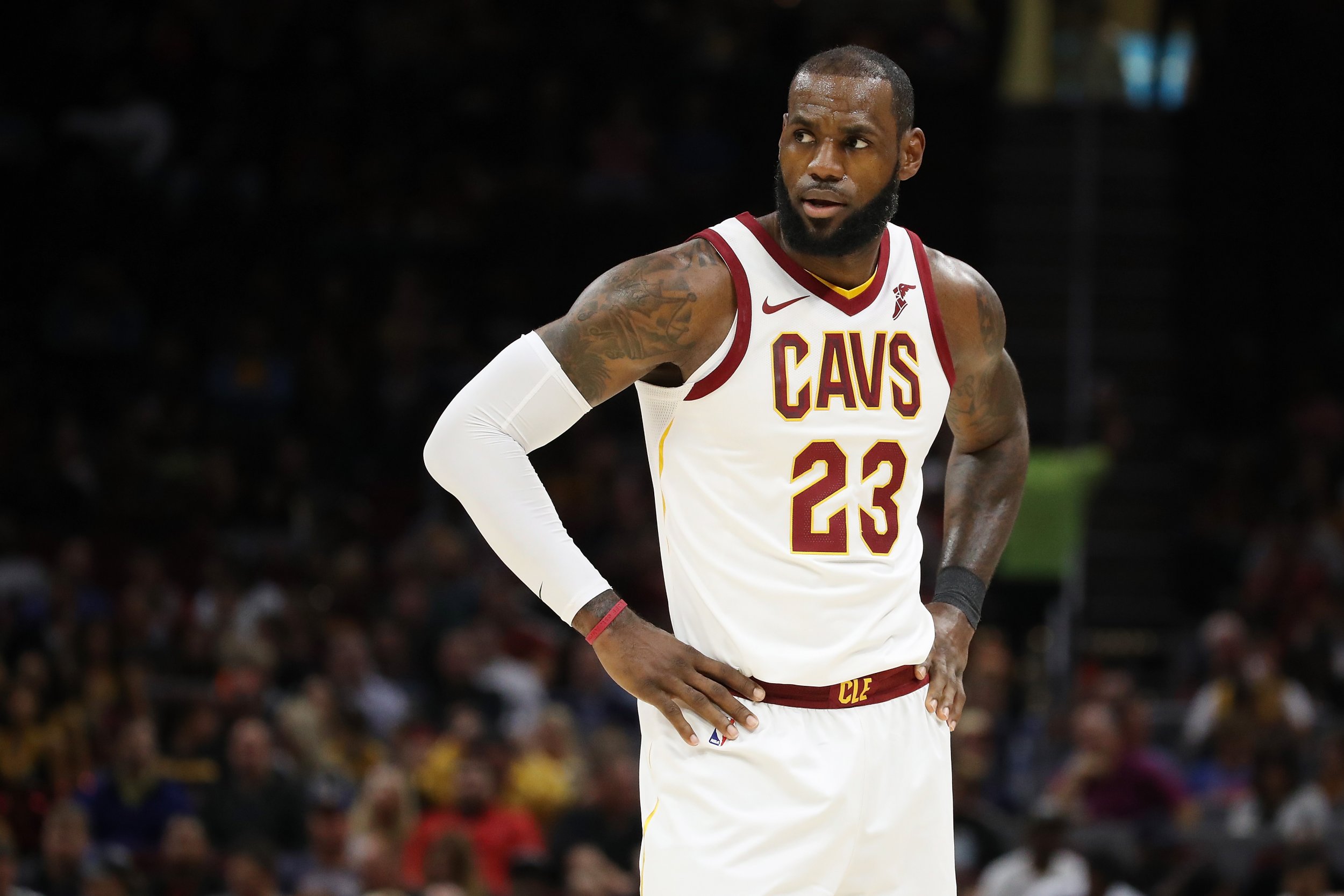 LeBron James has been more vocal about topics beyond basketball this offseason—most notably his criticisms of President Donald Trump—and it seems that's by design.
GQ magazine dropped a story about James on Tuesday, the opening day of the NBA's regular season, that follows the Cleveland Cavalier superstar throughout a series of offseason meetings and events. The article sketches the 32-year-old as he looks toward his post-NBA life and relinquishes the identity of perhaps the best athlete in the world.
James' willingness to take on Trump, whom the star famously called a "bum" on Twitter, hints he's after something bigger than just basketball. The writer of the article, GQ's style editor Mark Anthony Green, asked James directly if he could see himself in the mold of Muhammad Ali, who helped fight against the Vietnam War and for the rights of black people in America. James told Green "time will tell." He told GQ:
"I think Ali represented something bigger than Ali. He wanted to make a change for a future without him included. That's what Ali brought to the table. I don't know what it's like to live in every state in this country, but I know freedom. I know the opportunity that our country has given people, and to see the guy in charge now not understanding that is baffling to not only myself but to my friends and to the people that've helped grow this country. But Muhammad Ali's correlation to the war… I don't think me and Donald Trump could ever get to that point."
It matters when a star like James is willing to take this sort of stand. He's the most famous athlete in the country at a time when media is incredibly fractured—and sports remain one of the few things that's consumed relentlessly, which gives star athletes outsize platforms. James holds incredible influence and has begun to use this platform in the wake of Trump's presidency.
After a white supremacist rally in Virginia turned deadly, ESPN reported he said, "I have this platform, and I'm somebody that has a voice of command, and the only way for us to be able to get better as a society and us to get better as people is love. And that's the only way we're going to be able to conquer something at the end of the day. It's not about the guy that's the so-called president of the United States, or whatever the case."
In the GQ article, Green asked him if he felt a state that elected Trump (Ohio) could really love LeBron James. "I think, um, they can love what LeBron James does. Do they know what LeBron James completely represents? I don't think so," James said.
James addressed issues facing black Americans, including his own fear for his three children. James said he's told them to be careful and to be respectful of police, but also to call their parents and put it on speakerphone if they get pulled over. James' talked about how much it affected him when his home in Los Angeles was vandalized with a racial epithet.
"True colors will show, and it showed for me during the playoffs, where my house in Brentwood, California, one of the fucking best neighborhoods in America, was vandalized with, you know, the N-word," James told GQ. "And that shit puts it all back into perspective."
The willingness on James' part to speak out comes at a time when more and more athletes are using their platforms as celebrities in America. Many NFL players have taken a knee during the national anthem to protest oppression of black people in America and the president himself felt it was his place to get involved by sending many, many critical tweets.
But James doesn't seem to be backing away from speaking his mind. "I don't do it to get praise or to be in an article. It's my responsibility," he said to the magazine.
Uncommon Knowledge
Newsweek is committed to challenging conventional wisdom and finding connections in the search for common ground.
Newsweek is committed to challenging conventional wisdom and finding connections in the search for common ground.
About the writer
Reporter, covering a bit of everything.