LeBron James' Week of On-Court Antics Leaves His Haters Angrier Than Ever
Lebron James has been making headlines this week after a hectic few days on the court which has seen his critics come out in force.
Starting on Sunday night, the L.A. Lakers star was embroiled in an on-court fracas with an opponent during a clash with the Detroit Pistons.
The shooting forward was suspended for the second time in his 19-year career after he elbowed Isaiah Stewart in the face as they battled for a rebound, causing an injury that drew blood.
James missed the Lakers game on Tuesday against the New York Knicks in Madison Square Garden, costing him about $284,000 in salary.
The incident went viral and saw the NBA star heavily criticized for striking Stewart, despite his protestations that it was accidental.
Then on Wednesday, another incident involving James went viral when during a bout with the Indiana Pacers, the 36-year-old ejected two spectators from the game.
The two courtside Pacers fans had been heckling the player and were reportedly making obscene comments and gestures when he alerted the referee and had them immediately removed.
The fans—a man and woman—seemingly mocked James as they exited the court in footage that has also been widely shared on social media.
All of this chaos surrounding the player has seen vocal James critics be louder than ever across social media this week.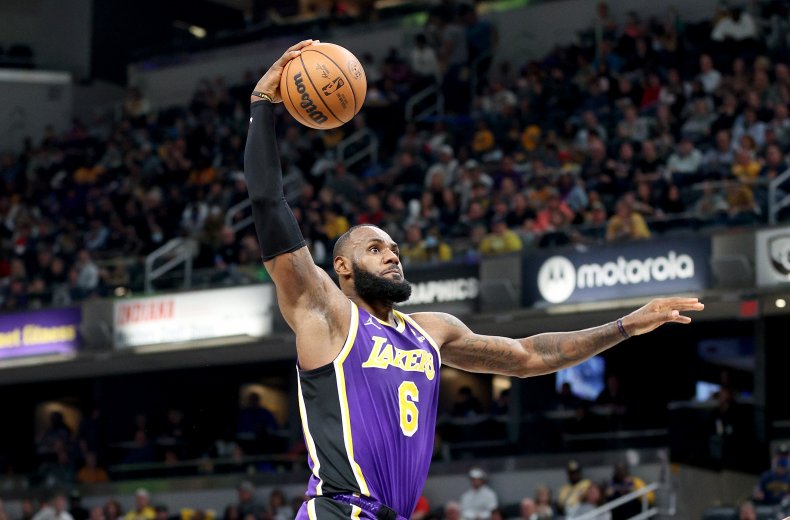 One of James' biggest critics, sports columnist Skip Bayless tweeted a new nickname for James—"LeSnitch"—after the Pacers incident, and it caught on, going viral on Twitter among other vocal critics.
"And yes, we definitely will talk about the LeSnitch incident that happened at tonight's game in Indianapolis," Bayless tweeted.
While political commentator Nick Adams tweeted: "LeBron James should be heckled everywhere he goes. What a BUM. He should change his name to LeSnitch!"
He added in a later tweet: "8th Graders can shoot free throws under pressure better than LeBron James. Larry Bird was better than LeSnitch James in every single way."
Writer Terry Wayne Carpenter, Jr. posted: "LeSnitch back to his old tricks! He'll call fouls on people who aren't even in the game, cry to the officials. It's what he does. He whines to the league when things don't go his way. Nuggets fans remember what happened in the playoffs."
And with all the negativity so too comes the support.
On November 25, the official L.A. Lakers account simply tweeted: "LEBRON JAMES," prompting an avalanche of support from fans and well wishes.
"I will never ever take Lebron James for granted. 19 years in this league and the man just doesn't decline. When we turns it on like tonight and says f*** the haters it's my time. He is arguably the BEST player in the league at 36. He's the Tom Brady of the NBA he doesn't age," reads one response.
While another added: "19 Yrs in and @KingJames is still the MVP of every team he's on. Stop playin with the mans name haters!!!"
Following the Pacers game on Wednesday night, James said in his post-game interview that he will not tolerate obscenities from spectators.
"When obscene gestures and language come into it, [it] can't be tolerated," James said. "There's a difference from cheering for your team and not wanting the other team to win and things I would never say to a fan and they shouldn't say to me."
He also said: "Nothing is uncomfortable for me but you know it's the difference between cheering on your your home faithful and, you know booing opponents and things of that nature or not wanting your opponents to be successful and then there's moments where it goes outside the line."
Newsweek has contacted James' representatives for comment.