LeBron James Won't Resign with Cavaliers and Kyrie Irving Felt Disrespected in Cleveland—Conclusions From ESPN's Dive Into Celtics Trade
ESPN's deep dive into the trade that sent Kyrie Irving to the Boston Celtics in the summer of 2017 threw up several fascinating new nuggets of information.
The piece, authored by Hall of Fame basketball writer Jackie MacMullan, paints a more sympathetic picture of Irving's psyche in the weeks and months leading up to the trade than any previous report on the megatrade. It also sheds new, yet still mysterious, light on the future of LeBron James. Here are the main conclusions.
Did the Cavaliers try to trade Irving before he asked to leave?
Yes, according to MacMullan, who reports that Cleveland "explored" trading Irving in June—suggesting that the team, and front office, were aware of the issues that eventually convinced him to ask for a move away from the Cavaliers. It's a surprising revelation that hasn't been reported up until now. "They didn't want me there," Irving tells MacMullan. The inescapable implication is that Cleveland was no longer big enough to accomodate Irving and James at once.
Did Irving feel disrespected by James?
This is, really, the nub of the story—the idea that Irving still felt undervalued by James despite hitting the shot that won the NBA Finals against the Golden State Warriors in June 2016. MacMullan references unidentified Cavaliers teammates who say Irving grew annoyed at James repeatedly calling him "the kid" and "little brother". Irving tells MacMullan he "doesn't care" whether or not James viewed him as an equal on the court. But that apathy doesn't stack up with his former teammates' testimony.
What do Cavaliers not named LeBron think about Irving?
Irving is clearly still well-regarded by the Cavaliers. "I saw Kyrie high, I saw him low," Iman Shumpert tells MacMullan. "He's seen me tear up a locker room. We're friends. You help each other through it.'' There doesn't seem to be much, if any, bitterness around Irving's decision to continue his career in Boston.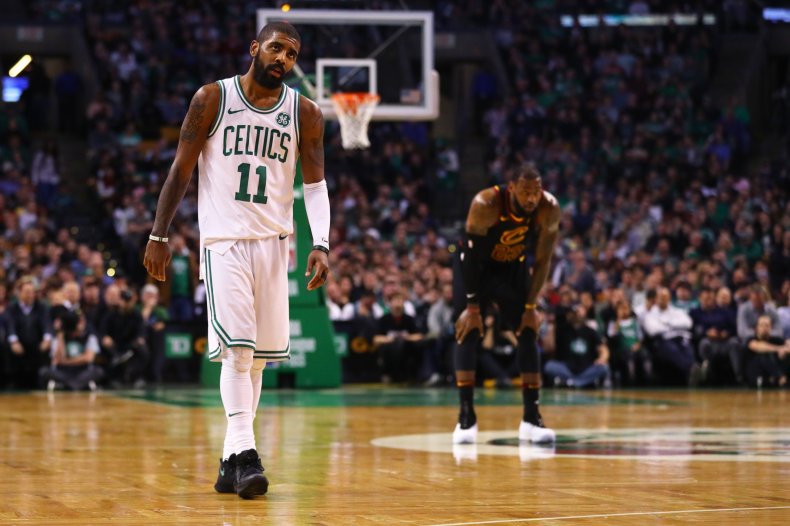 What was the relationship like between Tyronn Lue and Irving?
The dynamic between Irving and James can't have been easy for Lue to manage. MacMullan relates an anecdote from a practice session last season during which the Cavaliers head coach tried to get Irving to speed up the Cavaliers' offense. "Well, that's No. 23's [James's] job," Irving reportedly told Lue. The implication? In Irving's mind, at least, this was never his offense to run.
Could Irving have ended up in Phoenix?
The Cavaliers explored a way to send Irving to the Western Conference, according to MacMullan. Before David Griffin left as GM in June, there were discussions about a three-way trade that would have sent Irving and Channing Frye to the Suns, Paul George and Eric Bledsoe to the Cavaliers and the Suns' fourth overall pick to the Indiana Pacers. Phoenix vetoed the idea; George ended up in Oklahoma and Bledsoe in Milwaukee. But the damage was done because Irving, according to MacMullan, believed James had tried to shift him to the Arizona desert.
Where will James go in free agency?
This is probably the most explosive nugget in the entire piece. Cavaliers owner Dan Gilbert became convinced that he wanted the Brooklyn Nets' first-round pick in 2018 in return for Irving, according to MacMullan. Gilbert went to James to ask him for a guarantee that he'd remain a Cavalier past the summer of 2018, when he can explore free agency again. James wouldn't give it to him. That doesn't mean Cleveland is resigned to losing James again, of course. Equally, there is absolutely no certainty that he will be playing in a Cavaliers uniform next season.