LeBron to Lakers: Shaq Believes James and Paul George Will Both Sign with L.A.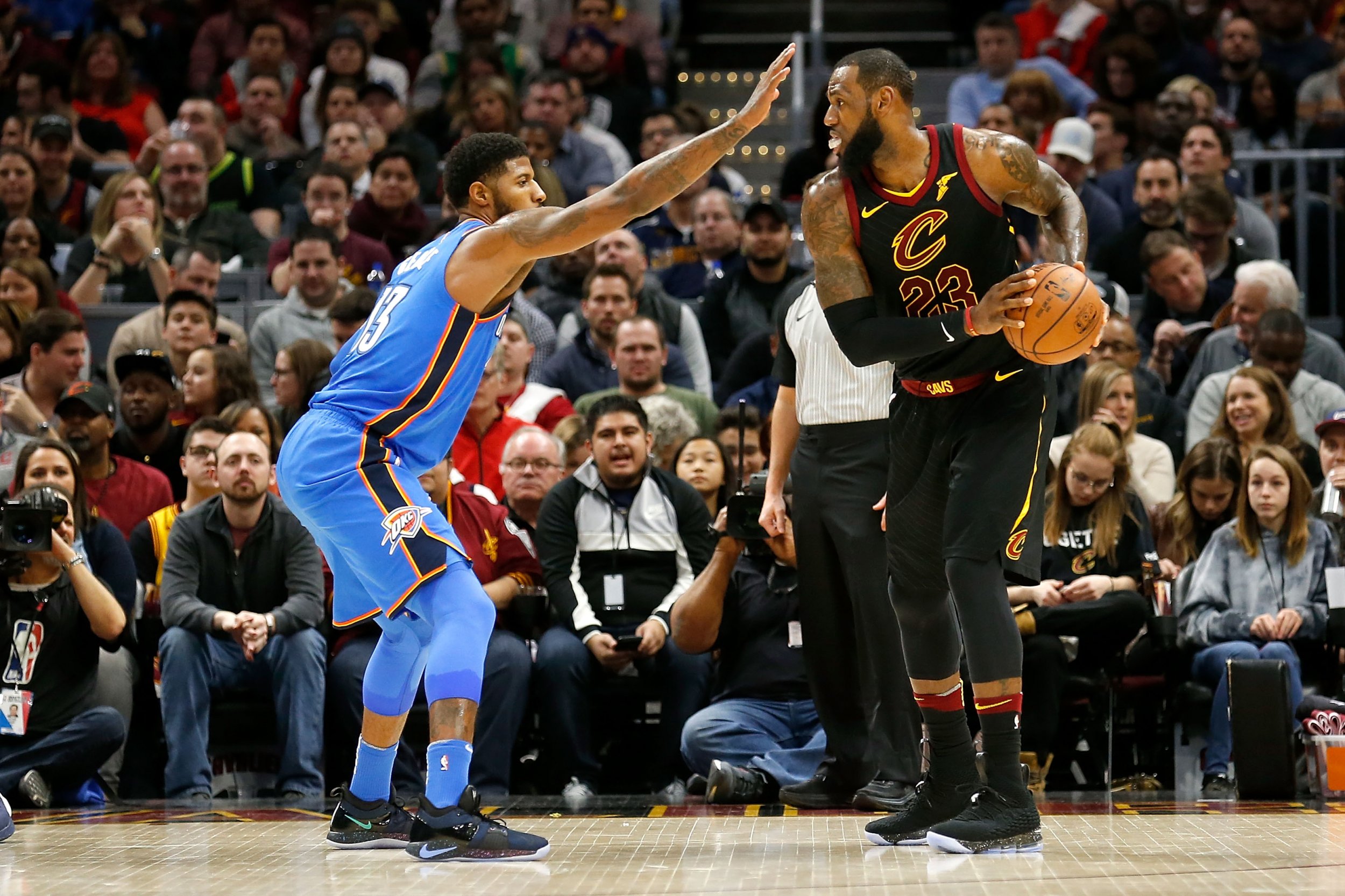 LeBron James and Paul George will be the two most high-profile free agents this summer and while both have been linked with a move to the Los Angeles Lakers, their future remains shrouded in uncertainty.
The former is widely expected to opt out of his final year with the Cleveland Cavaliers to explore his options in the market, while many have suggested the latter could bring his spell in Oklahoma to an end after just one season.
One man who has no doubts the pair will be in California next season is Shaquille O'Neal, who believes both LeBron and George will join the Lakers this summer.
"I think Paul George [...] He's definitely going to the Lakers," Shaq said on his podcast, The Big Podcast with Shaq.
"Him and LeBron. You heard it here first. I'm gonna say this is just my opinion, LeBron, Paul George and there will be a couple of other big names that go to the Lakers organization."
After missing the playoffs just twice between 1976 and 2013, the Lakers have failed to make the postseason for the fifth consecutive year but the upcoming summer could be one of the most important in their recent history.
Los Angeles can clear out salary space for two max-level contracts this summer and Lakers' president Magic Johnson will leave no stone unturned in a bid to bring at least one superstar to the Staples Center before next season.
Whether LeBron and George will wear the famous yellow and purple jersey, however, remains to be seen. Even if the three-time NBA champion was to leave the Cavs, the Lakers will face stiff competition from Philadelphia and Houston to land LeBron.
According to the New York Post, the New York Knicks could also force their way into the picture after appointing David Fizdale as their new head coach.
Fizdale was part of Erik Spoelstra's coaching staff when LeBron played for the Miami Heat—winning two NBA titles in the process—and the duo enjoy a very strong relationship, which could make the Madison Square Garden an attractive destination for the four-time MVP.
However, it would be easier for the Knicks to go after LeBron—or another max-level contract, for that matter—in the summer of 2019 as they would struggle to clear enough salary space cap this year.
Even if Enes Kanter and Kyle O'Quinn opt out of their respective contracts, the Knicks would still have to trade another big contract—potentially Courtney Lee's—to make room for LeBron.
Meanwhile, it is far from guaranteed George, who averaged 21.9 points shooting 43 percent from the field, 5.7 rebounds and 3.3 assists per game in 36.6 minutes this season, will leave Oklahoma.
The 27-year-old will be an unrestricted free agent in July and while he admitted playing in his native state would be "attractive," he has also hinted he would like to re-sign with the Oklahoma City Thunder, claiming the team "checked all the boxes."
Over the course of the season, rumours over the future of LeBron and George have often been contrasting and while it would be very unlikely to see the Lakers not add a superstar to their roster this summer, signing both will not be straightforward either.
Shaq insisted his was simply an opinion but his words will only add to the growing speculation.