Several powerful tornadoes swept through Alabama, destroying homes and businesses, killing dozens of people and leaving others wounded. While the destruction was evident, people were uncertain of what the storm's label meant.
Three counties in central Alabama were affected by tornadoes on Sunday. Barbour County experienced two tornadoes, one being classified by the National Weather Service (NWS) in Birmingham, Alabama, as an EF1 and the other as an EF2. A third tornado, classified as at least an EF1, traveled from Macon County into Lee County.
The fourth tornado, which decimated Lee County, was classified as an EF4, the most powerful of all four to hit Alabama on Sunday.
What Is an EF4 Tornado?
Tornadoes are measured on the Enhanced Fujita Scale, which is abbreviated to EF when labeling storms. The Enhanced Fujita Scale was an update to the original F-Scale and was implemented in the United States in February 2007.
Tornadoes on the EF scale range from zero to five, which represents estimated wind speeds, measured in three-second gusts, based on damage.
An EF4 tornado is second highest on the scale and is reserved for tornadoes with three-second gusts between 166 miles per hour and 200 miles per hour. At that level, the tornado is considered to be devastating and can bring widespread damage to the area.
In its preliminary assessment, the NWS found the tornado had winds around 170 miles per hour and the NWS's Chris Darden told NBC News that the tornado was estimated to have spanned at least 24 miles in length.
What Damage Did the Tornadoes in Alabama Cause?
In Lee County, roofs were blown off buildings and some homes were swept off their foundations, according to AL.com. Over 20 homes were destroyed in the 5,000-person town of Smiths Station, as reported by the Ledger-Enquirer.
On Sunday, Troy Bell saw the tornado and quickly gathered his family to huddle in the bathtub. Within 30 seconds, the storm came and went, leaving his home and the garage he owns badly damaged. Fortunately, he told the Montgomery Adviser, his family remained unharmed, although, that's not been the case for other people he knew.
"There's a lot of people I went to school with; they're dead," Bell explained. "Their whole families are dead. I was getting word on some of them this morning."
Beauregard resident Douglas Griffin told ABC News that had he been home when the tornado struck, he believes he would be dead. Griffin called it a "disaster" and likened the aftermath of it to as if a "bomb went off."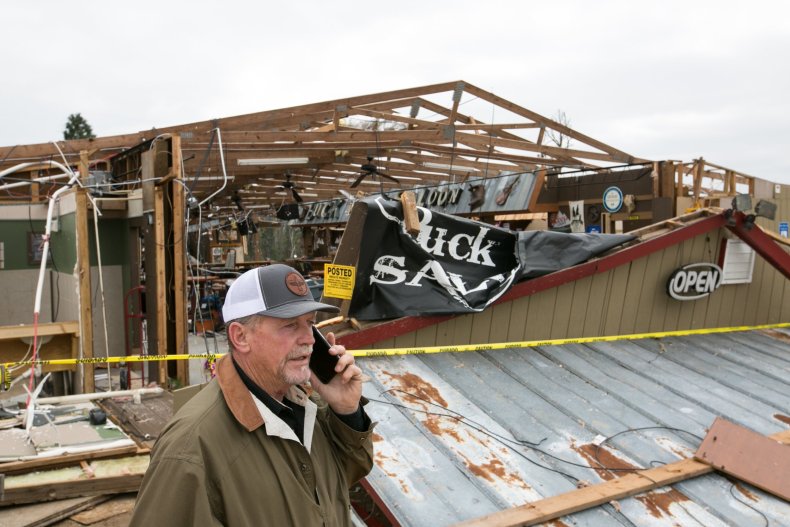 How Many People Were Killed?
At least 23 people were killed when the powerful tornado came through Lee County, making it the deadliest in the United States since 2013, according to the NWS. Three children, aged six, nine and 10, were among the fatalities and officials said that the death toll may rise.
"It's been a long, long night," Lee County Coroner Bill Harris said on Monday. "Some of these families have lost practically almost the entire family."
In the wake of the storm, President Donald Trump instructed the Federal Emergency Management Agency (FEMA) to give "A-plus treatment" to Alabama and called Governor Kay Ivey "one of the best in the country."
On Monday, Ivey signed an expedited major disaster declaration request asking Trump to approve their immediate assistance.
"Yesterday, tornados ravaged through parts of Alabama, leaving behind trails of devastation and the loss of human life," Ivey said. "To know Alabama, is to know that we are a tightly-knit community of people. Today, each one of us mourns the loss of our fellow Alabamians."​