The Left Spent Millions, The Right Was Busy Infighting, Californians Lost | Opinion
I want to be measured in my conclusions about the California recall election results. Since so many observers have instantly weighed in with hyperbolic conclusions, I hope to give a few insights that may temper some of the more extreme conclusions being made about the election result.
The results are comparable to Joe Biden's 29-point win in 2020—which was actually worse than Hillary Clinton's showing in 2016, which ended with a 30 point advantage for the Democrat. As of Tuesday, the RealClearPolitics live results showed a 27-point lead for Newsom.
However, it is clear there were defectors from the usual Democratic coalition, which I saw on the ground. As Republicans waited until Election Day to vote in person or turn in their ballots, the late returns have skewed heavily to the right, and the margin will likely narrow to some degree.
The Democrats spent tens of millions of dollars—far more than Republicans, who raised purely from the grassroots level. Many conservative donors sat this one out despite the rosy polling numbers in August, predicting accurately that this recall would not be a 2003 repeat.
Yet there's plenty of blame to go around, starting with the Republicans. Given a golden opportunity and a short window, Republicans wasted their time with infighting and unproductive behaviors, ignoring the community and ground volunteers as a result. Elitism is still alive and strong in the California GOP. It reminds me of someone broke trying to act rich.
The recall campaign can be commended for qualifying in the first place—which required Republicans to unite with groups they normally wouldn't have—to gather more than 2.1 million signatures, way over the threshold, taking nothing for granted.
This success, however, did not continue after the election qualified. Leadership split up and those who remained decided to go all in for one specific candidate, Kevin Kiley, who announced shortly before eventual frontrunner Larry Elder. Instead of pivoting their strategy, recall petition leaders went all in for Kiley, wasted their time attacking Larry Elder and created unnecessary division instead of reaching out to the independents and Democrats who helped the recall qualify in the first place. Ultimately, Kiley ended up with about 3 percent of the vote.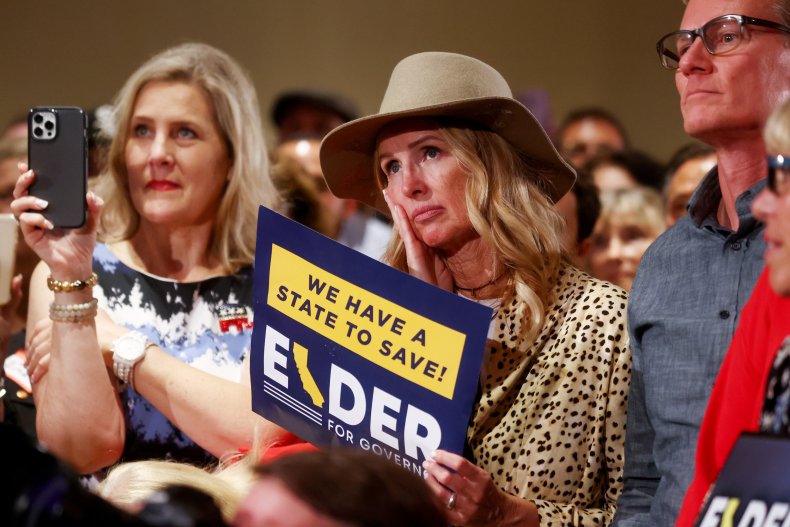 Inside the Elder campaign, which had less than two months to ramp up, the biggest mistake was structural. Announcing so late prevented the candidate from garnering the best talent, which was scooped up by other gubernatorial campaigns. Instead, a series of campaign management teams cycled through and couldn't get everyone to work together or actually engage in something productive.
The final campaign manager got some major national publicity over his questionable billings to Transportation Corridor Agencies. He successfully stayed in the campaign, but his presence was not exactly helpful. Newsom, by painting this as a Republican recall, was shining the light on what I've noticed before: Republican consultants and their lack of results in my state.
Infighting over fundraisers also led to missed opportunities for the Elder campaign, which focused on SoCal at the expense of exposure in the vote-rich Bay Area and pockets of the Central Valley. Larry, a great candidate, could have raised much more, if overall results had been the primary goal.
But that may have been moot anyhow. All the money in the world would not have sold a message that was toxic to the broader electorate. On the communications side, there were so many lost opportunities, from playing defense instead of offense to not issuing a press release to show graciousness to Doug Ose, who had dropped out of the race after a heart attack and had a small following of his own. Doing so would have shown unity among the different fiefdoms among California's Right.
Republican campaigns in California consistently lack transparency, choosing to be clandestine and waiting until the last minute to inform people about events—in hopes that doing so will avoid attracting opposition—and then wondering why turnout is light. This is rooted in fear and fear is never a winner. Be bold, be proud and have trust and a contingency plan for would-be infiltrators.
Smart strategy informed by the community was also lacking. Kevin Paffrath, the Democratic frontrunner who was shunned by his own party and then barred from a No on Recall rally, would have been helpful to the cause. With his ability to harness technology and YouTube, he was uniquely positioned to help the "yes" question over the hump, especially with some initial coverage. In fact, the only poll where "yes" led—a 51-40 margin in a poll by SurveyUSA—was when Paffrath was the frontrunner. Just a little boost in supporting him would have given life to the recall campaign overall and busted the narrative that it was a Republican-only effort.
Republicans proved they did not deserve the keys to the castle. In the end, however, Californians are the ones who lost, as Newsom instituted terrible policies like the end of single family home zoning the day after he was declared winner. For that, both parties are to blame.
Marc Ang (marc@aib2b.org) is the President of the Chinese American Citizens Alliance in Orange County, co-chair of "Recall Gascon Now", was the Director of Outreach for the "No on 16" campaign, a community organizer in Southern California and the founder of AsianIndustryB2B who specializes in race relations and the minority conservative experience. His book Minority Retort will be released in late 2021.
The views expressed in this article are the writer's own.
Correction: 9/23/21: This article previously stated that a Larry Elder campaign manager made questionable billings to the Orange County Transportation Authority, not Transportation Corridor Agencies.