Leftist Favored Over Ex-Banker as Ecuadoreans Go to the Polls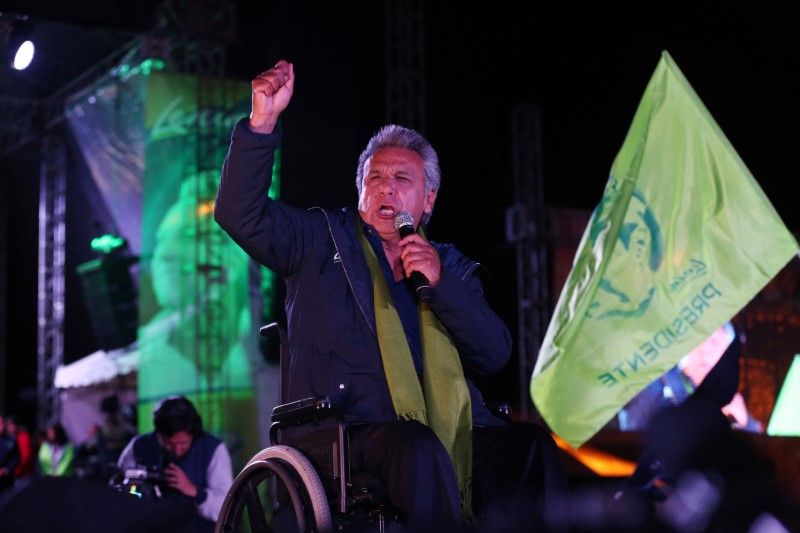 Ecuadoreans vote on Sunday in a hard-fought presidential election that could see an ally of President Rafael Correa extend a decade of leftist rule or a former banker usher in more business-friendly policies.
The Andean country is on edge after a tense campaign that centered on a flagging economy, while the region is watching to see if Ecuador will follow Argentina, Brazil and Peru in shifting to the right as a commodities boom ended.
Ecuador's election also has international repercussions, with conservative challenger Guillermo Lasso vowing to remove Wikileaks Founder Julian Assange from Ecuador's London embassy if he wins the Sunday run-off.
Government candidate Lenin Moreno, 64, a paraplegic former vice-president, just missed the minimum threshold to win the presidency in the first round in February, and the latest polls show him leading Lasso in the second round.
Moreno, who uses a wheelchair since being shot during a robbery in 1998, has promised to boost social benefits to single mothers, pensioners and disabled Ecuadoreans while being more conciliatory than the mercurial Correa.
He paints his opponent as an elitist who would slash welfare policies and links him to a 1999 financial crisis when hundreds of thousands of Ecuadoreans lost their savings, a message that resonates strongly in the largely poor nation of some 16 million.
"A banker cannot care about poverty," said 81-year-old government supporter Hugo Moreno as he smoked a cigarette at a bus stop in cloudy Andean capital Quito. "I don't want anything to change."
Lasso, a 61-year-old former head of Banco de Guayaquil who has campaigned on creating one million jobs in four years, argues that Moreno's generous social promises risk plunging Ecuador's economy further into debt.
He also accuses the ruling Country Alliance party of covering up corruption scandals, stifling media, and stacking institutions with supporters in the vein of Venezuelan President Nicolas Maduro, a Correa ally.
Indeed, Venezuela's political crisis is casting a shadow over Ecuador's vote.
"We're starting what Venezuela began seven years ago," said electrician Carlos Forgues, 34, a former government supporter who was going to vote Lasso.
"They (Venezuelans) have woken up to a cruel reality to see the government taking control of everything and that's what's starting here with lack of money, lack of jobs, constant changes to economic policy, companies leaving, and no investments."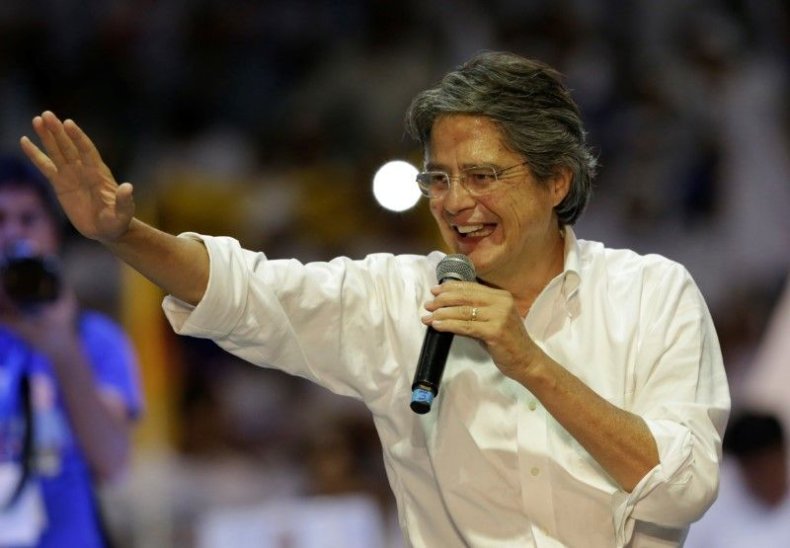 Lenin in the Lead
Polls show Moreno—commonly referred to by his first name Lenin—has pulled ahead of Lasso in the last weeks amid criticism Lasso stashed money in offshore havens to dodge taxes.
Moreno had 52.4 percent of valid votes versus Lasso's 47.6 percent in a 18-21 March survey by leading pollster Cedatos with a margin of error of 3.4 percentage points and some 16 percent of voters still undecided.
With the vote expected to be tight, the polarized nation is bracing for protests as both sides have asked supporters to take to the street and "protect the vote" amid suspicions of fraud.
That has raised fears of instability in Ecuador, infamous for having three of eight presidents toppled in the decade before Correa came to power in 2007. He ushered in relative stability, though foes accuse him of being autocratic.
The economy will be another headache for whoever takes office on May 24 for a four-year term, though Wall Street analysts expect Lasso's policies to be better for the economy, dependent on exports of oil, bananas, and shrimp.
He has vowed to slash taxes, bolster foreign investment, and potentially renegotiate onerous debts with China.
Moreno has vowed to continue Correa's state-heavy model while also showing himself more open to discussion with business leaders.
"We think more of the same policies under Mr. Moreno would keep growth stuck at 1.5-2.0 percent over 2017-20," said Capital Economics in a note to clients, adding growth under Lasso could increase to around 3 percent between this year and next.