The Left's New COVID Dogmas Are About Power, Not Health | Opinion
In Joe Biden's America, salvation no longer comes through grace. America's current "devout Catholic" president does not put his faith in God, but in the infallible and all-holy vaccine.
In a show of his commitment to endless jabs, Biden publicly received a third Pfizer "booster shot" Monday to promote the use of such shots among Americans 65 and older as America moves into the winter months. When asked what he thought the level of vaccination needs to be before Americans can return to normal, he answered "98 percent."
That percentage is even higher than what the high priest of COVID himself, Dr. Anthony Fauci, recommended. He called for 70 to 85 percent of Americans to be vaccinated.
Over a year and a half into this pandemic, with no end in sight, the Left's increasingly zealous commitment to total vaccination is both pathetic and deeply revelatory. America is becoming increasingly agnostic and outright atheistic. Poll data from earlier this year showed that more than 40 percent of millennials "don't know, care, or believe that God exists."
But in the absence of traditional faith, the American Left has substituted the cult of COVID-19. Instead of prayer and fasting, modern liberals proclaim their blind devotion to mandatory masks and vaccines. Any evidence that contradicts them be damned.
Democratic New York governor Kathy Hochul made this point in a speech Sunday when she claimed that the unvaccinated were not "listening to God," and that the vaccine has been approved not just by the FDA, but by the Almighty himself.
"I prayed a lot to God during this time and you know what, God did answer our prayers," Hochul said during a visit to a Christian center in Brooklyn.
"I know you're vaccinated, you're the smart ones," the governor assured her audience, "But you know there's people out there who aren't listening to God and what God wants. You know who they are."
Hochul further called for those in favor of the vaccine to be her "apostles." And as Tucker Carlson pointed out, while many wear a crucifix on their neck, Gov. Hochul instead wears a necklace reading "vaccinated."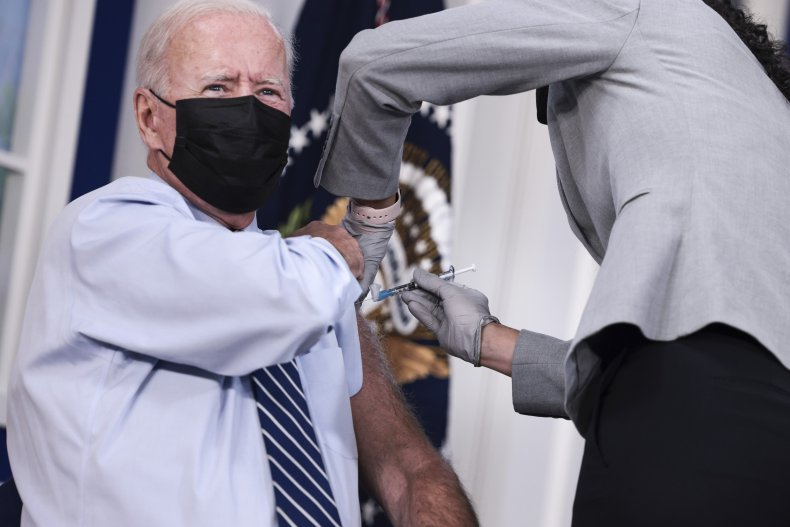 But the vaccine mandate is just another sacrament, newly integral to the identity of one's Leftist faith. A holy rite which, much like white privilege and the gender wage gap, is neither supported by facts nor science.
According to recently released CDC data, the Pfizer vaccine shows dramatic drops in efficacy after just four months. After 120 days, the vaccine's prevention of hospitalization goes from 88 percent efficacy to 77 percent—Pfizer's own studies show similar declines. Johnson & Johnson, whose shot was notable for only needing one jab instead of two, is now studying a second shot to increase the efficacy of its vaccine.
The waning efficacy of the vaccines can be seen most clearly in Israel, where 59 percent of the hospitalizations for severe or critical COVID cases were among those fully vaccinated. Indeed, despite being one of the most vaccinated countries in the world, Israel also recorded one of the world's highest infection rates in August.
Israel recently updated the rules for its COVID "green pass"—which allows Israelis to go to bars and restaurants. The pass is now only valid for six months after citizens' second shots. Israelis who wish to extend their green pass privileges past six months now need a third dose of vaccine.
Florida, often derided by the Left for stubbornly refusing mandates, provides another powerful proof. Of the COVID patients who have sought out monoclonal antibody treatment, over half are fully vaccinated, according to the press secretary of Governor Ron DeSantis.
The Left also continues to ignore the potentially life-saving benefits of alternate treatments like ivermectin, which according to numerous studies can help treat SARS-CoV-2, especially when used early. And what about Uttar Pradesh, India? In this Indian state that embraced ivermectin late last year—passing the drug out and encouraging home use—fewer than 2 people have, on average, been dying per day from COVID despite a vaccination rate of only 11 percent. While Uttar Pradesh also used additional treatments and quarantine measures to combat the virus, it's still an important, real-life case study that should be taken seriously and offer hope outside of vaccination-only strategies.
And of course, evidence from Israel shows natural immunity is far better at preventing infection from the Delta variant than immunity from vaccines.
The facts simply do not support the fervent Leftist belief that pandemic salvation comes only through vaccination. Like all cults, it makes a desperate attempt at controlling and manipulating people to expand its leaders' power.
But you don't have to be a part of it. My organization, Turning Point USA, has already vowed not to comply with the Biden administration's ridiculous mandate that companies with 100 or more employees require either proof of vaccination or weekly testing. A growing number of health workers, federal employees and even NBA players are speaking out for the freedom of medical conscience, and large protests are organically popping up all across the country.
In the Old Testament, the ancient Israelites began worshipping a golden calf until Moses caught them and destroyed the idol. It's going to take a nation of people standing up like Moses did to reject this COVID cult too.
Charlie Kirk is the founder and president of Turning Point USA and host of the top-rated podcast and nationally syndicated Salem radio program, The Charlie Kirk Show.
The views expressed in this article are the writer's own.