The Legacy of Cuba's 11J | Opinion
Last July 11, a couple dozen people started marching through the streets of San Antonio de los Baños, a town 35 kilometers from my home in Havana.
The protests quickly spread. Neighborhood by neighborhood, dozens soon became hundreds then swelled to thousands, as people cried, "We are not afraid!" Libertad!" and "Down with the dictatorship!" By the end of the week, many thousands of Cubans had marched in dozens of cities and towns across the island.
The anti-government protests that began on July 11, 2021, or 11J as it is known in Cuba, was the largest act of civil disobedience in Cuba since Fidel Castro seized power in 1959. For most of the protestors, it was the first political act they had ever taken in their lives.
The protests were spontaneous and mostly peaceful, but they were met by a well-choreographed and violent response from the Cuban government that included murder, mass arrests, summary trials lacking due process and harsh prison sentences.
11J exposed many ugly realities about Cuba, including the repressive nature of the communist regime and the violence and fear with which it rules over the public. It also exposed the deepening demographic crisis that represents the greatest threat to Cuba's future.
The most basic measure of a country's health is whether people clamor to enter it or risk life and limb to flee from it. By that measure, Cuba has been an abject failure since the beginning of the Castro regime.
Throughout its history, Cuba has periodically experienced mass exoduses, starting in 1959, right after the revolution and Castro take over. In the following decades, more than 1 million Cubans would make their way to the U.S., and thousands died trying.
The pace of departure spiked soon after the crackdown following last summer's protests. Last fall, the U.S Coast Guard reported a surge in Cubans trying to make the treacherous 90-mile journey over the Straits of Florida to the United States. Then in November, Nicaragua lifted visa requirements for Cuban travelers, prompting a flood of departures. According to U.S. Customs and Border Patrol data, some 115,000 Cubans (more than 1 percent of Cuba's entire population) have been apprehended at the U.S. border since late 2021. One expert has called it "undoubtedly the largest exodus from Cuba in the last four decades."
The desperation to leave is palpable. Cubans are selling everything they own to pay for a ticket to Managua and a guide to take them on the long, perilous land journey to the U.S. border.
It is traumatic to see so many of my fellow citizens leaving, but I cannot blame them for wanting a better life. The economy is in shambles; our political rights are non-existent. For many, the government's response to 11J was the proverbial straw that broke the camel's back.
As one Cuban woman told a reporter, "I was done after July 11. I am leaving for my son, for his future. I spent all day waiting in lines so he can have yogurt. I work at a [government] hospital for $50 a month. I basically work for free."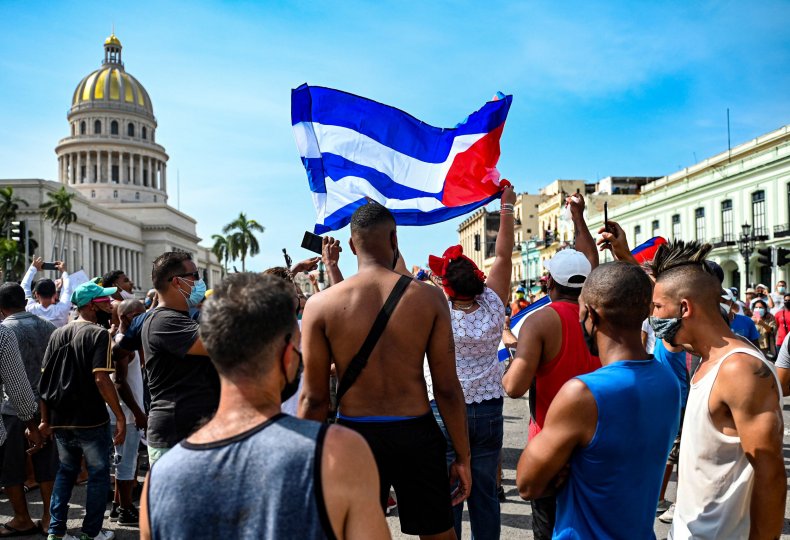 The crackdown was one of the most punitive since the early days of the revolution. Nearly 1,400 people were arrested and jailed. Many were convicted of crimes ranging from public disorder to sedition and handed prison terms of up to 30 years. As of June, the government was still holding some 700 11J political prisoners, according to Human Rights Watch. The only thing most of them had done was march and shout, "Libertad!"
In some cases, entire families were arrested. Consider the Beirut family. On July 11, Exeint Beirut, his son and daughter and brother-in-law, Yobel, were arrested for participating in protests in the eastern city of Guantanamo. The next day, Exeint's sister Katia and father, Fredy, took to the streets in Havana with hundreds of others to protest his unjust arrest. Fredy was arrested the following day and Katia about a week later for filming the events using her smartphone. Exeint was given a four-year sentence for public disorder while Yobel received three years and six months for the same offense. Meanwhile, Fredy and Katia have both been given 20-year prison sentences.
Minors have been subject to some of the harshest treatment. Dozens of young people in one of Cuba's poorest neighborhoods were rounded up and sentenced to long prison terms. Sixteen-year-old Rowland Jesús Castillo Castro was given 18 years for protesting. When his sentence was announced in May, his father, Rolando Castillo, protested and was given a two-year prison sentence for his trouble.
Some of the arrested have since been released, but the government's crackdown had its desired effect—to break the will of the protestors. As another said about their son, who spent months in jail before being released, "My son has been quiet, he is another boy, they transformed him."
This exodus is contributing to one of the worst demographic crises in the world. According to the United Nations, Cuba's population is projected to decline by half, from 11.3 million today to 6.7 million by 2100. That's in part because many Cubans are leaving. But it's also because many of those who remain have lost hope in a better tomorrow.
According to the World Bank, Cuba has the third lowest fertility rate among Latin America's 42 countries. Between 2000 and 2018, the number of annual births in Cuba declined by nearly 20 percent. Meanwhile, the median age in Cuba has nearly doubled, from 22 in 1950 to 42 in 2020; it is projected to rise to 50 by 2050. For comparison, in 2020 the median age in the U.S. was 38 years.
Cuba's abortion rate is one of the highest in the world, and its divorce rate is now about 50 percent, the ninth highest in the world according to one study. When you don't have hope that the next generation can live happy, fulfilling and purposeful lives, why reproduce or form lasting partnerships?
I am hopeful that Cuba will someday cast off the chains of communist slavery.
What worries me now is whether there will be enough of us around when the crucial work of rebuilding our country begins.
Dr. Oscar Biscet is a human rights leader, former prisoner of conscience, and recipient of the Presidential Medal of Freedom. He lives in Havana, Cuba, and can be contacted through his website.
The views expressed in this article are the writer's own.