The Legend of Korra is now streaming on Netflix US, where it has topped the TV charts since it was released. This means that a whole new generation of fans are watching the Avatar spin-off and coming to its controversial ending, that saw lead characters Korra and Asami move from being friends to romantic partners.
In the final moments of The Legend of Korra Season 4, Episode 13 (titled "The Last Stand,") Korra and Asami hold hands and head into the Spirit World after the show's biggest battle, confirming their feelings for each other had developed.
So there was no confusion in viewer's minds into what this hand-holding meant, both Legend of Korra co-creators took to Tumblr to confirm that the pair were embarking upon a lesbian relationship. Michael Dante DiMartino wrote: "Our intention with the last scene was to make it as clear as possible that yes, Korra and Asami have romantic feelings for each other. The moment where they enter the spirit portal symbolizes their evolution from being friends to being a couple.
He later added: "In case people were still questioning what happened in the last scene, I wanted to make a clear verbal statement to complement the show's visual one."
This makes Korra the first out LGBTQ+ character to lead a children's cartoon. Though many queer fans (and hack comedians) have seen what they saw as queer traits in characters like Snagglepuss, Scooby-Doo's Velma, and Recess' Spinelli, this was the first confirmation on screen that a character was a member of the LGBTQ+ community.
Fellow co-creator Bryan Konietzko, meanwhile, suggested that the pair wanted to show the pair kissing, but were held back by Nickelodeon. He wrote on his Tumblr: "We approached the network and while they were supportive there was a limit to how far we could go with it."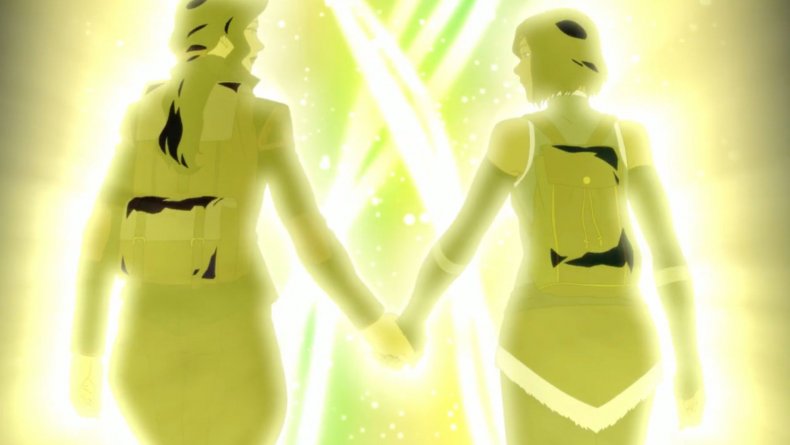 Nickelodeon is hardly the last network to have concerns about showing same-sex kissing on screen. In 2020, for example, the live-action drama Love, Victor, which featured a few male-on-male kisses moved from Disney+ to Hulu due to not being "family-friendly" enough
As for Korra and Asami (known to fans as Korrasami), they would not get their first canon kiss until 2017, in the comic book continuation of the Legend of Korra, Turf Wars – Part One.
By that time, other show had picked up the gauntlet sat down by The Legend of Korra. In March 2017 (a few months before the release of Turf War), it was actually Disney who showed the first LGBTQ+ kisses on a kid's cartoon, when same-sex smooches were shown as part of a group shot of people kissing their loved ones at a concert in Star vs. the Forces of Evil.
This led to a backlash from homophobic campaigning group One Million Moms, in which the group said that Disney was "under pressure from the gay community" and had, "decided to be politically correct versus providing family-friendly entertainment."
These criticisms are exactly the same ones leveled at The Legend of Korra three years earlier, down to mentioning the existence of a (fictitious) gay cabal who is supposedly forcing cartoons to feature gay kisses, or causing trouble for any cartoon without same-sex love.
One viewer writing on the show's Fandom forum, for example, wrote: "i found myself skipping over [the romantic] parts. In the Last Airbender [which Korra spun off from], They had love sequences but it wasn't shoved in our face like it is here...But noooo. We must please the LGBT community. Instead of making Korra a strong single women."
Homophobic fans wishing LGBTQ+ moments were not "shoved in our faces" has been so often used that it has become a cliche regularly mocked in memes:
If such a cabal of LGBTQ+ fans forcing cartoons to feature queer kisses exists, it has not been very successful. Gay kisses in cartoons have remained rare—an episode of PBS show Arthur, for example, showed teacher Mr. Ratburn marrying a man, in an episode that was banned in at least one state, but did not go as far as to show him sharing his first kiss with his new husband.
A few shows in the progressive mold of The Legend of Korra, though, have taken things further than that show and showed its protagonists kissing. In its own series finale, for example, Adventure Time featured a kiss between its female characters Princess Bubblegum and Marceline.
That too was going to stop short of a kiss, were it not for the efforts of one storyboard artist. Showrunner Adam Muto told TVLine: "It was really up to [Hanna K. Nyströmthe], the storyboard artist who got that scene, to decide what her take on it was going to be. It actually wasn't in the outline when it was submitted. It didn't say that they kiss. It just said they 'have a moment.' When Hanna boarded that, there was a little note in the margin that said 'Come on!' with a big exclamation point. That was the only note. I can't argue with that."
Notably, the same interview revealed that the pair were not intended to become a couple until writer Rebecca Sugar started building that bond between them. Sugar would then go on to create Steven Universe, perhaps the most LGBTQ+ friendly kid's cartoon ever made, with its roster of characters from across the gender and sexuality spectrum.
When that show's Ruby and Sapphire got married, the show actually showed the two brides kissing, in what Sugar meant as a statement against the powers that stopped The Legend of Korra and other similar shows from having same-sex characters who love each other express that on screen.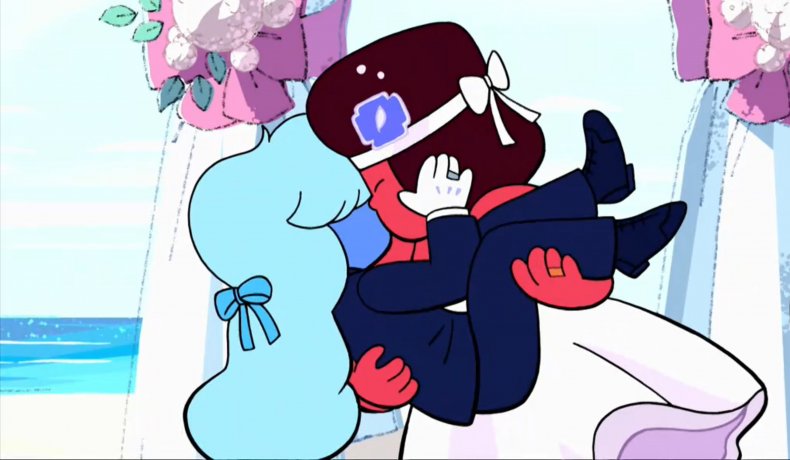 Sugar told PBS: "[LGBTQ+] stories are not considered appropriate, are not considered G-rated content, and because they're not, they're kept out of media for kids, and I think that that is profoundly sad."
In the eight years since Korra and Asami held hands on-screen, progress has been slow but significant. However, we are nowhere near true equality, where those in LGBTQ+ relationships are shown expressing the same sort of physical tenderness that straight people are allowed to express in cartoons.
For example, even Steven Universe's queer kisses were edited out of episodes in some territories. Surprisingly, for example, the show has been censored in the United Kingdom, where same-sex couples have been able to have civil partnerships since 2004, and full-blown marriages since 2014.
And still, there are other milestones to clear. A kiss on the lips between two male characters, for example, did not happen until 2018, in the more adult-orientated Voltron: Legendary Defender.
An attempt to show two men kissing in Cartoon Network show Clarence in 2014, meanwhile, was allegedly cut and replaced with a kiss on the cheek. Also, trans people are sadly almost completely absent from animated shows.
Though GLAAD reported in 2019 that 10.2% of characters on broadcast scripted primetime programming were identified as LGBTQ+, these percentages are still much lower in animated properties.
Hopefully a young queer creator will be inspired to push LGBTQ+ representation even further by watching the loving gaze between Asami and Korra at the end of The Legend of Korra now that it is streaming on Netflix.