'The Legend of Vox Machina' Character Guide: Who's Who in the New Prime Video Series
The Legend of Vox Machina features an array of loveable rogues who fans will no doubt fall in love with the second they lay eyes on them.
Retelling the first Critical Role Dungeons & Dragons campaign, the R-rated Prime Video series follows its eponymous troupe as they fight to rid the land of Exandria of evil.
Vox Machina is comprised of Scanlan Shorthalt, Grog Strongjaw, Percival de Rolo, twins Vex'ahlia and Vax'ildan, Keyleth, and Pike Trickfoot.
Voice actors and Critical Role members Sam Riegel (Scanlan), Travis Willingham (Grog), Taliesin Jaffe (Percival), Laura Bailey (Vex), Liam O'Brien (Vax), Marisha Ray (Keyleth), and Ashley Johnson (Pike) and Matthew Mercer (Sylas Briarwood) spoke to Newsweek about how they created their characters.
Here is everything you need to know about each character.
'The Legend of Vox Machina' Character Guide:
Scanlan Shorthalt
Scanlan Shorthalt is a gnome bard with a penchant for bawdy tunes and bedding any woman he sets his eyes on.
The character uses the music he creates using a brass flute to launch magical attacks, which come in various forms like a giant hand.
In the series, Scanlan sings a number of hilarious tunes and this was something Riegel came up with because of his own love for music: "I've been singing my whole life. I was a child musical theatre actor and was in a doop group in high school and an acapella group in college, and I've just been singing for a long, long time.
"The character makes music to make magic and so we needed some sort of musical element to him, and I can't play the guitar but I can sing, so that's what it was.
"I did get a chance to co-write these songs with my brother in law who was in my college acapella group with me. We wrote all the Scanlan songs for the series, [it] has been great collaborating with him and making music with him now for like, decades."
Grog Strongjaw
Grog Strongjaw is a goliath barbarian who is all about the brawn and not about the brains, but even so he has a heart of gold and is fiercely loyal to Pike Trickfoot.
Willingham admitted that the reason why he created the character for himself was because he was new to RPGs like Dungeons & Dragons and felt intimated by the magic systems, and preferred to have a simpler role for himself.
He explained: "You know, when we first started playing the game, I was new to RPGs and so I found a lot of the spells and magic to be a little bit intimidating. So when I talked to our glorious GM Matt Mercer, I said, 'can I just get like a hack and slash character with an axe and I could just hit things? That will make it real simple,' and he said 'yeah, sure. What's the name of your character going to be, just on the spot?'
"I came up with Grog because I'm a fan of Monkey Island and I don't know why that came up, but it did.
"And as we were rolling our stats he had like six intelligence and that kind of told me everything that I needed to know, that he wasn't going to be the sharpest tool in the shed.
"Then as we played you just kind of layer clay on these characters as you get to know them, [the] more [you] get to know the other characters and it just, it seemed like such an endearing thing to have this mountain of muscle, that is capable of destroying so much so quickly, also have this very tender heart, a very protective nature, and also a great admiration to hurry, you know, to the shiny things.
"I just like the dichotomy of that in the in the character and it's so much fun to play, and it's always a joy to play a character where the filter between brain and mouth is just missing. He's just as likely to pull somebody's head off as he is to get a pat [them] on the back. And, you know, I've loved playing him."
Percival de Rolo
Percival de Rolo, whose full name is Percival Fredrickstein Von Musel Klossowski de Rolo III, is a human gunslinger.
The character has quite the dark backstory which will feature in some part in the show, and of this Jaffe said: "I mean, even back at the original table it was such a shock to watch the whole thing unfold, and terrifying.
"It's been amazing, it was such an amazing story to tell the first time and then finally being able to see it realised on this level and have these artists come in.
"And honestly, there are things rendered in it that are better than my imagination... It's really, I mean, it's everything you could hope for. It's stunning, I'm still in shock."
Vax'ildan
Vax'ildan "Vax" Vessar, meanwhile, is a half-elf rogue who uses a combination of sneak attacks and magic to come out on top.
He is also the twin to Vex'ahlia "Vex" Vessar, and of creating the characters alongside Bailey, O'Brien told Newsweek: "Well, this whole thing started as sort of like a birthday present to me specifically, but Laura and I have the same birthday.
"So in that first game at home we just threw ourselves together, and we're scrolling around. We were like, 'well, same birthday... twins, great!'
"Lauren and I feel like brother and sisters that are 10 years [apart]. We love each other, we bicker, we make each other laugh. So it feels pretty real. And I have nothing else in my life or career to compare to the whole show, [or] the twins. It's rare."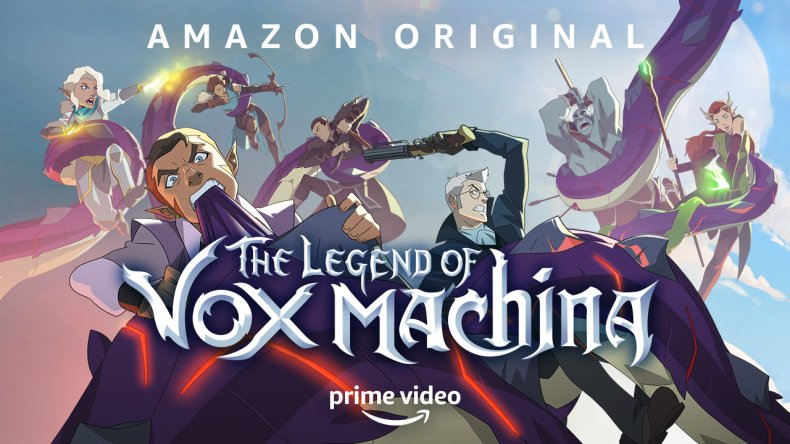 Vex'ahlia
Vex, like her brother, also has excellent combat skills and spying, though she is said to be the more pragmatic of the twins.
Adding to what her co-star said, Bailey said of Vex and Vax: "Yeah, it basically started because he was playing the character that I wanted to create. So I was like, 'Oh, how can I make this happen and still make sense?' So yeah, it just was perfect.
"We worked very well together with this, it was fun to create a backstory with someone else because a lot of times, and all the campaign's past, you're working on your own, but it was great.
"Liam and I could sit down at over coffee and go, 'Okay, so, Mom, what's going on with her?' You know, everything out it was great."
Keyleth
Keyleth is a half-elf druid who has to learn to master her powers so she can lead her people in the future.
Ray explained that she wanted to make a character with this kind of storyline in mind because she's "a fan of the long game."
She said: "I love watching people grow a little over time, that's what fascinates me in people in the real world so I love doing that in characters.
"So yes, she definitely has quite the journey ahead of her but I'm hoping that the audience can see and enjoy her growth and progress as much as I had in playing her and bringing her to life."
Pike Trickfoot
Pike Trickfoot is a gnome cleric who is able to harness magic through her faith and belief in a being known as the Everlight, she is also Grog's closest friend.
Johnson said she and Willingham created that friendship for their characters to reflect their bond in real life.
She explained: "So much of that was formed in our home games to start... a little over two years before streaming, so we came in to play on the second game and a lot of that relationship with Pike and Grog was Matt introducing me into the game and was like, 'You know what, let's have you be an old friend of Grog.'
"And that's just how our friendship and the game started, him and I... I mean all of us are very close. We all deeply care for each other and love each other.
"Travis is one of my best friends, he's one of my best buddies and hopefully that's why that relationship and that friendship [is] onscreen. You know, they're an odd pairing and I think it's funny, this big goliath and this tiny gnome and he just listens to her. Like, she's just mama Pike, and I really love their interactions and friendship."
Sylas Briarwood
Sylas Briarwood is a character that is given voice for the first time in the animated series, as he was an NPC in the Critical Role team's Dungeons & Dragons campaign.
It is Mercer, who was the group's Dungeon Master, who voices the villain, who is the vampire co-ruler of the city of Whitestone.
Of choosing the role for himself, the voice actor said: "I think of all the NPCs that were in there he was a character that I feel in an animated for I could most closely represent.
"I wouldn't be as strong of a choice for like Allura or Kima, though I consider myself as somewhat of a versatile actor I'm not quite [to] that extent.
"So Sylas is definitely someone within my wheelhouse, but also a villain that I really loved from when we were playing the game in the original campaign.
"Since this format allowed us to have a little more screen time with him to see some things more from their perspective, as the series progresses, I just really wanted to get the opportunity to kind of sink my teeth into it."
The first three episodes of The Legend of Vox Machina is out now on Prime Video, and the show will air weekly every Friday.