'The Legend of Vox Machina' Cast on How They Turned 'Critical Role' into an R-rated Series
The Legend of Vox Machina began as a humble game of Dungeons & Dragons between friends to celebrate a birthday, the players never intended for it to become the worldwide phenomenon it is today.
Sam Riegel, Travis Willingham, Taliesin Jaffe, Laura Bailey, Liam O'Brien, Marisha Ray, Ashley Johnson, and Matthew Mercer got together in 2013 for a one-off playthrough, and two years later shared their campaign with the world, thus creating Critical Role.
The series, which consists of weekly videos, podcasts and so much more, sees the voice actors continue to play D&D together with the characters they created all those years ago, and now it's being adapted for the small screen.
The Critical Role cast return for The Legend of Vox Machina, which launched on Amazon Prime Video on Friday, January 28, and they spoke to Newsweek about bringing their D&D campaigns to life in animated form.
From Kickstarter to Prime Video
Prime Video's new R-rated series tells the story of Vox Machina, a travelling group of misfits turned swords-for-hire who help rid the land of Exandria of evil.
It was first a Kickstarter project made by the creators of Critical Role, with the cast intending to make a one-off 22-minute animated special for Critters (the name of their fanbase).
The campaign blew up and was so incredibly popular that fans donated more than $11 million to the cause, and the support was so overwhelming that it allowed them to extend the original one-episode plan to a 10-episode series.
O'Brien, who portrays half-elf rogue Vax'ildan, admitted it was "stunning" to see their fans support them in such a way: "We were all pretty shell-shocked in that initial moment when it just flew by so fast on the Kickstarter screen."
Bailey, who plays Vax's twin sister Vex'ahlia, agreed, said: "I feel like we've been walking around in a perpetual state of shock since that moment, if I'm being honest.
"Just the entire process of making this show has been so surreal and something that we would joke about and dream about in the early days of the campaign, but never truly believed it would become a reality.
"And the fact that we're here right now, it's just... I am still blown away by it."
Jaffe, who lends his voice to human gunslinger Percival de Rolo, joked that they collectively no longer "make jokes about things" that could happen with Critical Role "because if you do it two or three times it will become a thing and now you have to deal with."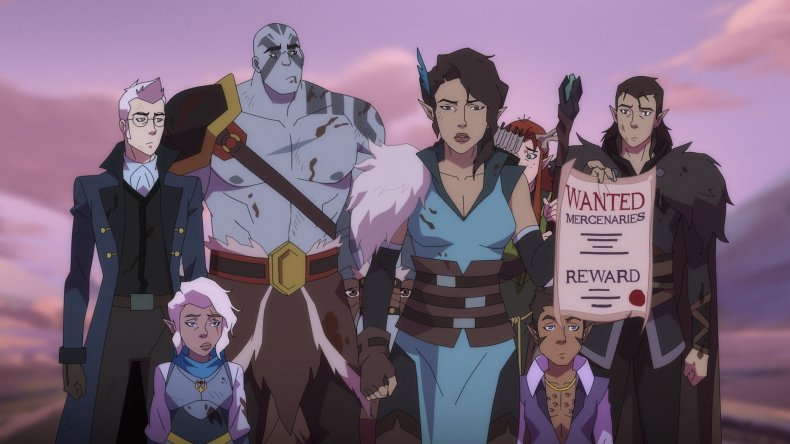 The 'Critical Role' Creators Wanted to Be Involved As Much As Possible
Given how Critical Role was entirely their creation, from the characters to the world they explore in their campaigns, it made sense for the cast to be involved as much as possible in the adaptation process.
"We were all incredibly involved from the very beginning," Bailey commented.
O'Brien added to that sentiment, as he explained: "We helped sort of break out the season in a big group with the amazing writing team that we have, and got to talk about what we felt our favourite and most important moments were, personally, for our characters.
"And then even as we've continued through season one, every script would go through and several times, and we could help make sure that it was where we thought it should be for the progression of all these characters, so [we've been involved] from start to finish, really, yeah."
Marisha Ray, who plays half-elf druid Keyleth, describes the Critical Role team's involvement as a "sliding scale" because they all focused on different aspects of the show.
She said: "All eight of us are EPs (executive producers) on the project and some of us gravitate towards different parts of the process.
"So, some people are more invested in the design aspect, and some people are more invested in the script writing process.
"It kind of depends from person to person, which honestly works great because it means you get a lot of, you know, good opinions and different perspectives to go off of. I know I personally I'm really invested in the scripting process. But it really is a team effort."
Mercer, who is Critical Role's Dungeon Master and voices several characters including villain Sylas Briarwood, added: "I think there isn't a facet of production that all of us in some way, shape or form touched on, you know.
"Every script that came through, all of us did our notes [to] pass on. We were all there meeting about the stories, we were all there in the writers' rooms going through all the character motivations, the major plot points.
"We're having meetings with every design phase for proofing character designs and background designs, and kind of make sure that all of our visions are unified.
"And so, you know, without trying to be a bottleneck we also wanted to ensure that we were all on the same page moving forward and everyone was happy with how it's coming together.
"Thankfully, all the wonderful teams you're working with were so good at what they do that often we didn't have to have much of a discussion or notes beyond a few tweaks here and there, it all went wonderfully."
The series has already been commissioned for at least two seasons on Prime Video, with Brandon Auman acting as showrunner, writer and executive producer.
Reflecting on the adaptation process Riegel, who voices gnome bard Scanlan Shorthalt, added: "We've been sitting with these characters, in this world, for many years now as we've played over 400 hours of role playing games as these characters in Matt Mercer's world of Exandria.
"And so it's just a lot of material to choose from when making our animated series, and we're also very attached to the characters, and very attached to the moments that we fell in love with.
"We wanted to bring that passion and attachments to the series. Obviously, we needed some outside eyes to tell us, you know, 'this stuff's great, this stuff I don't care about as much,' someone to sift through all the great moments and pick the best of the best.
"Brandon has been an expert at doing that, helping us justify things and set things up, and laying the seeds for moments that will pay off episodes later and really helping us with a discerning eye [to] figure out what gets in the show and what gets sort of left for just the live play audiences."
Auman had to work to adapt Critical Role's first D&D campaign, a series that spanned 115 episodes in total.
At first, he joked to Newsweek that it "wasn't really that hard" to condense the hours-long campaign into an animated series, before saying: "No, obviously it was difficult.
"I mean it definitely came with big decisions, what we're going to keep, what we're going to cut out, and even occasionally have to fill in the gaps and invent new things to kind of glue certain aspects of the campaign together because obviously with 24 episodes it's not easy.
"And also, some things we have to invent [from] like the villains POV, you know, like, how the villains are reacting to Vox Machina. And so, yeah, it wasn't easy.
"But Travis and Sam were there the entire time. I mean, they are really showrunners as well, it's not just me, I want to make this very clear.
"Sam and Travis are also co-showrunners, and the rest of the cast has been amazing as well. Like, it's just been such a great experience and so much fun... it's still daunting but it's just a blast."
The first three episodes of The Legend of Vox Machina is out now on Prime Video, and it will then air on a weekly basis every Friday.