Legendary Golfer Jack Nicklaus Describes His Positive Coronavirus Bout
Jack Nicklaus calls himself one of the lucky people who has tested positive for COVID-19, also known as coronavirus. During a TV broadcast Sunday at the Memorial tournament in Dublin, Ohio, the legendary golfer revealed that both he and his wife, Barbara, both tested positive for the virus during March—when the worldwide pandemic began penetrating the United States.
The couple both turned 80 earlier this year, and they both contracted the virus while at home in North Palm Beach, Florida. Their age put them in a high-risk category, but only Jack had symptoms. Barbara was asymptomatic while Jack had a sore throat and a cough.
"It didn't last very long, and we were very, very fortunate, very lucky," Nicklaus said on the CBS broadcast. "Barbara and I are both of the age, both of us 80 years old, that is an at-risk age. Our hearts go out to the people who did lose their lives and their families. We were just a couple of the lucky ones."
Nicklaus tested positive for the virus on March 13, and he quarantined until April 20 "until we were done with it." He hasn't been seen at as many golf tournaments this year because of COVID-19 safety protocols, and he kept his diagnosis fairly secretive.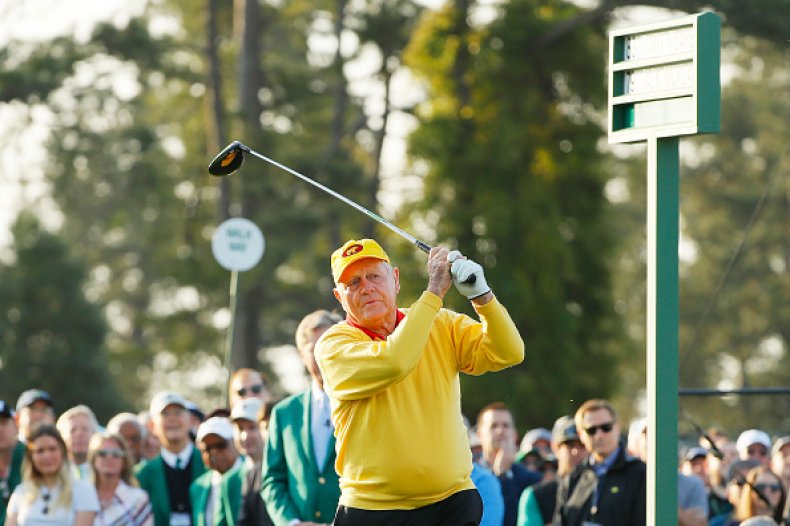 Nicklaus helped create the Memorial tournament, and as tradition, he's in town to shake the hand of its winner. Tiger Woods, who won this tournament five times, said he knew of Nicklaus' positive test.
"The fact that they got through it and they're safe and here and healthy, it's all good news for all of us who are a part of golf and who looked up to Jack and [have] been around Barbara all these years," Woods said.
Nicklaus held a news conference earlier this week, though it was done remotely. He said at the time he would shake the hand of the winner, unless that player felt uncomfortable.
"If they don't want to shake my hand, that's fine, I'll give them a fist bump or an elbow bump, but I'm not going to give them COVID-19, so that's ... I wouldn't put anybody in that position," Nicklaus said Tuesday. "We've got the antibodies, and theoretically we can't get it and can't give it. That's a nice position to be in."
Coronavirus was first detected in Wuhan, China in late 2019, and it quickly spread around the world. Once it began spreading in the United States, the sports world shut down, including golf. Only recently has this sport teed back up, and the tournaments are still being held without fans.
Major League Baseball starts back this Thursday, and the WNBA tips off its shortened season on Saturday. NASCAR, professional wrestling, MMA and Major League Soccer have already started back up.
Football season is still scheduled for now, but both colleges and pro have begun looking at alternative schedules.
Legendary Golfer Jack Nicklaus Describes His Positive Coronavirus Bout | Sports