'Legends Of Tomorrow' Season 3 Saves President Barack Obama
Legends of Tomorrow Season 3 is more absurd than ever and it's not stopping next week. The trailer for the upcoming episode, "Guest Starring John Noble," features a young Barack Obama. That's not too crazy considering it's the Legends job to go back in time and prevent catastrophic events from impacting the future. But there's a catch: A thousand-pound sentient gorilla named Grodd.
The Waverider sets a course for the 1980s and the team encounters Obama as a student at Occidental College. It's still unclear why Gorilla Grodd, who we last saw in the two night "Gorilla City" episode of The Flash, is after the future 44th president of the United States. There are no clues in the trailer, or the synopsis. We only hear White Canary crack a joke about the Legends all being on the Affordable Care Act, which Canary calls by its nickname "Obamacare." When Grodd busts into his dorm room, Young Obama attempts to get diplomatic with the hungry gorilla,"Clearly you have some grievances." Here's the episode synopsis from The CW.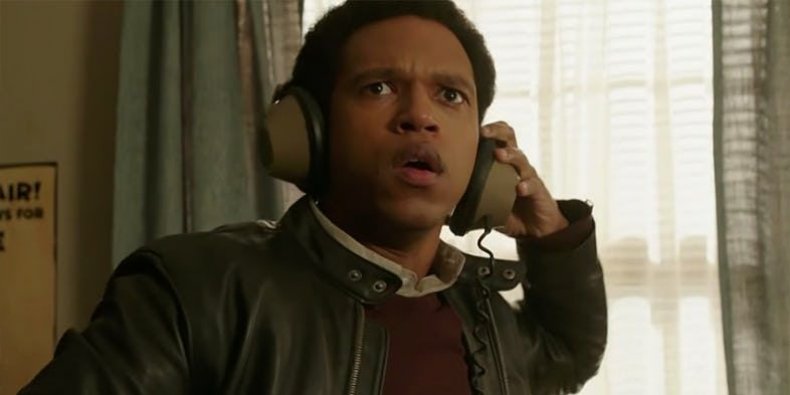 SEEING DOUBLE — With the timeline barely stable, the Legends must tackle two anachronisms at the same time to try and keep Mallus at bay. Sara (Caity Lotz) and Rip (guest star Arthur Darvill) team up to stop Grodd (guest star David Sobolov) from going after a particular target leaving Nate (Nick Zano) and Wally (Keiynan Lonsdale) to stop Amaya (Maisie Richardson-Sellers) from changing her future. Meanwhile, the Legends think they have found a way to destroy Mallus, but they will have to create an uneasy alliance with one of their enemies. Brandon Routh, Dominic Purcell and Tala Ashe also star.
Legends of Tomorrow has featured other past presidents including Lyndon B. Johnson and George Washington, as well as pop stars like Elvis Presley and George Lucas. It was only a matter of time before the Legends were tasked with saving President Obama. Don't screw this up Legends!
"Guest Starring John Noble" airs on The CW Tuesday, April 2 at 8 p.m. EST.