'Legends of Tomorrow' Season 6: Will There Be Another Season and When Will It Air on The CW and Netflix?
Legends of Tomorrow Season 6 is one of the many CW shows subject to a big delay, with fans unlikely to see more from the team until months into 2021. Netflix viewers will have an even longer wait before they get to see more from the DC Comics show.
The renewal of Legends of Tomorrow came back in January, when The CW renewed 13 shows including The Flash, Batwoman and Supergirl.
At that time, CW president Mark Pedowitz said in a statement: "These early orders for next season give our production teams a head start in plotting out story arcs and a jump on hiring staff, and this also provides us with a strong foundation of established, fan-favorite CW shows to build on for next season."
However, the coronavirus has caused production delays on nearly all CW shows, though Legends of Tomorrow was one of the few that was able to complete filming its current set of episodes.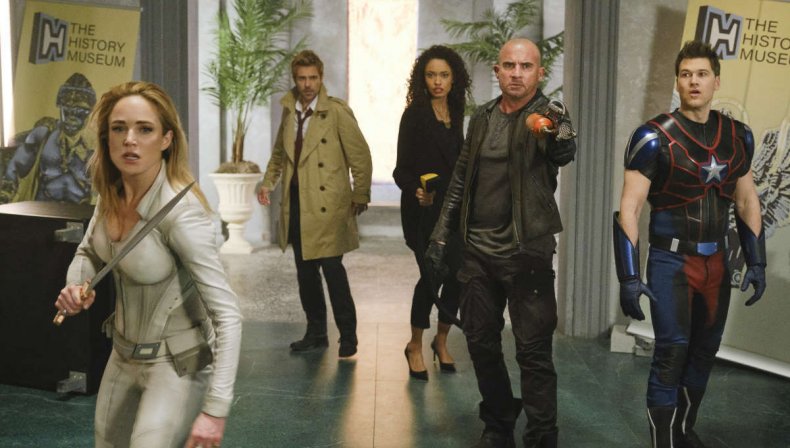 The COVID-19 restrcitions may not have affected the release of the current season of the show, but it will affect Season 6's air date. The CW has announced that their 2020-2021 TV schedule of scripted series will mostly begin in January 2021.
However, Legends of Tomorrow Season 6 will start even later. Per TVLine, the series is one of the handful of shows that have been delayed to at least spring 2021 or perhaps even later. Though the exact release date has not been confirmed, the show is likely to come to The CW in around May as the January series begin to air their season finales.
The delayed CW release date means that the show will be even longer in coming to Netflix. As episodes of most of the network's shows come to the streamer eight days after their season finales air, the service is unlikely to get Legends of Tomorrow Season 6 until at least September 2021.
Legends of Tomorrow fans may have a long wait on their hands, but the show's team has already been hinting at the future of the show. The CW has already released a full synopsis for the show which reads: "Having spent last season trying to track down the Loom of Fate in order to bring back their slain comrades, the Legends must now save history from a foe like none they've encountered in the past or future.
"Co-captains of the time-ship Waverider Sara Lance and Ava Sharpe have dealt with monsters, time anomalies, and most recently, villains from Hell, but this season they will face something even more challenging and bizarre... space aliens!
"After one of their own is abducted by a ruthless alien, this new mission becomes personal. It will take more than the combined powers of a dark magician, John Constantine; a semi-reformed arsonist, Mick Rory; historian who transforms into steel, Nate Heywood; and a brother-sister wind-totem-wielding duo, Zara Tarazi and Behrad Tarazi to save the world for a sixth time.
"They must recruit a new Legend, a woman who was abducted by aliens when she was a child and supposedly imbued with powers that will help the team defeat their intergalactic foes. Either that or she's just crazy..."
Legends of Tomorrow Season 6 is coming soon to The CW.