Hexagons, Wallpaper and Dennis Franz: Inside the Sets of 'Legion' Season 2
Imagine a setting that exists outside the realm of "when and where." No cars, cell phones or technology distinct to any single year. It's what Legion production designer Michael Wylie calls "all time." Viewers are given no indicators, always kept guessing as to when and where they are. But to really make the "all time" design scheme function alongside creator Noah Hawley's brand of weird, Wylie had to be precise.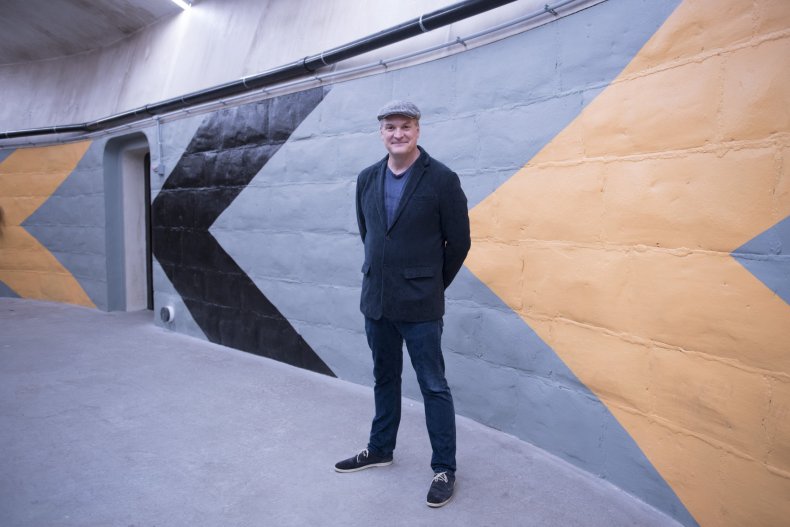 Inspired by styles and architecture ranging decades, it's the shapes, colors, patterns and intricacies of set design that give viewers subtle confirmations and send them on trajectories the dialogue doesn't necessarily gift.These careful creative decisions are visible from the very first shot of Legion Season 2, which premiered April 3 on FX. Unrealistically healthy green grass, blue skies, and crystal clear waters drown the screen in a clean glaze. Aubrey Plaza and Jemaine Clement float on a bright yellow raft in the backyard of what Wylie says is a home in the Hollywood Hills built in the 1920's.
"We left saying, 'let's go South,' so we wanted to say that we've got a whole new vibe going," Wylie told Newsweek. "We are not in the woods anymore. It's not raining. It's sunshine. I think it's a bit of a red herring that everything looked so peaceful and calm."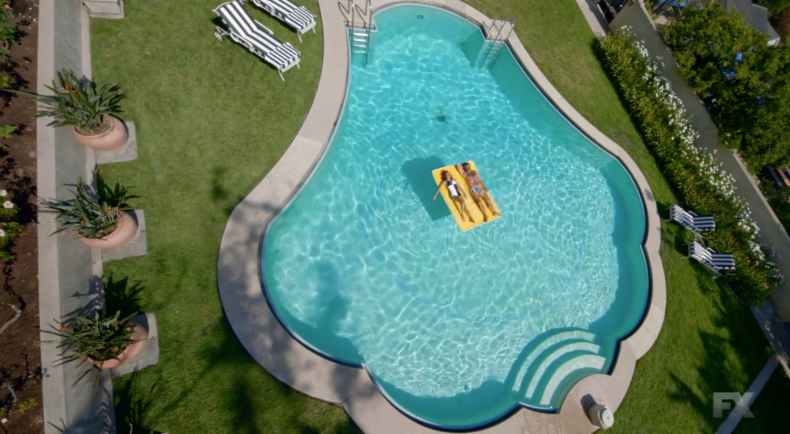 The placid poolside cocktail doesn't last long. There's been a jump in time, 362 days to be exact. We're quickly transported inside Division 3 headquarters to catch up with David Haller. How we arrived is uncertain, and there's not much context … just a whole lot of hexagons. It's one of many subconscious markers in the maze that is Legion.
"Last season was all circles. I really wanted a theme, so I glibly chose hexagons and we started putting them in everything," Wylie said. "We wanted a shape, it just makes things easier to design, and we also know that whenever you see a hexagon that you know you are in Division 3 without anyone having to tell you or without it having to be on the bottom of the screen."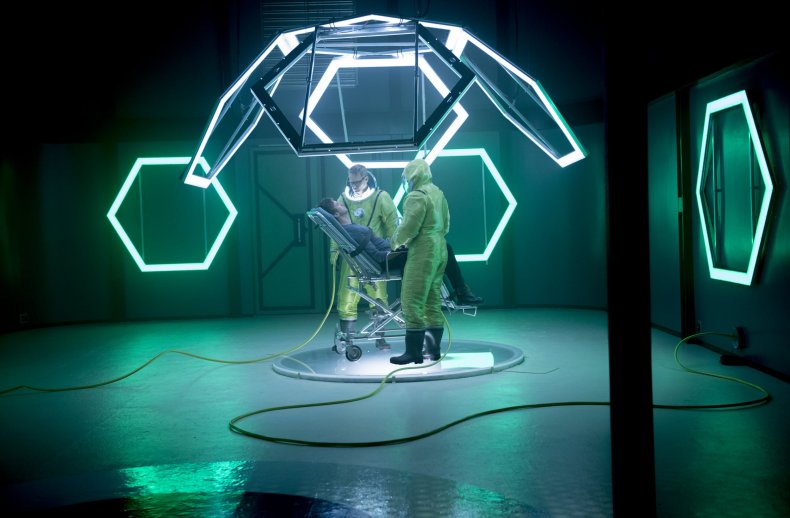 The methodical placement of hexagons sounds silly, but their abundance provides some level of familiarity, comfort and warmth within a setting otherwise designed to be unbearably sterile. Working with a mental hospital in the first season, and now a government base, achieving the balance between full and hollow is the challenge.
"It's all about texture," Wylie explains, "Not presenting any flat surfaces. One of my tricks is wallpaper. We make our own wallpaper, and put up wallpaper that you wouldn't even know was wallpaper. That will add a little bit of warmth to even the most stark space. The apartments that they are all living in in Division 3, they are very colorful but they are almost prison cells. So you get the best of both worlds. At the end of the day, this is a government facility. Let's not make it too personalized or comfortable."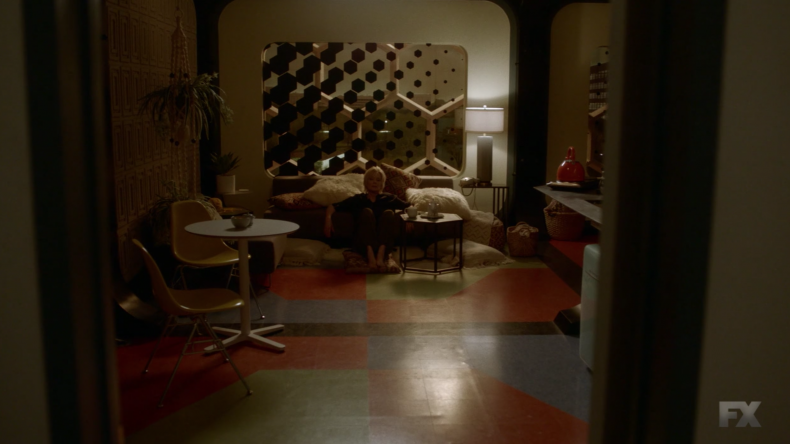 Walls are the intuitive place to add nuance, but Wylie uses every inch of blank canvas, taking advantage of floors too. In one scene, where David and Syd are getting ready for bed, David plops his bare feet down onto a floor reminiscent of an elementary school hallway. It didn't feel like an abandoned concrete loft floor in DUMBO. It's multicolored, playful and childlike, almost paralleling David's naivety.
"I'm obsessed with floors. I worked with Barry Sonnenfeld a lot, and he is the king of the overhead shot," Wylie said. "I trained myself to make sure the floors weren't just throwaways. Even if it's just simple tiles that are cut into weird shapes, we always do a fairly complicated floor even in really small sets because we do a lot of overhead shots in Legion. It is nice to look at something unexpected."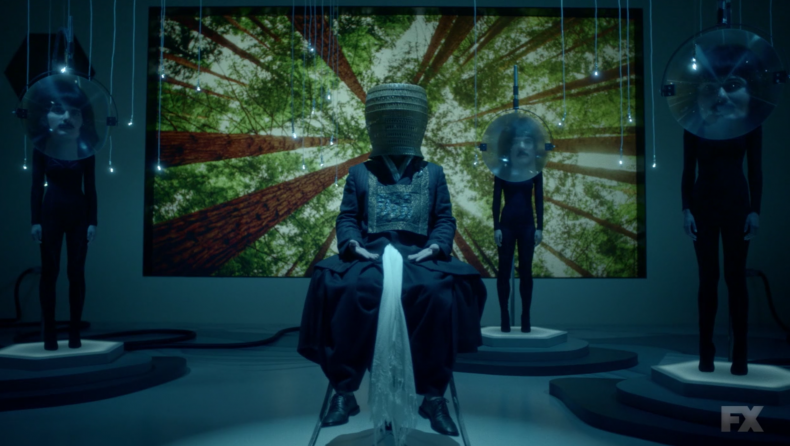 Unexpected also describes the Legion Season 2 premiere. The most unforseen reveal so far are who appear to be the bosses of Division 3. One has a wicker basket over their head (Admiral Fukuyama) and the others are androids of feminine physique with mustaches and bull haircuts called Vermillions.
"Noah said out loud that he wanted these women to look like Dennis Franz," Wylie said. "There were a couple different versions of them, but I think they are the most spectacularly weird thing I have seen on TV in a really long time."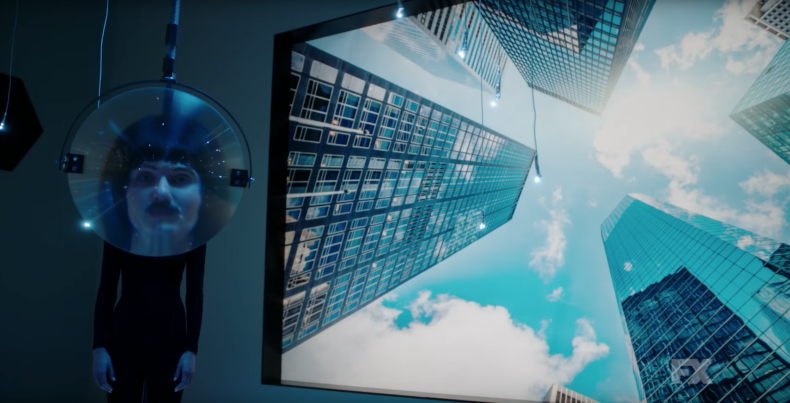 The set marking their introduction went through many iterations too. "The original idea was, you know the basket that the guy wears on his head? We were gonna be inside another basket, that felt like that was inside another basket, so that set went through a lot of different versions before we ended up where it was."
The dining hall in Division 3 was another Hawley vision. He laid out a tricky design: a sushi-go-round restaurant where your meal comes inside a boat instead of the traditional conveyor belt. Wylie created a 1970s Italian waterpark version for Legion. Wooden boats float down canals and circulate plates across the entire set.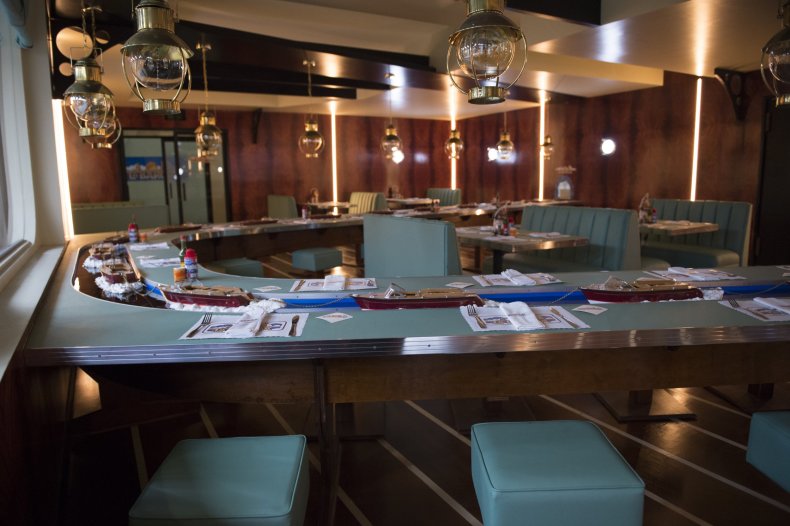 "You wanted to have characters on either side of the water, and you also wanted nice long shots. What we ended up doing was creating this zig-zag of water that went through the whole room. That turned one set into three separate sets," Wylie said, explaining how there was no good way to walk in between. "The art department was not very popular with the crew."
Nothing about Legion is indicative of a superhero show, so the biggest surprise of the Legion Season 2 premiere may be the inclusion of an elevated superhero element: The lair.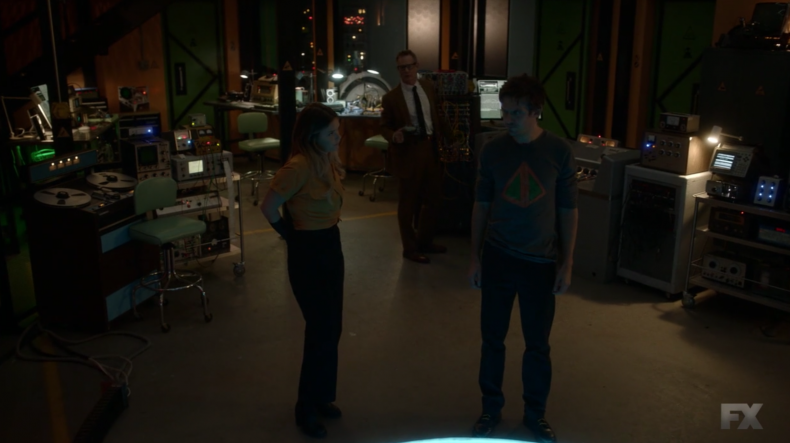 "Lair is exactly the right word," Wylie, who described last season as anything but superhero, admits. "Our talking point there was that we are 24 stories underground and they are really well hidden. Loudermilk has access to any machine and anything he wants because he builds everything himself. It's for sure a superhero lab, and a lot of stuff will take place in there over the course of 10 episodes."
The very first thing that takes place in the introduction of the 'amplification chamber,' a clear nod to Cerebro from the comics and movies. This interpretation of Professor Charles Xavier's iconic mutant tracking device sees David Haller submerge himself naked in a potion (which includes five percent strawberry extract for taste and aroma). It's unlike anything you've seen before, probably because Wylie is banned from reading any X-Men comic book.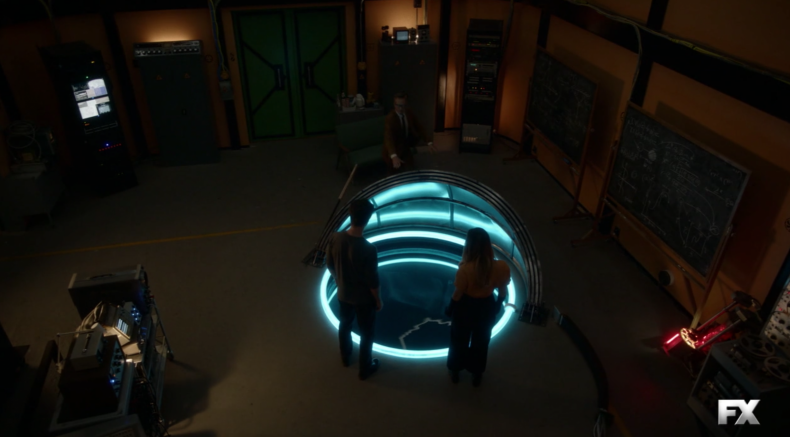 "We did a lot of research on isolation chambers, but I've been banned from looking at any X-Men or Legion comic books. I'm not allowed, and also I think it's really unfair to the people who made these comic books and came up with this character to go in there and go for their intellectual property," Wylie said.
The lack of influence by source material allows Wylie more creative freedom. "Sometimes I know where the story is going, so I need to design to the future of the show and not just necessarily to do things to make them cool, although that's my favorite thing--to say, 'Oh well, it doesn't matter if this thing could fly or not, it looks cool.'"
Legion Season 2 airs Tuesdays at 10 p.m. EDT on FX.