The number of China-related measures proposed by the current Congress since the onset of the coronavirus pandemic in the U.S. will soon outpace the counter-terrorism legislation put forward by lawmakers in the almost year and a half after the 9/11 terror attacks.
Amid the brewing bipartisan anger and quest to hold Beijing accountable, lawmakers have introduced more than 100 bills and resolutions since February in a bid to hurt or condemn the economic powerhouse as a result of the virus. Since this Congress started in January 2019, there have been more than 350 measures targeting China for a plethora of other issues.
But it took nearly a year and a half for Congress to file roughly 130 such measures in the wake of 9/11, according to Anna Ashton, the head of government affairs at the U.S.-China Business Council.
"I think a lot of it is political posturing. But that doesn't mean it is unfounded political posturing," Ashton told Newsweek. "I think it certainly makes sense people are questioning how the outbreak unfolded and how it was initially handled."
The numbers are a stark representation of the discontent that lawmakers have for the foreign adversary, which has only been exacerbated by the global health crisis.
In the eyes of many in Congress and the Trump administration, China has painted a target on its own back with its handling of the pandemic: coronavirus has so far killed more than 100,000 Americans and cost 1 in 4 workers their jobs. Many believe the global toll from the virus, at least in part, is a culmination of the country covering up the onset of the virus, including a delay in sounding the alarm on the outbreak, hoarding medical supplies and strong-arming the World Health Organization (WHO).
While they do not necessarily agree on how to respond, lawmakers on both sides of the aisle say something must be done. Republicans are driving the brunt of the measures, with most seeking retribution or condemnation for China's coronavirus response. But Democrats, who were slower to point blame at China and see President Donald Trump's response as the lynchpin for the high U.S. death toll, want a piece of the pie, too.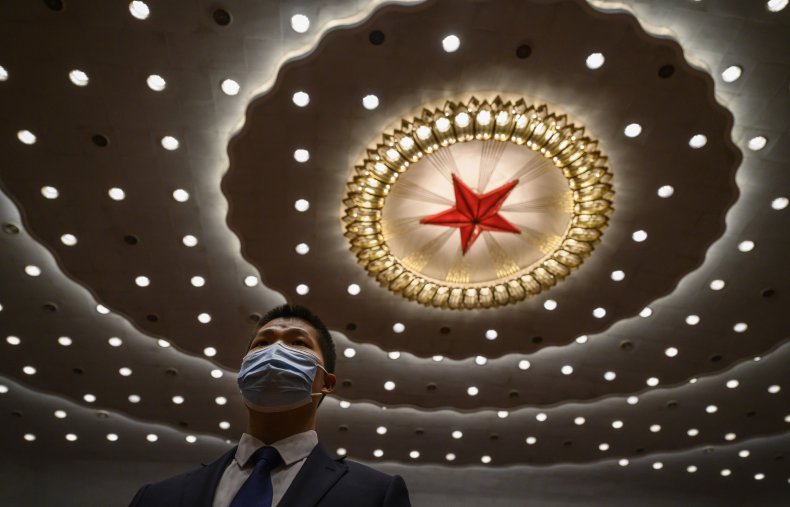 "We have to get to the bottom of this, and if they withheld information or could have acted sooner that could have helped save lives here, I think we got to hold them accountable," Representative Anthony Brindisi (D-N.Y.) told Newsweek.
Brindisi, a member of the Blue Dog Coalition composed of moderate Democrats, signed onto a letter the group wrote to congressional leadership this week calling for a bipartisan panel to investigate and respond to China's handling of COVID-19.
The propositions from Republicans, however, range widely. Many are overtly partisan with little-to-no chance of passing through Congress, while some call on the president to take other actions. Several proposals are bipartisan and less focused on retribution, lending them the political viability to advance to the president's desk in one of the most polarizing times in American politics.
Republican foreign policy hawks have used the virus to reignite their narrative for a more aggressive overseas strategy against the communist nation that has seen its combative relationship with the U.S.—particularly with trade—intensify under the current administration. President Donald Trump, deploying a similar tactic, has since deflected blame for his own pandemic handling onto China after initially praising his Chinese counterpart.
"They've basically attacked us from a cyber standpoint, for years they've stolen our information, they've stolen our technology, they violated just about every commitment that they've made to us with respect to the militarization of the South China Sea and space, and now they've unleashed a global pandemic," Representative Liz Cheney (R-Wyo.), the No. 3 House Republican, told Newsweek. "There's a choice here for the world in terms of who's going to set the rules going into the next several decades."
Chief among the bipartisan proposals is weaning America from its dependence on the communist nation for cheaper—but vital—goods that the U.S. has been unable to accomplish. Among them: medicine, an idea both parties have long sought to accomplish and likely has the best chance of mustering enough support to become law.
For example, a measure by Senator Marco Rubio (R-Fla.), an outspoken China hawk, seeks to end China's dominance of the pharmaceutical supply chain. It is backed by one of his most liberal colleagues: Senator Elizabeth Warren (D-Mass.), who has labeled it as "common sense."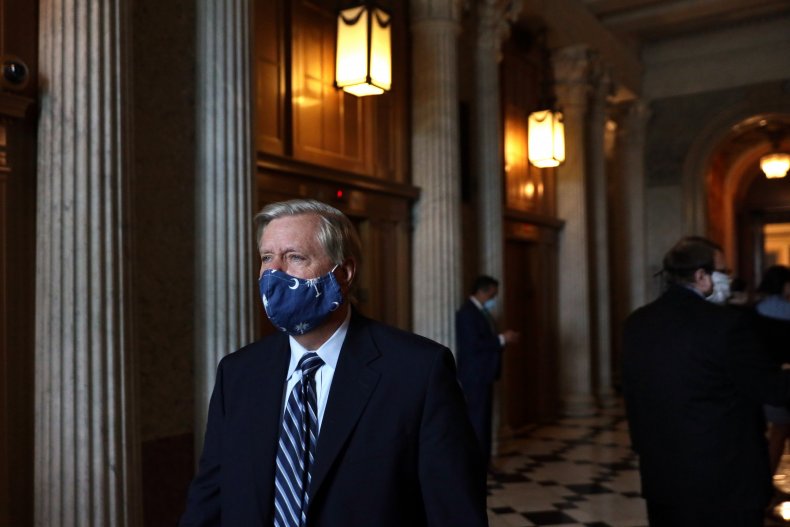 Senators Bob Menendez (D-N.J.) and Marsha Blackburn (R-Tenn.) offered similar bipartisan legislation, as well as Representatives Anna Eshoo (D-Calif.) and Susan Brooks (R-Ind.) over in the House.
Much of the uptick in legislation aims to admonish China for a "cover-up" of the virus.
Trump confidant Senator Lindsey Graham (R-S.C.) wants the U.S. to cancel its debt to China while Senator Tom Cotton (R-Ark.) and Representative Dan Crenshaw (R-Texas) say U.S. citizens should be able to sue China, a similar idea backed by Senator Josh Hawley (R-Mo.). Hawley's home state is already seeking billions from the Chinese government in a lawsuit. Senator Ted Cruz (R-Texas) says the U.S. military should cease advising U.S. film companies that allow China to censor their movies. And a group of GOP lawmakers, including Graham, are pushing Trump to sanction China.
House Republicans have derided their Democratic colleagues for abruptly declining to join what is now a GOP China Task Force that was long in the making prior to coronavirus. The panel will, among other things, examine China's response to the health crisis, lending Republicans to say Democrats are missing an opportunity to expose the country's negligence.
"Unfortunately, the majority party believes it's a diversion. I don't think those families that don't have family members coming home think it's a diversion," House Minority Leader Kevin McCarthy (R-Calif.) told reporters Thursday, declining to name specific remedies that he is eyeing.
Aggressively going after China's culpability could have adverse consequences, according to Ashton. However, while she said it may jeopardize Trump's Phase 1 China trade agreement—which seeks to combat intellectual property theft by China and slash U.S. tariffs in exchange for China buying more American goods—and progress likely needs to be accomplished instead through a multilateral forum like the WHO, she added that chastising China is not without merit.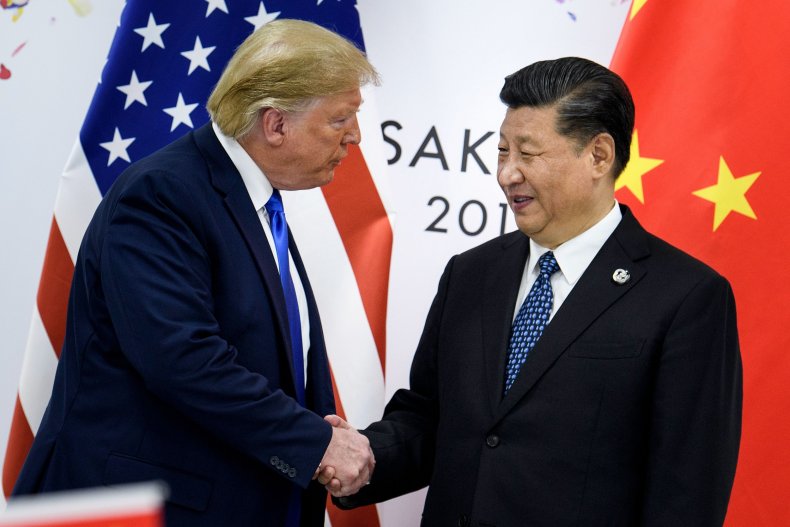 "[Lawmakers] want to focus on ensuring there is an examination so that in the future, we're better prepared and don't make what mistakes we made this time," Ashton said. "I'm just not sure that most of the legislation is actually aimed at achieving that."
Democrats' approach is far more reserved, hesitant to further strain relations with an adversary—a position that Republicans often assert as "weak."
"As we look at the spread of anything that can take people's lives like this virus, there should be a comprehensive view around the world, even with our own practices," Assistant House Speaker Ben Ray Luján (D-N.M.) told Newsweek. He suggested that instead of Republicans blaming Democrats for inaction, they should direct the ridicule toward Trump.
"There's a big question associated with President Trump saying one thing that he wants to hold China accountable but then refuses to use any tools at his disposal," Ray Luján added.
Representative Alexandria Ocasio-Cortez (D-N.Y.) expressed hesitance to take any sort of legislative pandemic-related action against China.
"I don't think that the flame of retaliation for a global pandemic is necessarily appropriate," the firebrand liberal told Newsweek. "There are legitimate issues and points of conversation that we can have in terms of our foreign policy and relationship, but I do not necessarily agree with this idea of just retaliation and feeding into this narrative."