Legislators Accuse Governor of Overreach in University of South Carolina President Search
After legislators targeted South Carolina Governor Henry McMaster for overstepping his bounds, the University of South Carolina Board of Trustees canceled a meeting where a controversial vote on the next president was expected to occur.
In October, former President Harris Pastides, who presided over the university for 10 years, announced he would be stepping down from the position. The announcement prompted a search for his replacement, which yielded a field of candidates that were unsatisfactory to many students, who protested in April.
The Board of Trustees previously announced it would reopen the search for a new president and a meeting scheduled for Friday drew the attention of students and legislators.
Both Columbia Mayor Steve Benjamin and State Senator Darrell Jackson criticized how this meeting came about and called for it to be canceled. Benjamin said South Carolina state law requires board members to be notified of a meeting's time and place at least five days before the scheduled meeting.
"I do not believe this is coincidence while many of our students, faculty and legislators are out of town," Benjamin said at a press conference. "The Board of Trustees meeting scheduled for tomorrow is not only inappropriate but also unlawful."
Jackson explained that if the board moved forward with the meeting and the vote, he would ask the Board of Trustees to attend a hearing before the Senate Oversight Committee.
"I respect the governor — we've worked well together throughout the years — but I agree with the mayor. I think he is overreaching," Jackson said
On Thursday, a judge issued a temporary restraining order, according to the Post and Courier, and the Board of Trustees website confirmed the meeting had been canceled.
"This took TOO much energy from too many well-meaning people to stop this act of subverting the legitimate process of selecting a leader for our flagship university," Benjamin posted on Twitter after the meeting was canceled. "Hopefully [University of South Carolina] trustees will take a deep breath, embrace their role as fiduciaries & restart the search process."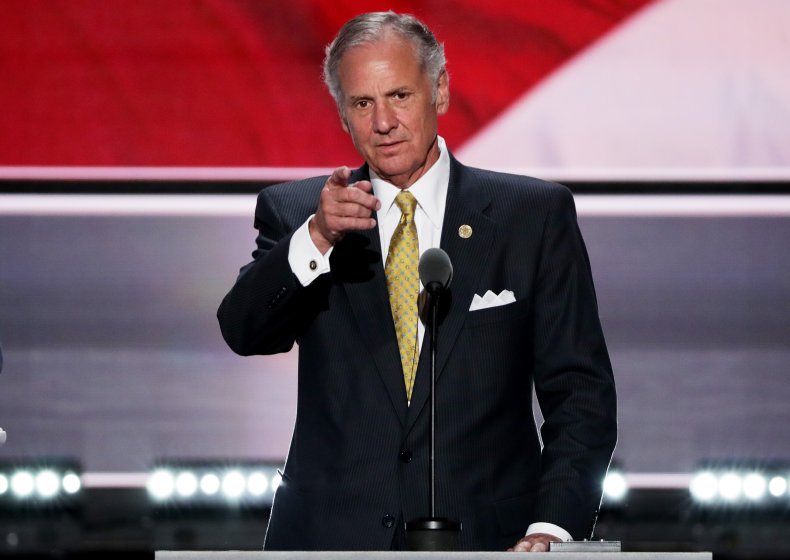 Lyric Swinton, a student at the University of South Carolina, told Newsweek that a protest was scheduled for Friday morning but was subsequently postponed after learning the board meeting had been canceled.
The demonstration was intended to call attention to South Carolina Governor Henry McMaster's involvement in the process. Newsweek reached out to the Board of Trustees and McMaster but did not receive a response in time for publication.
"This may be a University of South Carolina-specific problem right now but because we are a state-funded institution, make no mistake, this could happen to any public institution in the state or even the nation," Swinton said.
The governor is the ex officio chairman of the board and McMaster will continue to serve until the end of the term. McMaster had pushed for the Board of Trustees to vote and advocated for one particular candidate, retired U.S. Army Lieutenant General Robert Caslen, to be approved as the next president, according to the Post and Courier.
In a letter to Board of Trustees Chairman John von Lehe on Thursday, McMaster said he did not call the meeting in his official capacity but recommended that von Lehe reschedule the meeting to eliminate any "unnecessary distractions or concerns."
Swinton called the timing of the meeting — occurring during the summer break — "strategic" and that students demanded to be hands-on in the process of selecting the new president. Isabella Williams, a student who was also involved in the protest, told Newsweek that students are the "most important" part of the university. They're the ones who pay tuition, support athletics, represent the university and become alumni.
"Our opinions matter as much, if not more than the governor's or the individual board members," Williams said.
Swinton added that the university repeatedly told students their dreams, futures and voices have "no limit" and their valued and cherished education could feel like a lie if the Board of Trustees ignores that.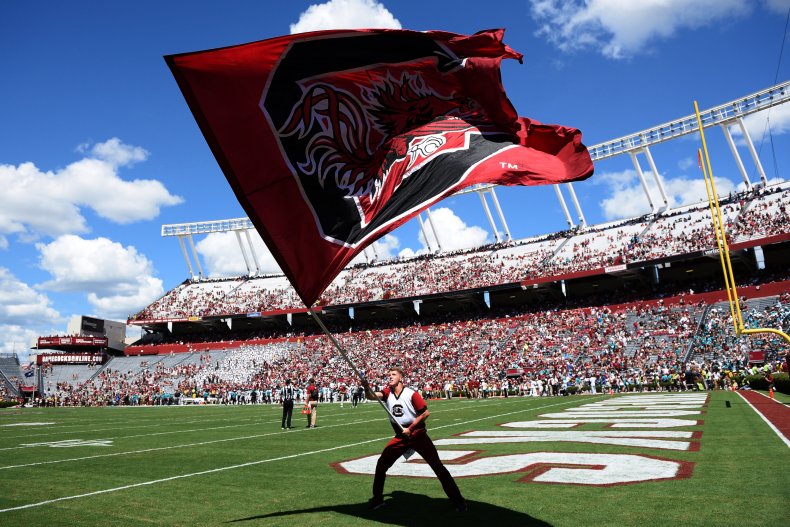 Many students who opposed the selection process specifically criticized the nomination of Caslen, largely because of comments that he made about sexual assault during a forum in April. Some students were also critical of his involvement in the Iraq and Afghanistan war.
Following the backlash, Caslen penned a letter to Pastides and von Lehe, in which he clarified that his comments about alcohol and sexual assault were not intended to shift blame onto victims; he then apologized to anyone who felt that's what he was doing. The retired officer also pointed to his work as co-chair of the NCAA's National Commission to Eliminate Sexual Violence on College Campuses Across America and said he spent hundreds of hours addressing the issue.
While he was willing to apologize for any misunderstanding that his words caused, Caslen refused to cave to student criticism when it came to his military service.
"I cannot apologize for serving my country for 43 years," Caslen wrote in the letter. "I cannot apologize for serving in Iraq and Afghanistan against our nation's enemies as I have been accused of doing... I cannot apologize for serving honorably, despite being charged by those on your campus with having received a dishonorable discharge."
Caslen served in the Army for over 40 years and President Donald Trump considered Caslen for the position of National Security Adviser. Swinton said some students respected Caslen's military service, but argued that the candidate wasn't qualified to lead their university system. One problem, Swinton said, was that Caslen had not earned a doctorate degree, which was listed as a necessary qualification.
Caslen told Newsweek that although he doesn't have a doctorate degree, he has two masters degrees and 43 years of leadership at the highest level of the Army and Department of Defense.
From 2013 until 2018, Caslen was the college president or superintendent in military terms of the United States Military Academy, one of the most prestigious higher education institutions in the world. While he has experience as a college president, Williams countered that running West Point is different from leading a large, public research university.
However, Calsen contended that when he was at West Point, U.S. News and World Report rated it the top public liberal arts college in the country and Forbes magazine named it the top public college. That, he said, could be used to judge if he can run a public university.