'I Quit My 9-5 Job to Create With Lego For a Living'
When I was younger, art was my means of expressing myself in a safe way. I didn't really come from a creative family, but I was always fascinated by puzzles and art. Even as a teenager in Connecticut I would spend most of my free time painting and drawing in the art room at school. I was captivated by mural art and massive artistic creations so I wanted to go to art school, but I didn't know if I would make it in such a cut throat industry so I studied financial investments and markets instead. I thought I would leave college and go straight to Wall Street, but I graduated in 2010 just after the Great Recession, so that did not happen.
I decided to sell my paintings on the side, and a friend said he would introduce me to an artist he knew: Robert Wilson. We visited Robert's art studio in Stamford, Connecticut and I can remember walking in and being immediately fascinated by his work. He had a huge abstract piece there that I believe was called "Mechanics of the Universe."
He was a real artist, and later, I found out that he was The Office actor Rainn Wilson's father! Robert was the one who looked at my portfolio and told me that I would be really good at creating murals. It was really special to me because he was a serious artist, helping a "nobody" purely out of the goodness of his heart. He died in 2020, but it was just such an honour to be mentored for a decade by someone so talented.
When I finally decided to sell paintings, my first commission was a mural at a restaurant. One of my biggest influences is Claude Monet; I love his huge pieces, like the Water Lily series, where you can see clearly at a distance, but when you go up close it's dots or brush strokes of paint. I like the idea that up close it's lots of pieces, but as you step away you really see the bigger picture. Andy Warhol, not to be cliche, is my favorite contemporary artist. I just love the way he captured iconography in such a playful and unique way, even though the images themselves aren't unique.
For many years I was working full time and doing art work on the side as a hobby; entering shows and creating murals when I could. I have always been a mixed media artist. My very first series was made of playing cards and then I started doing art with ripped up book pages. But one night in 2016 I had a dream that I had made a piece called "Lego Lincoln"; a Lego portrait of Abraham Lincoln. I thought it was so brilliant that I woke up and wrote it down immediately on a piece of paper because I was so scared I was going to forget it. The next morning, I went to the Lego store for the first time. I had no idea there were all these pieces and parts you could buy, but it all came together. The first "Lego Lincoln" was part painting and part Lego and I put it in an art show in Connecticut.
A prestigious gallerist said they wanted it in their gallery. Then, a second gallery saw it and wanted it too, and I realized I had something. One gallery wanted more of the same style, so I made a Lego Marilyn Monroe portrait and a Lego Christian Louboutin shoe image. My Lego art then featured in an exhibition alongside a collection from Jerry Garcia and work by Salvador Dali. A week later the gallerist told me that she needed more pieces because mine had sold out.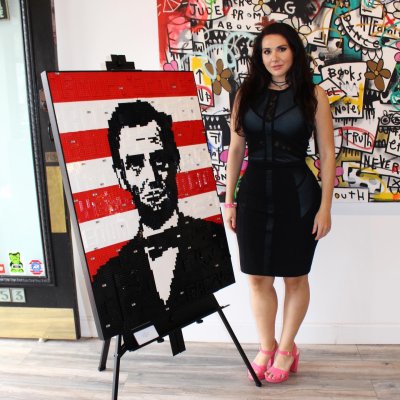 That's really when I started believing in myself. I continued making Lego art and began really thinking hard about how to make art my main focus. Then, in early 2019, I quit my job, with no income or health insurance, to make Lego art full time. I didn't make any money at first, which was really scary, but about six months in, I sold a piece that was created for someone on Forbes' billionaires list and began to get waves of people interested in my work.
My day is basically making creations and different art pieces out of Lego. I get a lot of commissions and I have a home studio because I like having everything at my fingertips. But if I'm doing a big mural I set up an onsite studio. My "Serene Ultraviolet Waterfall" mural was 5ft by 20ft long, and the largest installation I've ever made out of pure Lego, it used around 100,000 Lego pieces and it took me four days to build on site. I honestly don't know how many pieces of Lego art I have made to date.
One of the hardest parts of making creations out of Lego is hunting down all the pieces you need, because the store doesn't have every single piece that Lego makes. I will need specific pieces in certain colors so I have to hunt them down online. I've spent a lot, it's got to be more than $150,000 in total. I'm not a wealthy person but when you do an installation with so many pieces it can cost $50,000-$100,000 depending on how many Legos I use. Some of the little pieces are 50 cents or $1 each, so it can add up, and I don't have an arrangement with Lego, so I have to find unusual pieces I need online.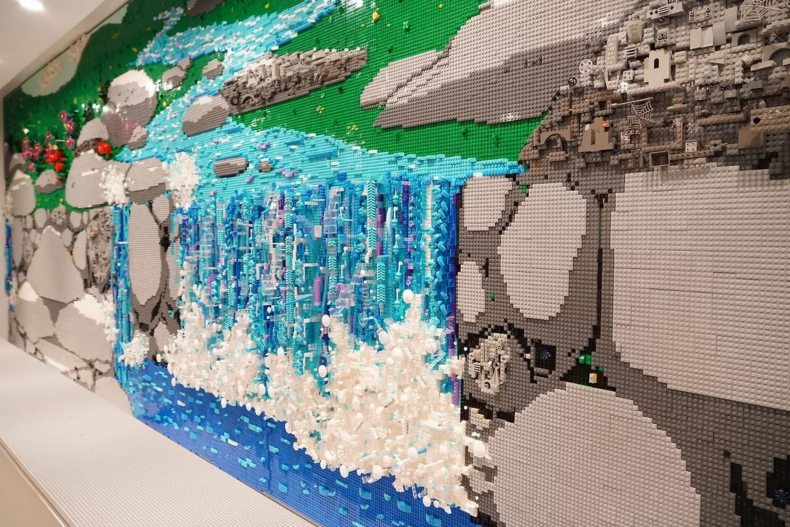 After I quit my job I got a call in August 2019 asking if I was the girl who made Lego art. This person wanted me to be on a show, Lego Masters, where people make creations out of Lego. I was just starting to gain momentum for my work, and I didn't know anything about the show so I thought someone was playing a joke on me.
Eventually I said yes and we filmed in 2019 and the show aired in 2020. It was an amazing experience because I got to be creative with an unlimited supply of my preferred media. Lego is so expensive and I had access to millions of pieces! We had challenges of course, but I could create bigger masterpieces without any financial burden. My partner Sam and I finished third; our final piece was a Lego peacock that is currently on display in Legoland in California. I haven't been able to see it because of COVID which is sad; I love it.
Making creations out of Lego brings me joy. I've had many mentors help me get to where I am today. Before he passed; Robert Wilson messaged me saying how proud he was of my success. I'm grateful I get to pursue my passion of art each and every day and so far, I'm getting by and I've been successful.
To date, I have shown in the Rockefeller Center, Brattleboro Museum & Art Center, and many galleries exhibiting contemporary artists like Jeff Koons, Damien Hirst and Ron English. But there's no guarantee. The struggle of every artist is that you can be rich one year and poor the next. I was just at Art Basel with the artist Ron English, he said that one year you can make a couple of million dollars and then make nothing for the next five years. The artist's life is not for everybody, because you can never predict when you're going to sell something and when you're not.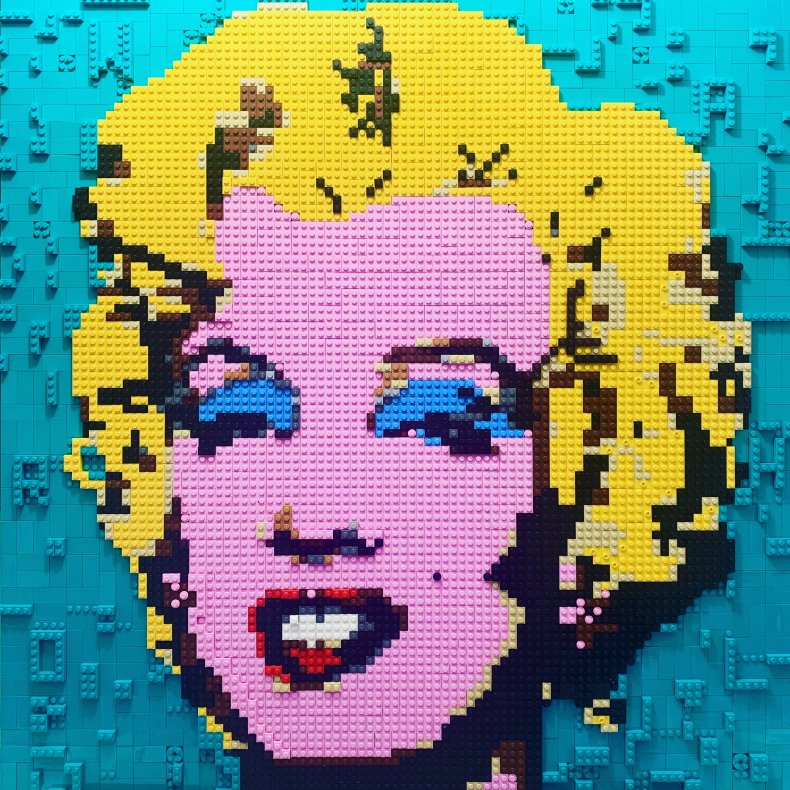 I recently started creating digital artworks out of bricks, blocks and pixels and I've been selling them on the block chain. NFTs and the kind of digital art I do is bought with cryptocurrency. One piece of mine, "Ghosted", which is my only disappearing NFT, is now on sale for 100 Ethereum. Someone bought it from me and relisted it. Right now that's probably worth around $500,000 but, of course, if the crypto market tanks, it could be worth a lot less.
My NFT series is called "Byte Candy"; they're little digital hearts meant to resemble a pixelated version of the candy hearts from Valentine's Day, but they have snarky phrases on them. The hearts are missing pieces because it's important to me to always keep your heart open to new opportunities. It's also a message that the heart is incomplete in a way. I have a cult-like following of around 700,000 followers across my social media, so I just put my heart out there and if someone wants to buy it, they do. I've sold 70 NFTs so far and made seven Etherum.
I like to post motivational quotes on my social media and one I post every now and then says: "If my 16-year-old self could see me now." Sometimes this feels surreal to me. I never would have thought as a young adult that I could have had an art career this early on in my life. It's inspiring to see what I've been able to do just from going all in and putting my heart and soul into it.
Jessica 'Ragzy' Ewud is a Lego artist living and working in New York. You can follow her on Instagram @ragzyart on TikTok @ragzyart and find out more about her work at ragzyart.com.
All views expressed in this article are the author's own.
As told to Jenny Haward.