Lego-Themed 'Brick Bar' Is Coming to NYC (and Your Instagram Feed)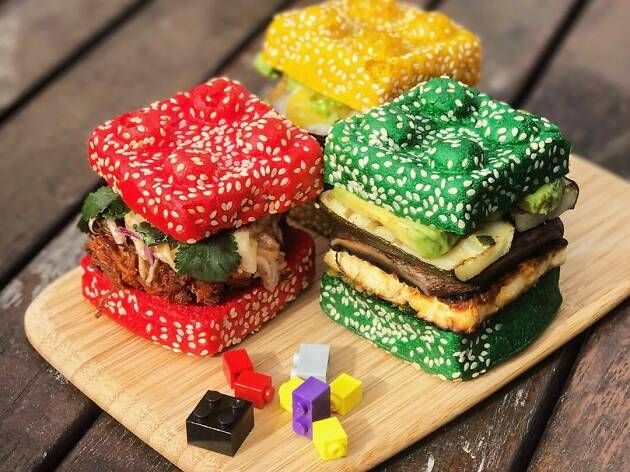 From June 19 until June 23, New York City will briefly be home to Brick Bar, a Lego-themed pop-up bar said to contain more than one million bricks. Before arriving in NYC, Brick Bar has previously made appearances in Denver, Los Angeles, London, Melbourne, and Sydney.
The bar, described as an "adults playground," will feature more than one million bricks to mess around with, build structures, or place on the Lego board covered walls. There will also be oodles of non-Lego activities. Guests will be able to hop into a Lego-themed ball pit with their pals or challenge those pals to a table tennis match on a table built using 22,000 bricks. They've also promised a DJ will be present and "spinning tunes" all day.
As the activities are winding down, Brick Bar patrons can relax on a Lego sofa or take a picture for the 'gram while sitting on a Lego throne. All these photo-worthy objects are adjacent to a water-spewing Lego minifig head shaped fountain. Guests will be allowed in the bar for 90-minute sessions.
The bar will feature a Lego-themed menu including dishes like "Brick Burgers," which are regular burgers but square with Lego styled shaped buns and a square patty.
There will also be Lego themed cocktails in brick-shaped bottles. As you can imagine, the experience is incredibly Instagrammable. Brick Bar will serve alcohol, but children may visit if accompanied by a parent. However, the pop-up's organizers recommend parents bring children earlier in the day.
Brick Bar has no affiliation with the Lego company. They're presumably able to continue existing since Lego holds no patent on the actual brick.
Tickets for the NYC Brick Bar experience are available here. Brick Bar will also return to London, New York, Toronto, Denver and Vancouver later this year. The whole gamut of Brick Bar's upcoming locations is available on its official website.
Pop-up events have become a more common occurance worldwide in recent years. In 2016, New Yorkers couldn't get enough of the Museum of Ice Cream pop-up, which later opened a permanent store. Disney even launched its own pop-up event earlier this year with the Chelsea-based Mickey Exhibition.