The Lego Minifigure Celebrates Its 40th Birthday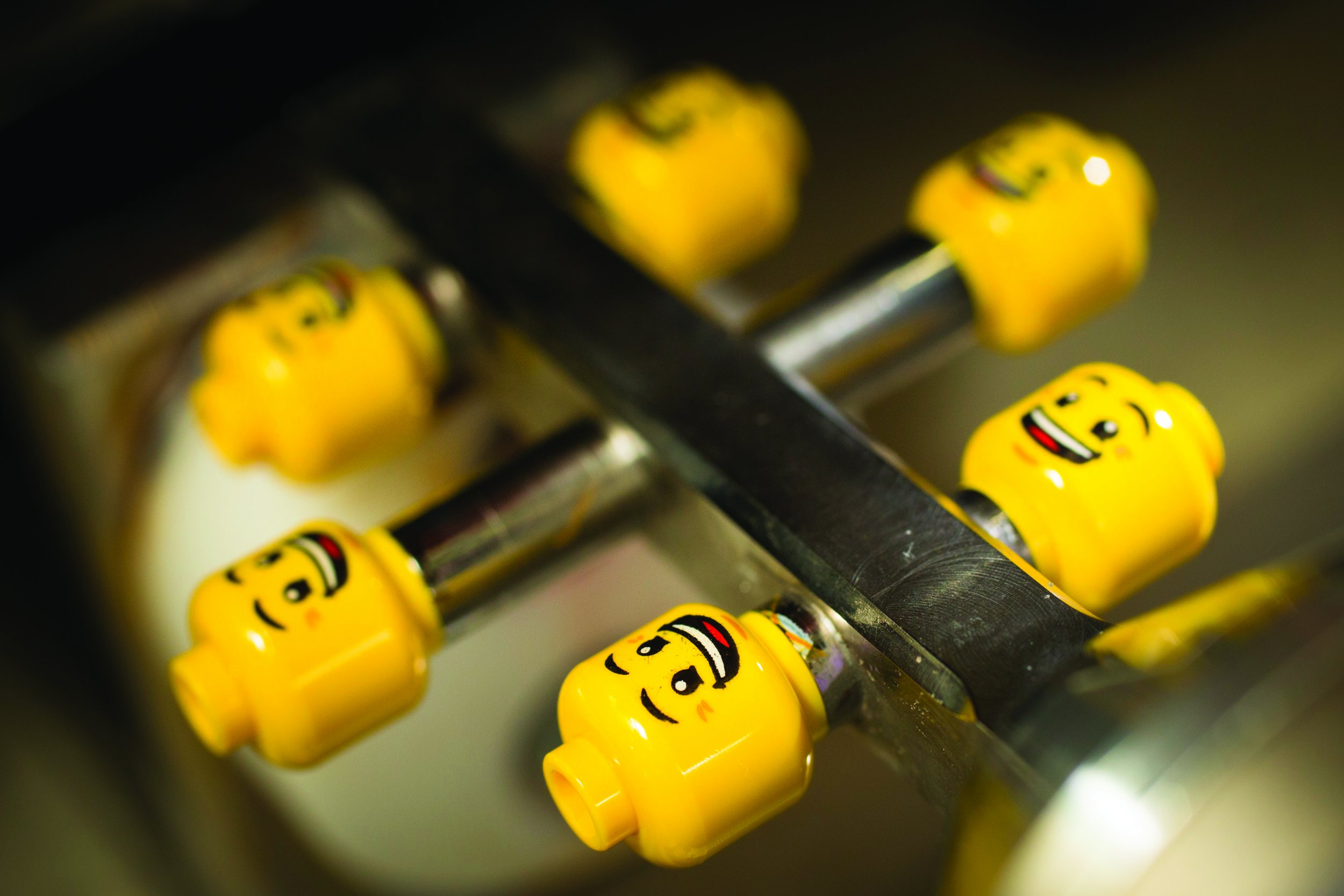 This article, and others celebrating the 60-year anniversary of the Lego Brick and 40 years of the Lego Minifigure, is found in Newsweek's Special Edition: Lego—The Toy That Changed Our Lives.
Since its inception, the Lego System in Play has been all about building elaborate worlds that people can explore, but in the 1970s The Lego Group's designers realized their sets were missing a key item: people. The stage had been set, but there were no players. Designer Jens Nygaard Knudsen changed all of that when he brought the first Minifigures, including a grinning police officer clad in a sticker uniform, to life in 1978.
These Minifigures turned 40 this year, and to celebrate, The Lego Group has re-released the Police Officer—with a painted-on uniform this time—along with a whole series dedicated to a party theme. The Minifigures could only smile in the '70s, but now they can grimace, smirk and wink, and their costumes go far beyond the boundaries set by their body shape. With his two black eyes and simple smile, the Police Officer looks relatively tame next to Spider Suit Boy and Cactus Girl, a visual testament to how far the Lego Minifigure has come in four decades.
"Over the years we have put much more emphasis on the figures themselves, taking them from generic little plastic civilians to figures which have a wider range of roles, a greater level of detail, a plethora of new accessories and much more personality than they ever had—all to provide a broader array of role-play experiences," said Matthew James Ashton, vice president of design at The Lego Group.
Not only are Minifigures fun to play with—they're also more coveted than the rarest of action figures. Each new release features an opportunity to present a prime collectible, and The Lego Group's design team endeavors to give the fans what they want by letting their own imaginations run wild. "We have a design department of 250 designers who are all brimming with ideas, so there is absolutely no shortage of suggestions on the types of figures we could make in the future," says Ashton. "In fact, we have lists upon lists of different characters we would like to create. We wanted the 40th anniversary Lego Minifigure series to really feel like a celebration and pull out all the stops to show how cute, silly and fun the figures are."
When creating a new series of original Minifigures, a group of designers will sketch some ideas in a brainstorming session. According to Ashton, the goal is to always make the most varied lineup of new Minifigures possible to appeal to the widest cross section of Lego fans. The final sketches are then handed off to the graphics and element design team to bring the figments of the design team's imagination into a physical form.
"We are really lucky that the original Minifigure was designed in a way that gave us an extremely simplistic figure, which acts as the perfect blank canvas for us to now apply any sort of character," says Ashton. "The figure was originally designed with its functionality probably being pretty high on the design criteria to deliver great role-play experiences. I would imagine that the original designers had little idea that the figure they created would ultimately turn into such a brand icon."
Iconic is an understatement. Minifigures have become so emblematic that every franchise—from Star Wars to Harry Potter—has rushed to transfer its flesh-and-blood characters into polymer figurines.
It's not surprising that fans want little Harry Potters, Hermione Grangers or even Han Solos to play with in their immaculately imagined Hogwarts schools. But the Lego System in Play also goes to great lengths to incorporate not just the look but also the personality of each character into their respective Minifigures.
"When creating licensed characters, we work extremely closely with the movie studios, who will send us specific photos of the characters' costumes, hair styles and accessories," Ashton says. "We will then pass these on to our element design team—who then either hand-sculpt and video scan the hair pieces and accessories, or build them in a computer program, while our graphic design team illustrates the graphics, which will be applied to the Minifigure face and body."
The Lego Group has just released yet another Harry Potter collection, featuring new recreations of scenes and characters. Harry Potter was immortalized in Lego bricks in 2001 with the Sorting Hat set. The company has grown with the boy wizard and his enduring popularity, and the latest edition of Harry Potter Minifigures highlights that relationship. The Hogwarts Castle Lego set, for example, has hit shelves in various iterations, each more intricate and closer to the film set than the last. Harry Potter and Lego fans can recreate Harry and Ron's literal run-in with the Whomping Willow, Harry's first Quidditch game and the Hogwarts Express. "With our Harry Potter collectible Minifigure line, we will also be introducing brand-new poseable short legs, which are perfect for bringing the younger and shorter cast members to life," Ashton says. Avid fans are well on their way to recreating every scene from the Harry Potter movies entirely through Lego sets.
Ashton believes adults are so drawn to the Minifigures because it reminds them of their first Lego experience. "I think many adults are extremely nostalgic about their childhood and really like to cling on to those memories, and in some cases relive them," he says. "With the Lego Minifigure being introduced 40 years ago, anyone growing up through the late '70s, '80s or early '90s will have had the opportunity to build and play with Lego sets and fall in love with the Lego Minifigure as a child. Of course, those little Lego enthusiasts are all grown up now and quite a few of them are still big kids at heart."
As those big kids continue to have little kids of their own, there's no end in sight for the popular reign of the Minifigure. Here's to another 40 years.
This article, written by Assistant Editor Alicia Kort, was excerpted from Newsweek's Special Edition: Lego—The Toy That Changed Our Lives. For more on the No. 1 building system in the world, pick up a copy today.