LEGO Lets Fans Build Their Own NES to Celebrate Console's 35th Birthday
LEGO and Nintendo's partnership is starting to ramp up with a new 2,600-piece set that lets fans build and play—to an extent—their very own Nintendo Entertainment System (NES).
To celebrate the NES' 35th anniversary, LEGO is releasing this 2,646-piece set that authentically reproduces the original console. You'll build and plug in controllers to the console, insert a game cartridge and even build your own old-school television.
The retro TV will feature a flat 8-bit Mario figure on a scrolling screen. If fans scan the LEGO Mario figure from the previously released Super Mario Starter Course set onto the retro tv, the 8-bit Mario on the screen will react to enemies, obstacles and power-ups that appear on the screen, just like Mario would in Super Mario Bros.
Check out the trailer for the LEGO NES set and see it in action below.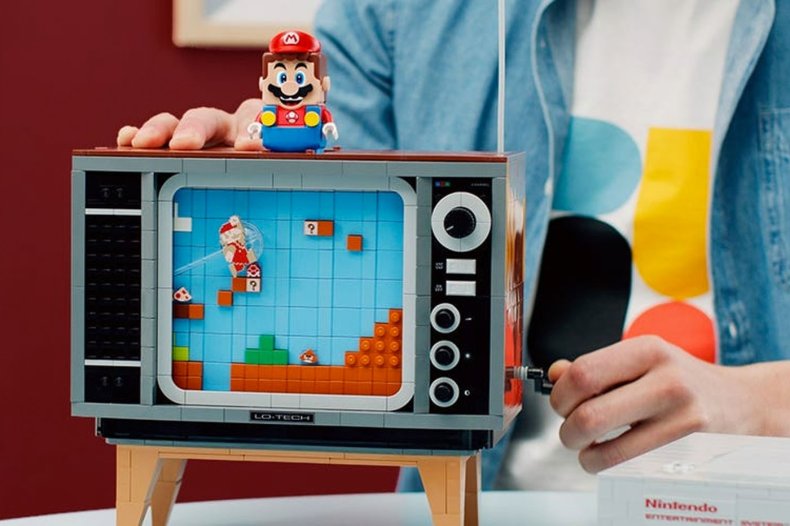 The LEGO NES' purpose is, according to the official LEGO site, "to recreate the experience" of playing the NES when it was released back in 1985.
Now, you're probably wondering about the price. The official LEGO site has the set at $229.99. It'll be exclusive to LEGO retail stores and LEGO.com when it's released on August 1, but other retailers will have the set starting in 2021.
In case you were curious (because I was), the original NES system cost $199 back in 1985—that comes to $487 when adjusted for inflation.
If you're still wary about the price, LEGO sells a ton of sets for over $100, like the Avengers Helicarrier, a 1,200-piece set, for $119.99. You could build Old Trafford, the home stadium of the Manchester United football club—a nearly 4,000-piece set—for $299.99, or Hogwarts Castle, which has more than 6,000 pieces, for $399.99.
With that in mind, the price for the LEGO NES set seems on par with its other models.
Of course, the NES LEGO building set is not the first collaboration between the popular building block company and Nintendo. As mentioned above, earlier this year, the two companies put out the Super Mario Starter Course set that brought an exclusive LEGO Mario figure to life.
Considered an "entry point" into the LEGO Nintendo world, the Super Mario Starter Course was followed up in May with a series of Power-Up Packs that feature more obstacles and enemies to help creators build their own Super Mario levels.
What do you think of the new LEGO NES set? Do you believe it's too expensive? Let us know in the comments section.