Lego Constructs Miniature Pride Parade to Honor Stonewall 50th Anniversary
A display at a New York Legoland includes floats, rainbow flags and a giant billboard that reads "Stonewall 50."
Lego is joining in the celebration of World Pride and the 50th anniversary of the Stonewall uprising with what's being billed as "the world's smallest Pride parade"
At the Legoland Discovery Center in Yonkers, the Miniland Times Square display has been updated with rainbow flags, "Love is love" floats and a billboard celebrating Stonewall 50.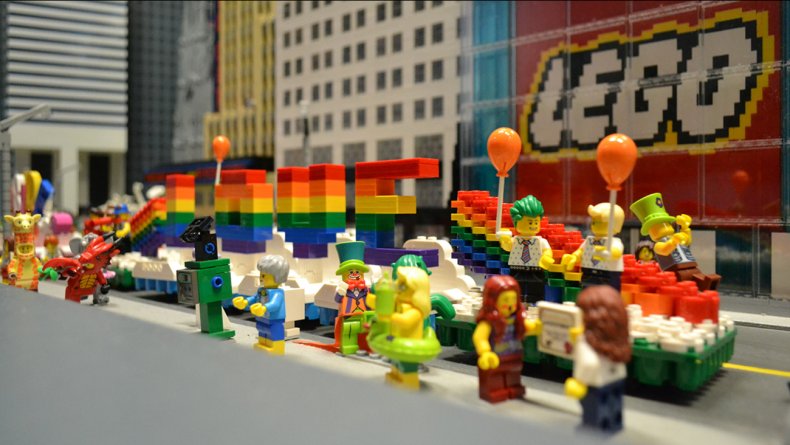 More than 750 bricks were used in the parade, which took 25 hours to conceptualize, map out and build. The Stonewall 50 mosaic on the billboard used another 750 bricks.
The Legoland in Westchester County, New York, is one of the toymaker's smaller "Discovery Parks" focused on children from age 3-10. Each park includes recreations of landmarks in the host city—the Yonkers location includes Times Square, Citi Field and the George Washington Bridge.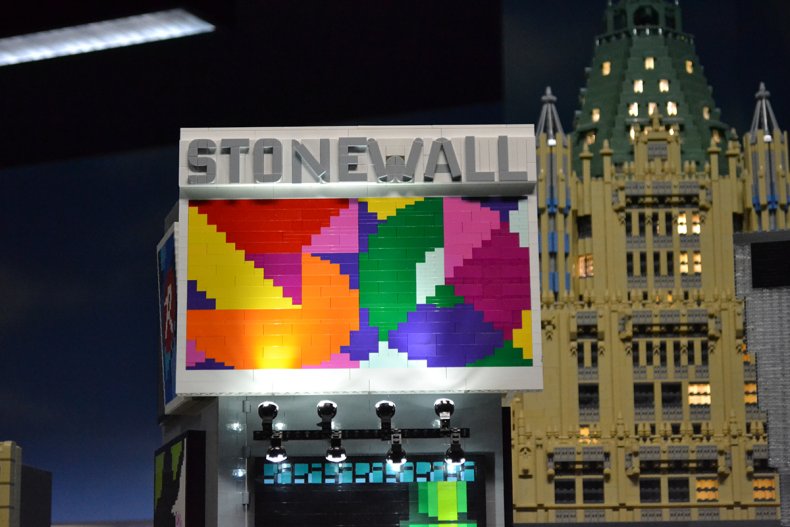 The Discovery Center in Birmingham, England, revealed its own mini Pride parade in May, including a float with minifig versions of the Village People.
While mostly apolitical, Lego has given low-key shoutouts to the LGBT community before: The right wing website LifeSiteNews attacked The Lego Batman Movie for a running joke that Robin thinks he has "two dads"—Bruce Wayne and Batman.
"It was chock full of pro-gay propaganda," wrote editor John-Henry Westen. "It seemed the creators were so anxious to subtly indoctrinate the little ones into the gender ideology that making it humorous came as a distant second thought."
In 2015, a super-fan's Lego version of the Golden Girls set became a finalist in a Lego Ideas project competition, the winner of which had a shot at seeing their kit sold in stores. Other fans have made mini-versions of the Spice Girls, HBO's queer drama Looking and RuPaul's Drag Race main stage.
Lego is just one of hundreds of companies celebrating Pride month in big and small ways: This year Disney held its first official Pride parade at Disneyland Paris. The company also launched a "Rainbow Disney" collection with more than 50 products—including ringer tees, jewelry, backpacks and, of course, rainbow Mickey Mouse ears. A portion of the proceeds from the collection are being donated to GLSEN, which works to establish a safe and inclusive environment for LGBTQ students.