Lego Superheroes: Batman, Superman and Other DC Comics Characters Made of Over Two Million Bricks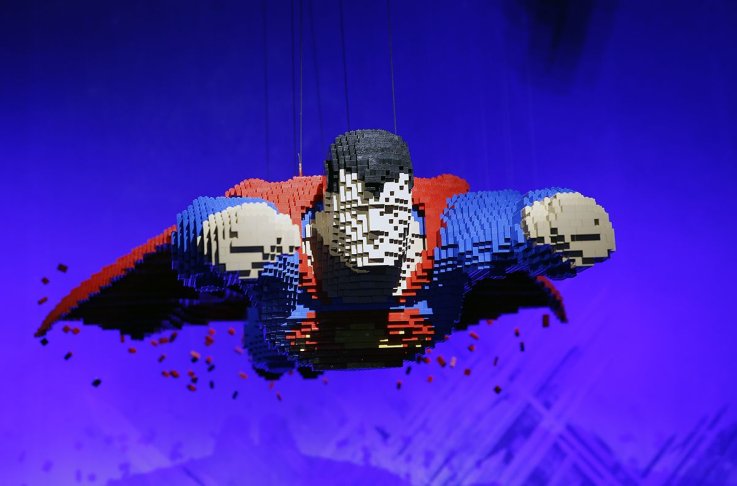 From Superman to Batman, The Flash to Wonder Woman, DC Comics are behind many of the superheroes that populate the world's imagination. They are one of the largest comic companies in the world. Together with Marvel , they account for about 70% of the American comic book market. And they are also one of the oldest, with the company's roots dating back to 1934—at the dawn of the so-called Golden Age of comics.
Since then, the cast of characters has grown and the medium of their stories has changed: away from the pages of comic books and onto the screens of cinemas. This evolution has allowed DC Comic's superheroes and supervillains to become even more popular in the 21st century.
Yet there are other ways of interacting with these heroes and villains. American artist Nathan Sawaya's captivates crowds around the world with his life-size sculptures of DC Comics' most famous characters, building them with Lego bricks. His latest exhibition features over 100 sculptures, with some taking as long as two or three weeks to make. Besides patience, they require a lot of Lego. His recreation of the Batmobile is 18 feet long and uses around half a million bricks.
Sawaya was originally working as a corporate lawyer when he decided to turn to Lego as his creative outlet. "Some people go to the gym or go running at the end of the day; for me, I needed to create something," he explained in a recent interview. Now he owns an art studio in Los Angeles housing over 7 million bricks.
Having already visited the U.S., the United Kingdom, Australia, Italy and elsewhere, Sawaya's exhibition "The Art of the Brick LEGO®: DC Super Heroes" is currently in Paris at Parc de la Villette. "If you're a fan of comics, you'll leave a fan of Lego," he says. "If you're a fan of Lego, you'll leave a fan of superheroes."
Click through this Newsweek gallery to see Sawaya's amazing Lego models of DC superheroes.