Lego for STEM: Women of NASA Set Honors Space Pioneers and Gets Girls Excited for Math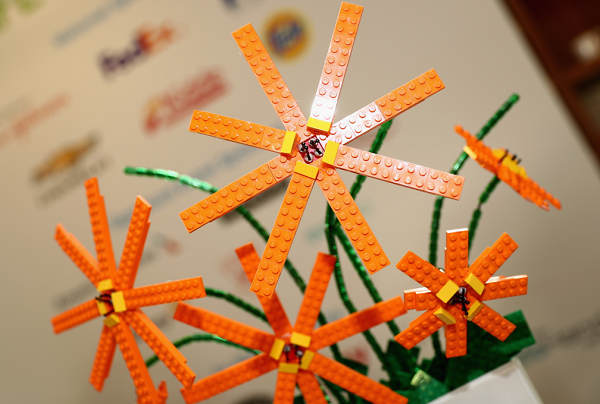 Lego is honoring the women of the film Hidden Figures while releasing its latest product designed to foster interest in STEM careers.
The Lego Ideas 21312 Women of NASA set, which the toy company announced on Wednesday, was created by Lego Ideas member Maia Weinstock in honor of the pioneering women of NASA, including Nancy Grace Roman, Margaret Hamilton, Sally Ride and Mae Jemison.
Along with a figurine of each individual, the 231-piece set comes equipped with the items the women were most known for. Ride—the first woman to ever fly in space—and Jemison—the first black woman to travel to outer space—both come with a buildable spaceship. Hamilton, the computer scientist responsible for developing software for space missions, comes with her own science lab and books reminiscent of the Apollo Guidance Computer. Roman, an astronomer who's considered the Mother of Hubble for her work in building the Hubble Space Telescope, comes with the Hubble telescope and a projected photo of planetary nebula.
Noticeably missing from the NASA collection, however, is Katherine Johnson. Recently profiled in the Oscar-nominated film Hidden Figures, Johnson was a mathematician whose work helped make NASA's Mercury and Apollo missions possible. A Lego rep told Gizmodo that the company didn't receive approval from "all the key people" to make Johnson's Lego possible.
Lego's Women of NASA set is just the latest step in the toy company's mission to not only become more gender inclusive but to also get kids and girls more excited about STEM (science, technology, engineering and mathematics).
"I thought people might like to build their own display featuring minifigures of accomplished women in the STEM professions. For the vignettes, I wanted to contextualize each person in terms of her contribution to NASA history," Weinstock said in a statement.
The Lego Mindstorms series (kits of programmable robots) has been used in classrooms to teach students science and math, and the company launched its WeDo 2.0 program last year to introduce robotics, coding and mathematics to elementary school kids.
In January, Lego rolled out its Lego Boost kit, which allows kids to build smart toys, including a robot, guitar and a cat. Although users will have to download the corresponding app to operate and control the toys, they'll be able to play up to 60 different activities that will allow their creations to move.
Lego's Women of NASA set will be available for purchase everywhere on November 1.