Vinnie Jones To Star In 'Jamie Vardy: The Movie' As Nigel Pearson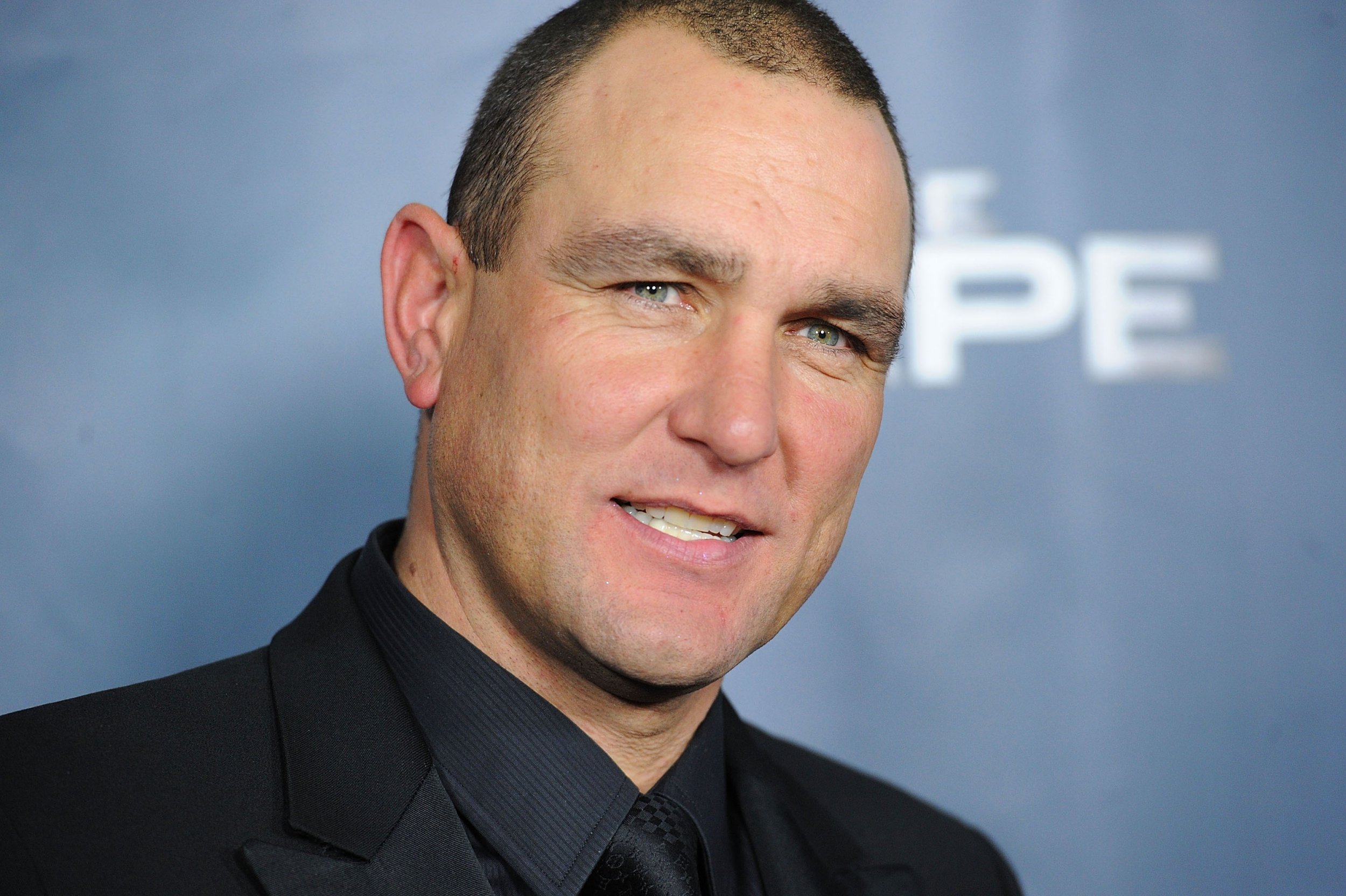 Vinnie Jones, the former footballer-turned-actor, is set to feature in a movie about the rise of Leicester City's record-breaking striker Jamie Vardy.
Jones, who played for Wimbledon in the 1990s, is set to play the role of Nigel Pearson, the former Leicester manager, screenwriter Adrian Butchart said.
Butchart, of Knightsbridge Films, who was behind the first two Goal! movies, has spent months with Vardy, observing the euphoria around the Foxes' Premier League title-winning campaign.
Butchart spoke to Newsweek about how he came to the idea of turning Vardy's story into a film, working with the England striker, and how Jones came to be a part of the project.
How the Idea Came About
It was at the King Power stadium on November 28 that Butchart knew his vision could become a reality.
Vardy had lashed the ball through the legs of David de Gea, the Manchester United goalkeeper, to break the record for goals in consecutive games in the Premier League (11), previously held by former United striker Ruud van Nistelrooy.
Four years earlier, Vardy had been playing non-league football for Fleetwood Town while working in a factory in Sheffield making carbon fibres for medical splints.
"I was aware of Jamie in the build-up to breaking the record and some of the background to the story," Butchart says, "and it seemed like he had what we want out of a movie.
"We decided to make the movie when he broke the record. That seemed to be the moment, and there was enough then to make a film with his story alone."
Why Vardy?
With other footballers around the globe demanding more attention than Vardy, Butchart says he has been asked what made him want to pursue the Leicester striker's story.
"People said why not make a movie about [Cristiano] Ronaldo or [Lionel] Messi or one of these other guys who are more famous," says Butchart. "My response was always that it is less interesting to watch a movie about some guy that's picked up by a football academy at nine years old and spends a life eating skinless chicken breasts and going to bed at 9pm, compared to Jamie who has had an exciting, interesting, diverse, sometimes controversial, but fun life, which will light up the screen. That is what drew me to Jamie."
Working With Vardy
Butchart, who is usually based in Los Angeles, has been in Leicester and Sheffield over the past few months observing the final stages of the Foxes' season.
From the trophy presentation at the King Power stadium on May 7, where Andrea Bocelli sang "Nessun Dorma," to the Football Writers Awards on Thursday, when Vardy was awarded player of the year, Butchart watched on.
He spent a few days with Vardy at his home earlier in the season and has worked alongside both the player and his agent John Morris since.
"[I've been working] as closely as possible without interfering with the football," he says. "It's been really important, and I've got enough experience from football films to know that whatever I do can't interrupt the real business of what they're doing, which is winning football matches. I've been very, very careful to stay out and not risk affecting things on the field."
Reaction To the News
Following news of Butchart's interest in creating a film recording the life of Vardy seven months ago, interest has continued to grow in all departments.
"The response was incredible," he says. "People are getting in touch everyday from all aspects of entertainment asking how they can be involved. Financiers offering to put up the money, distributors, actors, countless candidates to play Jamie Vardy, and a bunch of the other roles. There are people we like and we have had conversations with people."
Butchart says the roles will be finalized once a director is appointed.
Vinnie Jones As Nigel Pearson
Rumors have circulated about who could play roles in the film. Twilight actor Robert Pattinson, One Direction star Louis Tomlinson, and Hollywood's Zac Efron have been among the names put into contention to play Vardy.
Eric Cantona, the former Manchester United striker, had been suggested as a candidate for the role of Claudio Ranieri, the Leicester manager. "I hadn't heard that one before," Butchart says.
He did, however, confirm that Jones was interested in playing the role of Pearson, Leicester's manager, who was succeeded by Ranieri.
Butchart says: "That came about because the Leicester Mercury ran a poll of who people wanted to see as playing Nigel Pearson.The choices were Vinnie, Jason Statham or Ray Stevenson.
"And 74 percent of them voted for Vinnie. So, we got in touch with him and said, 'This has happened, what do you think?' He wrote back and said, 'Cool, I'm in.'
"I think we would all love to see him [in the film]. This film belongs to the people of Leicester as much as anyone, so I would love to make their wishes come true."
Comparison To the Goal! Movies
Butchart penned the first two films that told the story of a young Mexican immigrant who breaks into the Newcastle United team in the first movie, before starring for Real Madrid in the second.
"There are definitely similarities," Butchart says, "and I think that, for me, it's a logical next step in the project because I have a track record of doing these movies.
"Tonally, this film will be different because we have a very different central character. He has a different temperament from the kid who was in the Goal! films.
"One of the other huge differences is that Goal! is fictional characters in a fictional world that was based on reality."
Release Date
Filming is aimed to start around October with a release date target of summer 2017.