Leicester City: Claudio Ranieri Club Shows Promise Of Old In Manchester United Defeat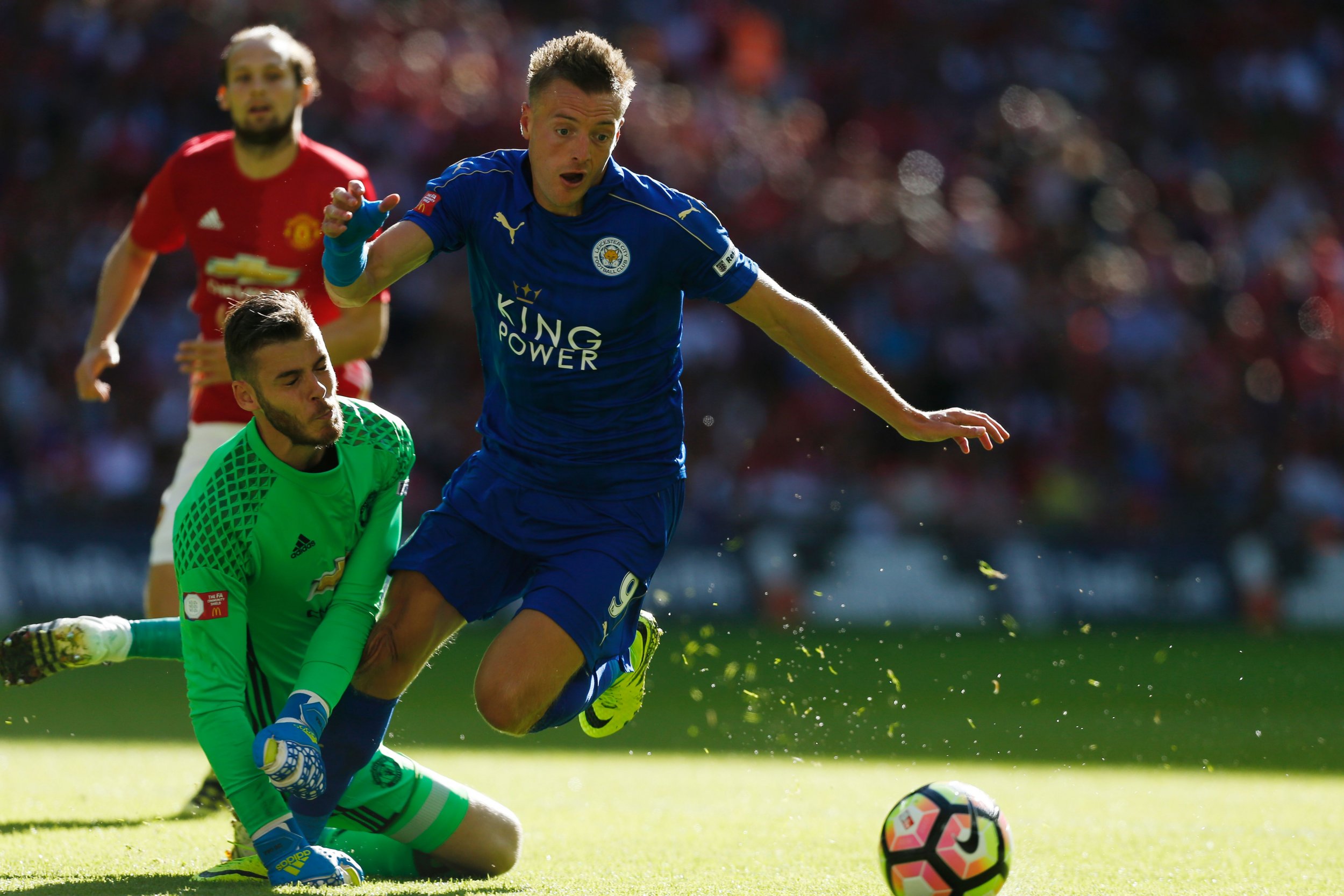 Leicester City, Premier League champion. It has been three months, take five days, since the most unlikely title triumph in modern English football history.
Three months for reality to sink in; three months for Leicester's affable, gregarious manager Claudio Ranieri to accept an approach from Chelsea for N'Golo Kante and fend off more for Riyad Mahrez .
Three months, still, perhaps not quite enough for the febrile chants of "Championes" from Leicester's end of Wembley, made more febrile by a pounding early August sun, to be doused quite yet in reality.
Leicester's fans might still be dreaming; Ranieri's programme notes, though, were serious —talking of "moving forward" and "maintaining hunger."
No one knows better than Ranieri how difficult that will be, in a summer when transfer fees have busted through the glass ceiling, landing somewhere aid the cumulonimbus with the imminent arrival of Paul Pogba at Old Trafford.
Pogba's arrival, for around 100 million—the first fee in history to break that barrier, and announced just prior to kick-off—was proof positive of the work Ranieri has done, and the enormous job he has on again to try and come close to, let alone replicate, that success.
Neither of Leicester's two major summer signings, Ahmed Musa or Nampalys Mendy, began the game, with Ranieri perhaps conscious of launching two players unused to harum-scarum English football into said maelstrom from the start. Also conspicuous by his absence, of course, was Kante, whose high-energy shuffling and tough tackling was a principal reason among many why Leicester managed its great upset last season.
But Ranieri's great gift to Leicester has been, firstly, forging an iron-clad team spirit, and, secondly, creating a plug-and-play system where the individual player's talent matters far less than his ability to play a role.
So at Wembley, Andy King, the Wales midfielder, filled in for Kante, and Leicester looked… well, they looked as they had looked three months ago, around three times the sum of their parts.
United dominated possession in a first quarter low on chances—Jose Mourinho's side had the best of those, too, when Kasper Schmeichel fumbled a weak Marouane Fellaini shot.
Still, that was okay, because at the other end Leicester retains a player who remains one of the most dangerous in the Premier League.
Jamie Vardy, the late-blooming buzzsaw, had already seen one threatening run halted by a fine Daley Blind tackle when, on 19 minutes, he slipped the ball through to his strike partner Shinji Okazaki.
The Japanese forward's shot may have been scudding inside David De Gea's far post, before a deflection sent it wide, and from the resulting corner Okazaki's header was cleared off the line by Blind.
Strange, that in football constancy is as perceptible as upheaval. In a summer, Mourinho has upended United, torn out its spine with all the brutality of a Mortal Kombat "Fatality," and rebuilt the side from the defense up.
And then, just after the half-hour, the gaping hole that Kante has left in Leicester's squad and n the pitch did show itself.
Jesse Lingard, one of United's youth brigade kept on by Mourinho—several others, including hugely promising Timothy Fosu-Mensah, have been sent out on loan or sold—ran at the base of Leicester's midfield.
Where Kante might once have chopped him down for firewood, Lingard was allowed to hop, skip and jump past a series of lunging challenges, before sweeping the ball over Schmeichel. A fabulous goal, but one that hinted at just what Leicester has lost, too.
Last November, of course, Leicester had taken the lead at the King Power Stadium through Vardy, when the world was waking up to the possibility it might actually pull off the impossible, before United equalized through Bastian Schweinsteiger.
Faced with the reverse situation, Ranieri juggled his dice, bringing on Musa and the ineluctable, sweet promise of Demarai Gray.
It was Musa who made Leicester's equalizer, in part—the Nigeria winger's strong run ending at the feet of Marouane Fellaini, who might have sealed his United fate with a backpass that more resembled a through-ball to Vardy.
Evidence, in a new season, that Leicester bend just enough to not break. Mourinho's new signing Eric Bailly had looked assured in the first half; now, with Musa nipping at his heels, he appeared more cumbersome.
The Leicester end was, in honor of its favorite son Vardy, "having a party," and it was the former non-league striker who remained the clearest threat. On 70 minutes it was Vardy's turn to trick Bailly, the Ivorian receiving a booking for a crude, late challenge.
This was Leicester as we have known them, but with bells and whistles and a few fancy ribbons attached for good measure. Greater attacking intent will inevitably leave Swiss cheese holes in defense, though—Marcus Rashford, on as a substitute, looked capable of exploiting Leicester's adventure, and on 78 minutes Schmeichel was forced into a sprint from his line to deny Antonio Valencia.
Their terrific fans quietened only when Valencia twisted his way to the byline and stood up a candy-sweet cross. Zlatan Ibrahimovic, who had done nothing of note all game, towered over Wes Morgan and sent a header that bounced past Schmeichel and in off the post.
Defeat in the Community Shield can hardly be described in heartbreaking terms—this being, to most purposes if not all intents, a very grand pre-season friendly—but Leicester did enough throughout to suggest that its fans' dreams, and Ranieri's brutalist realism, can both come to fruition this season.
In a Premier League world post the transfer window to end all transfer windows, it is difficult to predict what success will look like for Ranieri's club. But regardless of results, the steadfast formula will not change.